Senior Scotland Councillor : "i'm Gay"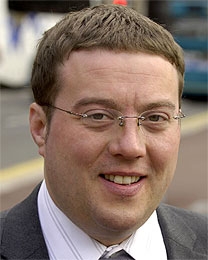 Scotland's most senior councillor has come out amid escalating media scrutiny of his private life.
Purcell, 34, the youngest-ever leader of the Glasgow City Council, confirmed on Saturday that he had split from his wife of five years after coming to terms with his sexuality.
"Over the past couple of weeks the rumours surrounding my marriage have increasingly become a distraction to me. I wish to set out in public the facts surrounding the issue," he told The Herald.
"For the last year my marriage has been in trouble and some months ago my wife and I separated. One of the issues we have been facing up to is the fact that I have realised I'm gay."
"Now that they are aware of the situation, and that Katrina and I are clear that they understand the issues, I want to dispel the rumours and get on with the important job I am privileged to do as leader of the city council."
Purcell's wife Katrina did not find the news of Purcell's homosexuality particularly surprising and said that she will continue to support him. The couple do not have children. "It did not come as a shock to me to find out Steven was gay and I now intend to offer him continued friendship and support and otherwise to get on with my own very busy life."
"This has been a difficult time both for me and Steven," she continued. "And I'm naturally very sad that we have had to announce our separation.
Purcell, who has been a councillor for only a year, has been praised by Tony Blair for his efforts to focus on social projects in Glasgow.