First Gay Divorce At Christmas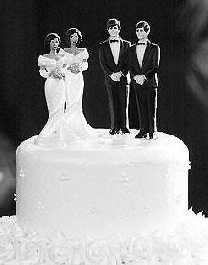 One of the first gay couples to enjoy a civil partnership have separated and will make British legal history when they divorce.
Darryl Bullock, 42, and Mark Godfrey, 32, were among the first in the UK to make legal history when got hitched on December 21 last year.
Bullock has revealed the magic has wilted and the pair intend to annul their marriage as soon as is legally possible after December 21.
Darryl said: "We were really proud to be one of the first couples to have the service and we had a great six months but then things went wrong.
"I suppose we were part of history and I have got lots of press cuttings from that day but we didn't do it to make the news or just to be first.
"We were completely committed but things change in any relationship. We are lucky that there is no property or kids involved but we have both moved on now in our own way."
They exchanged vows at The Guildhall in Bath, Somerset, at 8am, a three hour head start on Elton John and David Furnish's ceremony in the Guildhall in Windsor.
As Elton and David quaffed pink champagne with over celebrity guests at their glam reception, Darryl and Mark gobbled a fry up with 20 friends at their local pub.
Head-to-toe in M&S and honeymooning in Torquay, the pair proved that not all gays are obsessed with glitz and campery. Despite their earthy approach to the proceedings, it seems that no amount of love-laden lardy breakfasts could keep the romance going.
Healthcare assistant Mark has moved out of the flat the couple shared in Bristol. Under the laws brought in last year, the ex-lovers cannot formally apply for a 'divorce' until one full year after the vows
Their civil partnership is likely to be dissolved through the county court in a process that will begin on December 21.
Darryl remained tight-lipped regarding the reasons for the relationship's failiure because he said it would form part of the proceedings.
He said: "It's in the lawyers' hands. I've spoken to my solicitor who will take whatever action he thinks is fit on or after December 21.
"It could end up being one of the first dissolutions but it's not my intention to jump the gun to be the first."
He added: "My experience hasn't put me off. If I meet the right person at some point in the future I'll give it a go again.
"I can't think there'll be a vast rush of gay and lesbian couples rushing to dissolve their partnerships on December 21. Most couples I know are blissfully happy.
"It's just like heterosexual couples. Some people have their problems and some don't get over them."