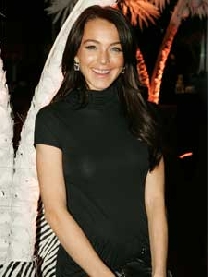 Lindsay Lohan has been attending strip classes with her mother.
The 'Mean Girls' star and her mother Dina, who are often seen out clubbing together, were seen at the weekend leaving Los Angeles aerobics studio, Sheila Kelley's S Factor.
The class is an aerobic workout based on strip tease and poll dance routines designed to tone up and increase fitness, according to website X17.
Lindsay has also started joined Alcoholics Anonymous in a bid to turn over a new leaf and clean up her lifestyle.
Although the 20-year-old actress was seen with a glass of champagne at the GQ awards two weeks ago, she has since been seen at Los Angeles hotspots Hollywood Social, Hyde and Chateau Marmont drinking water.
Lindsay has ditched her party animal pals such as Paris Hilton and has only been socialising with her non-celebrity friends, according to the New York Post newspaper.