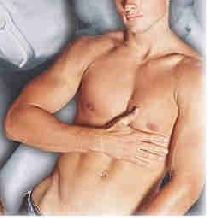 There's never a dull moment at university. I'd had so much action and I hadn't even ventured into the gay night at the local dive yet.
I was on the prowl, but in no rush. I pinched a few asses but I was taking my time. That was until a set of twins caught my attention. It seems I caught their attention, too.
They were identical, virtually in every way. Both were 6ft tall, one had cropped hair, the other had a boyish, floppy fringe. They had waists like swimmers and bulges that made my own swell.
I had to choose, so I went for the Fringe. Well, a guy has to make his mind up, right? His brother disappeared somewhere, and we were left alone to chat and drink.
We kissed and groped all the way back to the house the boys shared. Pushing the Fringe through his bedroom door he landed on his ass. As I crawled over to him I pulled his tight jeans off him and started to lick his huge, shaven balls.
I turned the Fringe over so that he was bent over the bed. Man that guy had one great ass, I could tell by each time I flicked my tongue over the hole he was gagging for it, and so was I.
But I got up, crawled onto the bed and start working Fringe's head, pre-cum oozing over my wet face.
He wanted my ass, though, and wasted no time by pulling off my jeans. He rimmed so well and, the mix of fingers, tongue and sucking my ass and cock worked a treat. Soon I was ripe for the cock.
Before I knew it a lubed-up eight-incher ploughed my ass, humping me like a rabbit, pow pow pow. He came hard and fast …
Then, it was time for my cock to get some action. But first I needed to pee. I crept out to the bathroom … but on the way back to Fringe's room I noticed another door ajar. The light was on.
Through the crack I saw Fringe's twin, the one with the cropped hair, lying naked on his bed, toying with his growing cock.
I had to take a look – while making sure he didn't spy me ogling him. He was maybe even more hot than Fringe. I was hard again, hard as a rock, and naked in the dark hallway … I grabbed hold of my cock and stroked it, wondering what to do next. Cropped caught my eye. I knew full well what that look meant.
Just then the door to Fringe's room opened and there was my fuck, in the door frame. Shit! He'd seen me lusting after his twin.
He smiled, then laughed: "Go ahead!", gesturing at Cropped's door.
Amazing! I sidled in. He didn't waste any time, he slurped up the pre-cum already glistening on the head of my cock.
I asked Cropped for a condom, and rammed into him. The feeling of my cock being massaged by his ass was out of this world as I reached round to stroke his bulging member.