Transgender Day Of Remembrance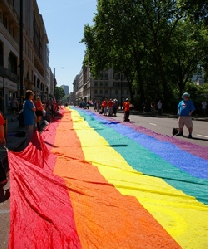 LONDON, November 18, 2006 – Monday November 20 is Transgender Day of Remembrance, many UK events to mark the date are being early over the weekend.
There will be three events to honour the memory of all transsexual and transgender people killed by violence.
For the first time, Manchester will hold its own Transgender Day of Remembrance event, and there is also an event in London.
This international memorial is held each year, near to this November date, and has been marked since the first candlelight vigil in 1998. The Remembering Our Dead project website holds details of the names and lives of our dead. The aim of this memorial is to mourn and honour the lives of our trans people killed who otherwise might be forgotten, and to raise public awareness of these hate crimes.
Two events are being held in the UK tomorrow:
London: Transfabulous will be holding an event in London on Sunday. This will be in the Chapel Space at Oxford House Arts Centre, Derbyshire Street, Bethnal Green, London. E2 6H5. There will be musical tributes, readings and a vigil memorialising those who have died by anti-transgender violence. Please arrive at 1.30 for a 2pm start. The event should last approximately 90 minutes, after which refreshments will be available.
Manchester: – Meet at Sackville Park in the Gay Village on Sunday from 3pm. Please wear black or regular clothes with a black armband or the appropriate colour of mourning for your culture. Please also bring a candle (spares will be available) for the one minute's silent vigil at 4:30pm. A simple holder may be made by using a small square of card with a cross cut in the centre to hold the candle and catch drips.
Edinburgh staged an event, "A Time to Remember" today at the LGBT Centre for Health and Wellbeing. It was jointly organised by Metropolitan Community Church Edinburgh, Transmen Scotland, LGBT Youth Scotland and the LGBT Centre for Health and Wellbeing.
www.gonetoosoon.co.uk is a memorial site and a place that you can set up a website in rememberance for lost love ones