Homosexuality Likened To Bedwetting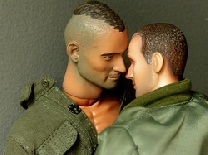 Pentagon guidelines that classified homosexuality as a mental disorder now put it among a list of conditions or "circumstances" that range from bed-wetting to fear of flying.
The new rules are related to the US military's retirement practices.
The change does not affect the "don't ask, don't tell" policy that prohibits officials from inquiring about the sex lives of service members and requires discharges of those who openly acknowledge being gay.
The revision came in response to criticism this year when it was discovered that the guidelines listed homosexuality alongside mental retardation and personality disorders.
Mental health professionals said on Thursday they were not satisfied by the change.
"We appreciate your good-faith effort to address our concern that the document was not medically accurate," James H Scully, head of the American Psychiatric Association, wrote David Chu, undersecretary of defense for personnel and readiness.
"But we remain concerned because we believe that the revised document lacks the clarity necessary to resolve the issue."
The guidelines outline retirement or other discharge policies for service members with physical disabilities. The rules include sections that describes other specific conditions, circumstances and defects that also could lead to retirement, but are not physical disabilities.
Among the conditions are stammering or stuttering, dyslexia, sleepwalking, motion sickness, obesity, insect venom allergies and homosexuality.
"More than 30 years after the mental health community declassified homosexuality as a mental disorder, it is disappointing that the Pentagon still continues to mischaracterise it as a 'defect,'" said Representative Marty Meehan, Democrat of Massachusetts, a member of the House Armed Services Committee.
Pentagon spokeswoman Cynthia Smith said "homosexuality should not have been characterised as a mental disorder. A clarification has been issued."
The psychiatric association declassified homosexuality as a mental disorder in 1973.
Questions about the Pentagon's guidelines were raised in June by a research institute at the University of California at Santa Barbara.
There were 726 military members discharged under "don't ask, don't tell" during the budget year that ended September 30.
Lolita C Baldor, AP