Book – The Chosen: Male/Male Fantasy Romance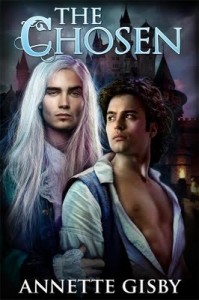 Annette Gisby's powerful new novel is already resonating with a growing female audience interested in same-sex fictional romance. Thrusting readers into two worlds recovering from a fierce war, 'The Chosen' is gripping proof that love has many faces. Whilst many believe that male/male love stories only appeal to a gay audience, hundreds of thousands of straight women are becoming hooked to romantic fiction that is different to the norm.
Synopsis:
The neighbouring kingdoms of Oscia and Arcathia have been at a tentative peace for three years after centuries of warfare. Prince Severin of Arcathia has been brought up to put duty before all else and as the only son of the King and Queen, it is his duty to marry and produce an heir. His parents want him to marry an Oscian princess to cement that tentative peace. Unfortunately Severin isn't interested in princesses. Now, if he had his pick of princes that would be another matter.
Havyn has been a slave all his life. When his aptitude for wizardry is discovered, he finds himself purchased and freed by Prince Severin and apprenticed to the royal wizard, Ildar. His duty is to stay chaste to keep his powers strong, but his feelings for Severin sorely test his resolve.
With kingdoms at war, the throne hanging in the balance, magic in the air, and outside forces trying to keep them apart, can the two men find happiness together, or is duty more important than love?
'The Chosen' is available now: http://amzn.to/1grq5Sq
Comments via Facebook
comments