How ya'all doin' ya'all? Adrian Gillan rates raunchy ranchers in Fort Worth and pumps barrels of creamy man-oil in Dallas down in sexy Texas! Yeeee… ha!
Like things big? Texas may be the second largest and second most populous US state; but you'd have to rank it first for friendly attitude and beefy blokes who know how to boot-scoot 'n Stetson-swagger!
FORT WORTH IT!
Only a sun-crazed farm-hand would visit Texas and not head straight to the cowboy-and-culture hub that is Fort Worth – one-time frontier garrison town for naughty 'pioneer' pluck 'n plunder!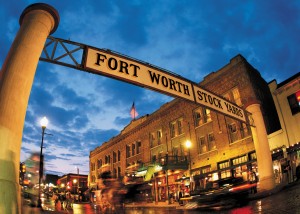 Just north of centre, the Stockyards National Historic District (www.fortworthstockyards.org) brims with sights, sounds and smells from the Old West, including saloons (www.whiteelephantsaloon.com), the Texas Cowboy Hall of Fame (www.texascowboyhalloffame.org), and the Fort Worth Herd twice-daily cattle drive – commemorating the old drive north to sell cattle in the markets up/out West. Don't miss Billy Bob's (www.billybobstexas.com) – the world's largest (6000 capacity) "honky-tonk", brimming with pool tables, souvenir shop, bull riding arena, over 30 bar stations and a restaurant. Also check-out the rodeo at the Cowtown Coliseum (www.cowtowncoliseum.com) every Friday and Saturday. On foot, Heritage Trails (www.fortworthheritagetrails.com) historically guide you around other parts of town.
Fort Worth Cultural District boasts several world-class museums, all within walking distance – most notably the Kimbell Art Museum (www.kimbellart.org), "America's best small museum", home to Michelangelo's first painting, amongst countless other masterpieces, plus amazing temporary collections; and the Modern Art Museum of Fort Worth (www.themodern.org), stunningly housing the second largest collection of modern and contemporary American and European art in the US.
Saunter Sundance Square (www.sundancesquare.com), the downtown entertainment district brimming with shops, restaurants, theatres and galleries. Catch a show at dazzling new Bass Performance Hall (www.basshall.com), or at little brother, the McDavid Studios (www.basshall.com/mcdavidStudio.jsp). Fort Worth Opera Festival (www.fwopera.org) and gay film fest, Q Cinema (www.qcinema.org) run every May/June.
Stay at the massive, luxurious downtown Omni Hotel (www.omnihotels.com/FortWorth).
Breakfast, or even a spot of lunch, must mean Paris Coffee House (www.pariscoffeeshop.net), Fort Worth's oldest family-fun café. Lunch proper should take you to Hacienda San Miguel (http://hsmw7.com), a chic Mexican in the trendy West 7th district; or to the meaty patio of top-notch Woodshed Smokehouse (www.woodshedsmokehouse.com), on the banks of the Trinity River. Grab some pre-dinner cocktails at hip GRACE (www.gracefortworth.com), then hit the veranda at much-lauded Ellerbe's Fine Foods (www.ellerbefinefoods.com), for freshest local and seasonal ingredients in elegant, innovative, "farm-to-table" cuisine.
Check out Fort Worth's two buzzing gay bar-clubs – Reflections (www.facebook.com/pages/Club-Reflection/170030373011167); and Rainbow (www.myspace.com/rainbowlounge_ftworth), itself the subject of a recent dramatic outrageous-police-raid documentary (www.raidoftherainbowlounge.com)!
DAPPER DALLAS!
Then flit 30 miles due East to gay old Dallas which comes out screaming for its annual Texas Freedom Parade (www.dallasprideparade.com) on Sunday 16th September 2012. But why wait 'til then?
There's more depth to Dallas than a mere 70s/80s TV soap! The infamous Texas School Book Depository is now the Sixth Floor Museum at Dealey Plaza (www.jfk.org), a moving exhibition about the fateful day someone shot, not JR, but JFK. Sit at the window ledge and gaze down on history!
The cultured queer will also enjoy the world-class collection of art and artefacts inside Dallas Museum of Art (www.dm-art.org) andNasher Sculpture Centre & Gardens (www.nashersculpturecenter.org). Or enjoy a show or play in the new Dallas Arts District, hubbed around the amazing AT&T Performing Arts Centre (www.attpac.org) with its stunning Winspear Opera House and flexible Wyly Theatre!
Tour the gigantic Cowboys Stadium (www.stadium.dallascowboys.com), at Arlington, just out west; or even pop into the LGBT-affirmative Cathedral of Hope (www.cathedralofhope.com) for a quick prayer.
Away form the bustle, gay-wooing Crowne Plaza Hotel Market Center (www.crowneplaza.com/dal-market-cp) offers comfortable rooms, and an excellent restaurant. Alternatively, nearer the gay scene, try the massive, arty, high-end Hilton Anatole (www.hilton.com/Anatole); or the gorgeous li'l olde world gay-run 1900s home-cum-B&B, just off-strip, that is the Daisy Polk Inn (www.daisypolkinn.com).
To fill a hungry hole, saddle up at Hunky's Old Fashioned Hamburgers (www.hunkys.com), slap bang on the Oaklawn gay drag; a spit-and-a-spunk away from Black-Eyed Pea (www.theblackeyedpea.com)

Slightly further afield, Babe's Chicken (www.babeschicken.com) is a no-frills, singing-waiters bring-a-bottle Dallas institution with freshly baked biscuits to die for. Or for something more classy, fine-dine at Central 214, at swish 70s retro-style lair, Hotel Palomar (www.hotelpalomar-dallas.com); or at Eddie V's (www.eddiev.com) prime seafood joint.
Dallas' main asset is its flamboyant, friendly, direct and sexy people! And that amazing Texan accent! So head straight for said Oaklawn scene, mainly along and just off Cedar Springs Road!
After you've browsed all the gay boy-toy stores (www.shopcedarsprings.com) and gawped at the new gay-thronging ILUME (www.ilume.com) apartment complex, check out homo-hub, Buli Café (www.bulicafe.com), famous for its soups and cakes and much else besides.
Then crawl from bar-to-bar amongst a clutch within mere staggering range. Hole up at Round-Up (www.roundupsaloon.com) – arguably the most friendly and distinctively Texan queer joint in town! Then gawp at the jocks busy flexing their pecs in sports, video and karaoke bar, Woody's (www.dallaswoodys.com); get lost in crowds at sprawling, stylish, newly-renovated bar-club with upper street-view balcony, JR's (www.jrsdallas.com), next to lush lesbian-haunt Sue Ellen's (www.sueellensdallas.com). Try Alexandre's (www.alexandres.com) for live music; TMC (www.tmcdallas.com) for cruising; or Drama Room (www.thedramaroom.net) for podium boys.
A tad off-strip, check-out jazzy Cherries (www.facebook.com/RandysClubCherries); cheery, chatty Pekers (www.pekersbar.com); youth-teasing BJ's (www.bjsnxs.com); muscle-podium-boy Zipper's (www.facebook.com/pages/Zippers/116251211735848); fun Brick (www.brickdallas.com); tucked-away, tiny tinny Tin Room (www.tinroom.net), with yet more podium dancers; dark 'n cruisy leather 'n Levis,Eagle (www.dallaseagle.com); or, down south in the Bishop Arts District, friendly Barbara's Pavilion (www.barbaraspavillion.com), an earthy off-scene joint that only locals seem to know about.
For dancing, hit vibrant, unpretentious cross-borders Mexican club, Kaliente (www.kaliente.cc); or try S-4 (www.station4dallas.com), Dallas' largest regular gay club, with buzzing young crowd – complete with Rose Room (www.roseroomdallas.com) cabaret venue, a favorite of Lady Gaga, no less!
USEFUL WEBSITES
·         Fort Worth CVB: www.FortWorth.com
·         Dallas CVB: www.visitdallas.com and www.glbtdallas.com
·         Dallas Tavern Guild: www.dallastavernguild.org
·         North Texas GLBT Chamber of Commerce: www.northtexasglbtchamber.org
GETTING THERE
·         American Airlines are proud to support the LGBT community, offering several direct daily flights from London Heathrow to Dallas Fort Worth, at unbeatable value. For special discounts on a range of gay-friendly destinations: www.aa.com/rainbow
Comments via Facebook
comments