Tellin' Stories – Terry George – Gareth Gates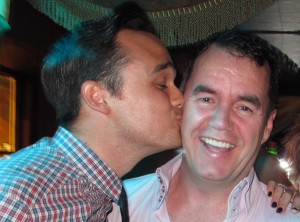 Gareth Gates is a 'Loser'
I first met Gareth Gates not long after his success in Pop Idol and we've been friends ever since. I've watched his highs and his, well, not so highs and he still managed to be one of the nicest guys you are ever likely to meet. I cheered when there was a recent resurgence in his career as he donned a pair of skates and danced on ice with as much confidence and professionalism as he goes about everything. We have always got on and indeed, since he's been in my home town rehearsing for a brand new theatre production, he and the rest of the cast and crew have been regular visitors at my bar Fibre, in Leeds city centre. He's even been keen to get behind the decks at Mission and mix a fantastic set that goes down very well.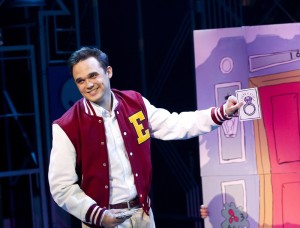 He'd been telling me about this new production called Loserville, which was written by Elliot Davis and ex-Busted star James Bourne, and was excited at playing the nasty character in the show. So, I was really excited when invited along, together with the press contingent and a host of adoring fans, to the opening night. It was brilliant to see a show that heralds a new concept, Geek Musical. Yes, we've had the sugary sweetness of High School Musical, we've overdosed slightly on Glee, now in the era of The Big Bang Theory and Geek chic, let me welcome you to Loserville.
The music, as you would expect from an ex member of Busted, is pretty powerful pop – tuneful and memorable – and the clever way the story is interwoven with Star Trek, Star Wars and the start of the computer communications revolution is brilliantly (and colourfully) portrayed. Set in 1971 Gareth plays the handsome, rich son of the local computer firm, he may have the money and looks but he's as thick as… well… you know what. He's also not very nice. Hard to believe that the nicest man on Earth, has a bully inside of him but we are talking musicals here and that's what happens. However, he is not above a bit of self-deprecation – at one point they are talking about how, in the future, television would be able to give over tons of valuable viewing time to making ordinary, untalented people into stars. Needless to say, the youth of the 70s think that is a ridiculous idea but we get the message. There's loads of fun asides, energetic dancing, loud music, a story of love and betrayal… in fact, just about everything you need for a great night at the theatre.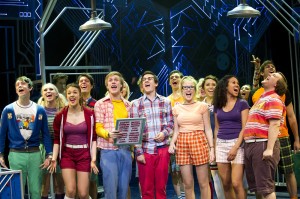 I met up with Gareth after the show and told him how much I enjoyed the entire show but that I would have been even more impressed… had he done it on ice.
If looks could kill.
Photos by: Tristram Kenton