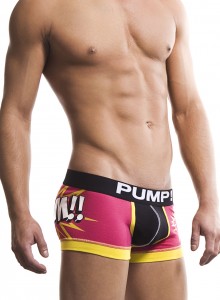 BOOM
The Pump underwear range is a fresh and unique take on the mens underwear industry that has already been saturated with so many choices in recent years, the difference here is that they aren't employing any risqué or shock factor tactics to get noticed. Instead what they have done is invested a great deal of time to create men's underwear that is extremely comfortable with a form fitting design and contour pouch that accentuates your body and assets.
Boom!! From PUMP is a fun and flashy pink trunk made of cotton/spandex with a cartoon explosion printed on the back and a yellow burst printed on the front. Double lined black cotton cup for ultimate comfort, accented with yellow piping and white stitches.
£25.99  www.bent.com
DANCE YOUR PANTS OFF
Last month saw the launch of 'UndieNation' Manchester's newest dance event with a bit of a twist – it's all about the undies.  The event was a bulging success and everyone at the launch looked to be having a great night.  Which is not surprising given that UndieNation's DJ line-up includes the Sleazesisters aka Pete Martine along with our talented (and very tasty!) local DJ's Brian Unique and Joe Manning.
So what's it all about?  Well, UndieNation is an Ibiza style underwear themed dance where party-goers are encouraged to dress down to their underwear.  But that doesn't mean you have to bare everything if you really don't want to – if you're not so brave and don't fancy dancing in just your pants, then you can get your top off and show off your waistband or wear something like boxers and a vest or T.  Either way it's all about being creative with it and bouncing around the room to a fantastic dance set.
UndieNation is a no attitude dance event inspired by the wacky days of clubbing in the 90's so be prepared to get covered in glow sticks, cyber gear and clubby stuff. It's a mixed event so girls can come too.  Yes that's right girls can go too! So dress up your fag hag and bring her along.  Girls are encouraged to be just as creative and sexy with their outfits.
Keep your eyes peeled for UndieNation's hot model boi's dancing in their pants and handing out lots of goodies during the night. 
So root through your undie drawer, dig out your best pants, knock back a few shots and get down to UndieNation 'cus this is one club night not to be missed. 
The next UndieNation is in August and details will be announced soon.  Follow UndieNation on Facebook and Twitter (www.facebook.com/UndieNation or @UndieNation on Twitter) or check out www.undienation.co.uk for more.