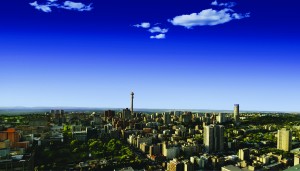 You can keep the Cape! Adrian Gillan enjoys the buzzing cultural pulse and scene in Johannesburg, South Africa's biggest and most vibrant city.
Home to 3 million, urban Johannesburg – South Africa's largest city and its economic powerhouse – is oft neglected by tourists: unjustly. 'Joburg' or just plain 'Jozi' is also nicknamed 'Egoli', meaning "place of gold", since 40% of Earth's gold comes from here. It's also a cultural goldmine too, brimming with top museums, theatres and restaurants – plus 'gay gold' and queer culture in its scene and prides.
SA has one of the most pro-LGBT constitutions in the world, allowing gay marriage and more. That said, attitudes can lag laws so, as ever, beware. More generally, dress down, like the locals, and avoid rough or isolated areas, especially at night. Moreover, HIV is still a widespread issue here, so play extra safe.
Visas are not needed for Brits on trips of up to 90 days. £1 = 12 rand approx, and will stretch far. Time difference: GMT +2 hrs, so no jet lag! Best weather: Nov-Mar, the 'southern summer'.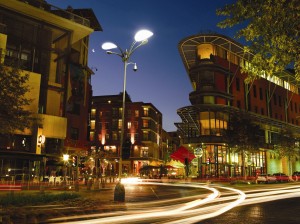 TO STAY
Ten Bompas Hotel (10 Bompas Road, Dunkeld West, Joburg; www.tenbompas.com) is a secluded boutique affair in leafy Rosebank, NW of centre, full of understated luxury; with top-notch eatery.
Lamunu Hotel (90 De Korte Street, Blaamfontein, Joburg; www.lamunu.co.za) is in the central, studenty Braamfontein district, close to downtown – modern, and very orange!
Faircity Quatermain Hotel (60 West Road South, Sandton, Joburg; www.quatermain.co.za) is an Anglo-styled hotel in the exclusive North Sandton area, complete with pool, sedate old-world lounges and an ab fab French-focused bistro, Sel et Poivre (www.seletpoivre.co.za).
TO DO
CENTRAL
Undoubtedly the best way to see Johannesburg city centre is to use Past Experience Tours (www.pastexperiences.co.za). Jo, Tania and their local, knowledgeable, friendly and hyper-enthusiastic team offer a range of tours, on foot and using public transport, covering Newtown; plus the oft-hidden architectural gems in the high-rise CBD (Central Business District) in downtown. Browse and graze at busy arts block, Arts on Main (www.artsonmain.co.za).
Visit the Apartheid Museum (www.apartheidmuseum.org), illustrating the rise and fall of apartheid – disturbing, but ultimately inspiring. Neighbouring Gold Reef City (www.goldreefcity.co.za) is one of Africa's largest theme/fun parks, hubbed around a real 19th Century gold mine.
Lunch at the luxury Westcliff Hotel (www.westcliff.co.za), with its fab lofty terraced poolside eatery, before touring Constitution Hill (www.constitutionhill.org.za), site of a former jail that once housed Gandhi and Mandela – plus SA's Constitutional Court. Enjoy the Origin Centre (www.origins.org.za), for insights into the biological and cultural evolution of humans, not least via ancient cave and rock art.
NORTH
Hang out in buzzing new Nelson Mandela Square, in the northern Sandton district – lunching at The Butcher Shop (www.thebutchershop.co.za), famed for steaks, including springbok. At nearby African Romance (www.africanromance.com), see rough diamonds cut and polished on site, to order!
Visit the chic Gallery District in Parktown North; or hunt for unique furnishings in the Design Quarter (www.designquarter.co.za), eating at the Kitchen Bar (www.kitchenbar.co.za), people-watching across the square. Check out the new Montecasino (www.montecasino.co.za) leisure area too.
At Liliesleaf Farm (www.liliesleaf.co.za), anti-Apartheid leaders – including Nelson Mandela and Walter Sisulu – plotted strategy, many being subsequently tried for treason following a police raid.
200-hectare Lion Park (www.lionpark.com) is the drive-through home to prides of lions – you can even touch and pet some hand-reared cubs that have been rejected by their mums. Also visit the Lesedi African Lodge & Cultural Village (www.lesedi.com) – a cluster of typical traditional villages, showcasing tribal dance and customs, plus scrummy food at its excellent buffet restaurant.
Home of our ancestors, the fascinating 47,000-hectare Cradle of Humankind World Heritage Site (www.cradleofhumankind.co.za) tells its 4 million years old story via fossils found here. Don't miss its award-winning Visitor Interpretation Centre at Maropeng or its world-famous Sterkfontein Caves.
SOWETO (ie SOuth WEst TOwn)
Down Soweto way, Africa's largest stadium, Soccer City, hosted the last World Cup final and offers tours all-week-round. Lunch at thronging Sakhumzi (www.sakhumzi.co.za) – with its tasty, healthy buffet – on famous Vilakazi Street, right next to Bishop Tutu's house. Ascend Orlando Towers (www.orlandotowers.co.za), former cooling vents, for fab views, or even a Bungee Jump!
Visit the Walter Sisulu Square of Dedication, where the historic 1955 Congress of the People took place, resulting in the signing of the Freedom Charter – precursor to SA's current constitution.
The Mandela Family House (www.mandelahouse.org) is where Mandela and family lived in the 1960s, before he went to prison – ace tours; and brimming with memorabilia. The nearby Hector Pieterson Memorial & Museum graphically documents the history of the 1976 Soweto Uprisings.
Take a preconception-shattering Bicycle tour (www.sowetobicycletours.com) around friendly Soweto, with a local guide – including some of the, thankfully now few, remaining 'informal' (shanty) settlements.
TO BOOZE 'N BOP
Joburg might not be quite as much a 'gay destination' as its southern sister, Cape Town, but – quite apart from Johannesburg Pride (www.joburgpride.org) mid-Oct, and Soweto Pride (www.sowetopride.co.za) late Sept – fine gay venues are scattered around town, including:
Liquid Blue (7th Street, Melville, Joburg) – Friendly, stylish lounge and restaurant.
Babylon Bar (Oxford Centre, Oxford Road, Illovo, Joburg) – Dancer boys. Especially busy Fridays!
Babylon Club (Southlake Mall, Heuwel Avenue, Centurion) – A wee drive north; brimming Sats.
USEFUL WEBSITES
www.southafrica.net; www.joburg.org.za; www.joburgtourism.com; www.jmttours.co.za
GETTING THERE
Virgin Atlantic (08705 747 747; www.virgin-atlantic.com) flies between London Heathrow and Johannesburg daily, with Economy fares from as low as around £590 return, including taxes, offering the best in-flight entertainment and service in the business. Or why not pay that bit extra to stretch your legs in award-winning Premium Economy? Or really splash out to upgrade yourself to their legendary Upper Class? Heathrow's massive multi-million pound flagship Virgin Clubhouse lounge, with its wide range of ambiences in different seated areas, provides the ultimate pre-flight experience for passengers, with an array of exciting and unique features – from massages and hair styling, to pool tables and a children's area, to keenly attentive roving waiters, serving freshly-mixed trend-setting cocktails direct to wherever you happen to park your own little seat. Try a fruity 'Virgin Redhead', or maybe even a 'Ginger Top', pre-boarding!
Comments via Facebook
comments