Review: The Boy Friend, Menier Chocolate Factory, London
by Adrian Gillan for www.bent.com
Bent's Adrian Gillan is besotted by classic '20s-pastiche gem The Boy Friend, revived at the Menier Chocolate Factory! The most charming, perfectly-formed, oh-so-English musical ever?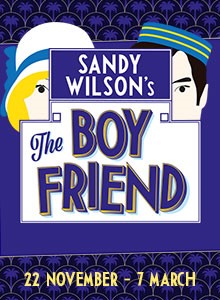 Set in a ladies finishing school in the carefree world of the French Riviera during The Roaring Twenties, polished young English females flap-and-sing at the drop of a tennis racket; and banned boy friends are endlessly popping up-and-out all over to make a song and dance with 'em. So innocent it's utterly sexy!
Sandy Wilson's book, music and lyrics for his show, The Boy Friend, struck gold in 1953. His all-singing all-dancing love letter to 1920s musical comedies opened at the tiny Player's Theatre in London, right opposite where Heaven nightclub now stands today. An affectionate pastiche – not least of early Rodgers and Hart musicals such as The Girl Friend – the show hit the West End in 1954, running for over 5 years: a well-nigh record-breaking feat at that time.
The Broadway production that opened that same year was a huge hit too, making a star of the then-unknown Julie Andrews, although Wilson himself was not very keen on the American staging – likewise truly hating the significantly-adapted 1971 Ken Russell film, starring Twiggy, Christopher Gable and Glenda Jackson, which used an augmented score by late-gay-great Sir Peter Maxwell Davies.
Other major revivals, since, include one by massive-The-Boy-Friend-fan Cameron Macintosh, with his 1984 30th anniversary production; and, most recently, a version at The Open Air Theatre in London's Regent's Park in 2006/7. Moreover, the work's relatively small cast and minimal, pared-back production requirements have made it a staple favourite for many amateur and student groups worldwide.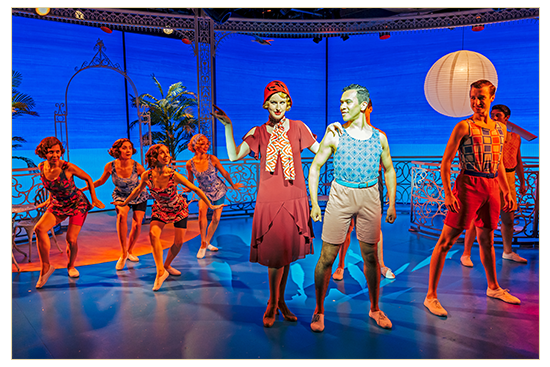 As an aside, it is also worth noting that Wilson wrote a sequel, Divorce Me, Darling! – set a decade later, and aptly a pastiche of 1930s musicals, notably Cole Porter's – which enjoyed a short West End run in 1965; and which is sometimes staged as a "double bill" alongside far-more-famous The Boy Friend.
Presented in association with David Ian and David Mirvish, this latest production of The Boy Friend sees Menier favourite Matthew White return to direct a tip-top cast, with the best in choreography and design.
Sweet-voiced Amara Okereke and all-round-dream-boat Dylan Mason play Polly and Tony respectively: two "poor little rich kids" who are pretending they are impoverished – she to duck unwanted advances; he to make his own way in the world – yet, ironically, thereby finding, and falling in love with, each other! Gabrielle Lewis-Dodson shines as Polly's pal, Maisie, herself in love with swaggering young oh-so-openly-rich American millionaire Bobby van Husen, played 'n danced to-a-T by semi-divine demi-god hunk, Jack Butterworth – notably blistering, not to mention tantalisingly bulging, in the Charleston!
Annie Southall (Dulcie), Emily Langham (Fay) and Chloé Goodliffe (Nancy) play three of the most energised, bubbly, self-assured and individual young flapper girls imaginable: all so pert and cheeky yet so beautifully-finished that you could eat them. Which you probably would do: were you not somewhat distracted by their matching trio of clandestine male partners – Tom Bales (mega-watt smile) as Alphonse, Peter Nash (ravishing eyes) as Marcel and Ryan Carter (near perfect lips, and ears) as Pierre – all three guys so comely upon the eye as they skip, flit 'n twirl around the stage, one hardly dare look!
Janie Dee combines sassy with sensitive, as the sultry finishing-school headmistress Madame Dubonnet, cossetting Polly whilst simultaneously seducing her own old-flame, Percival Browne, Polly's super-rich father – Brit-quintessentially demurely played by charismatic Robert Portal. Tiffany Graves is gutsy, brazen and streetwise in the lynchpin role of Hortense, Madame Dubonnet's matchmaking maid.
Veterans Adrian Edmondson and Issy van Randwyck comically spar off each other as wealthy Lord & Lady Brockhurst, the latter resentful of the former's philandering, 'til herself its (unintended) target; both of them joyous at the last to reclaim their head-strong son – who turns out to be none other than Tony, Polly's beau. Bethany Huckle and Matthew Ives dance a humorously menacing tango, as Lolita and Pépé in the Act 3 masked ball; and Craig Armstrong adds laughs throughout as the Gendarme.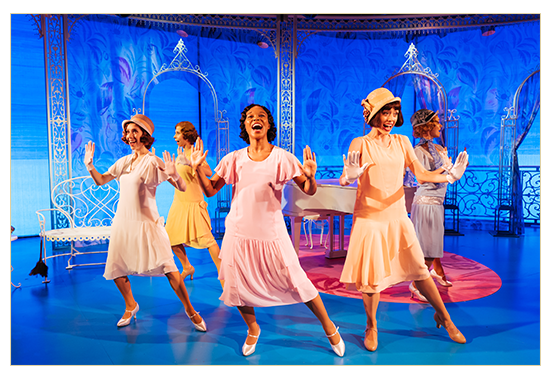 Matthew White's direction hits all the right notes – sauciness never overpowering innocence; and a naïve sincerity ensuring the show never falls into the easy, lazy trap of self-sent-up parody. White clearly works extremely closely with choreographer and associate director, Bill Deamer, who delivers glorious 1920s period moves 'n steps from first to last, miraculously oft working full-cast in a rather limited space.
Paul Farnsworth's simple yet expansive installation of a set works a treat – the white metal trellis arbour coiling out into the auditorium and even housing the band pit; the rear wall screens conjuring up a wide maritime horizon. Farnsworth's immaculate costumes also crisply visually evoke the characters wearing them. Ditto Richard Mawbey's exquisite hair, wig and make-up work. Hats off for Paul Anderson's lights, plus Gregory Clarke's sound. Big cheers too for MD Simon Beck, heading up a 9-piece band from his perch at the keyboard, oft playing his own arrangements, plus David Cullen's jaunty orchestrations.
The Boy Friend runs at the Menier Chocolate Factory in London until 7 March 2020.
– ends –