Review: La traviata, Royal Opera House
by Adrian Gillan for www.bent.com 
Love attained; lost innocence regained – yet all too late? Bent's Adrian Gillan salutes 25 years of Richard Eyre's production of Verdi's most popular work, La traviata, at the Royal Opera House!
A low-born high-class prostitute sacrifices the redeeming and reforming love she unsuspectingly finally finds – for the sake of her beloved's family honour, and just as deadly illness encroaches.
La traviata's 1853 premiere in Venice might not have gone too well, yet this tale of a "fallen woman" who is morally and spiritually purified and saved by a selfless love in the very face and arms of death – with its heady mix of parties and duels, soaring arias and jaunty chorales – has now become not only Giuseppe Verdi's, but also the world's, most performed opera.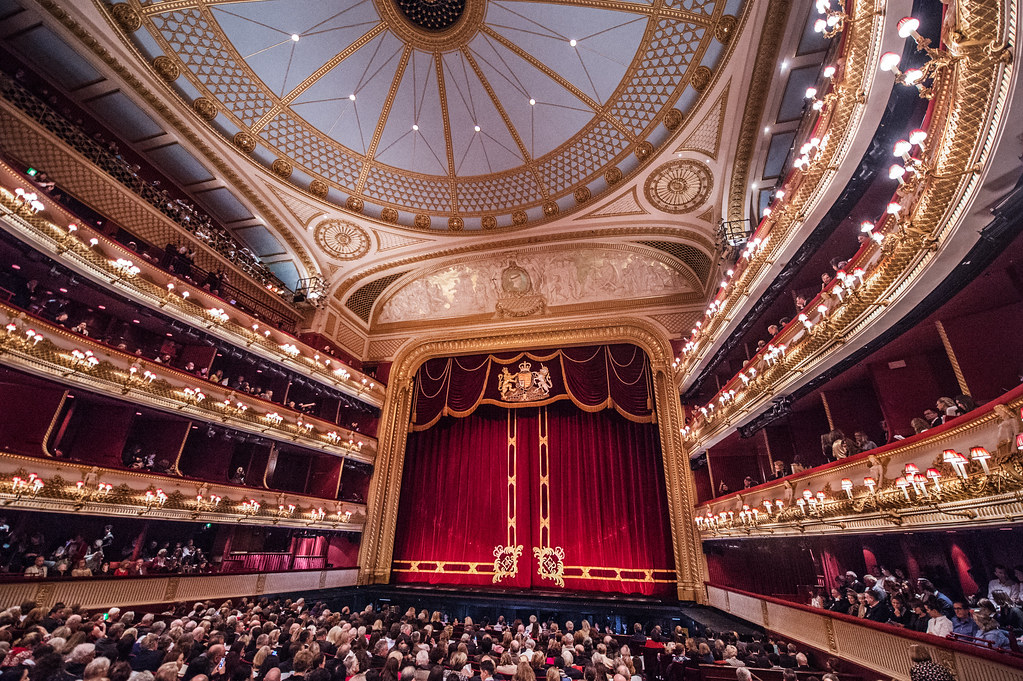 Based on the novel and play La Dame aux camélias by Alexandre Dumas fils – son of a more famous namesake father – that is itself based on its author's own real-life lover: Verdi's setting of Francesco Maria Piave's libretto offers a more nuanced and sympathetic portrayal of the heroine than its original.
This year celebrates a quarter century of Sir Richard Eyre's production at the Royal Opera House, revived here almost every season since its 1994 premiere. In the opera's four scenes, across its three acts, Eyre highlights the constantly shifting contrasts between public superficiality and private passions.
Bob Crowley's four vast, oft-curvaceous sets, are key to achieving this aim – from Act 1's darkly warmly seductive oval salon party boudoir; to Act 2 Scene 1's relatively spartan, lighter-hued and rectangular rustic retreat where emotional and psychological revelations pour out, uninhibited; to Act 2 Scene 2's over-the-top palatial house lounge; to Act 3's uncluttered death chamber. All deftly lit by Jean Kalman.
There is clear chemistry between the two Armenian leads. Soprano Hrachuhi Bassenz's Violetta is powerfully acted and bravely sung; well matched by her young tenor compatriot Liparit Avetisyan whose Alfredo bristles with youthful ardour and frustration, perhaps occasionally overly bordering on petulance.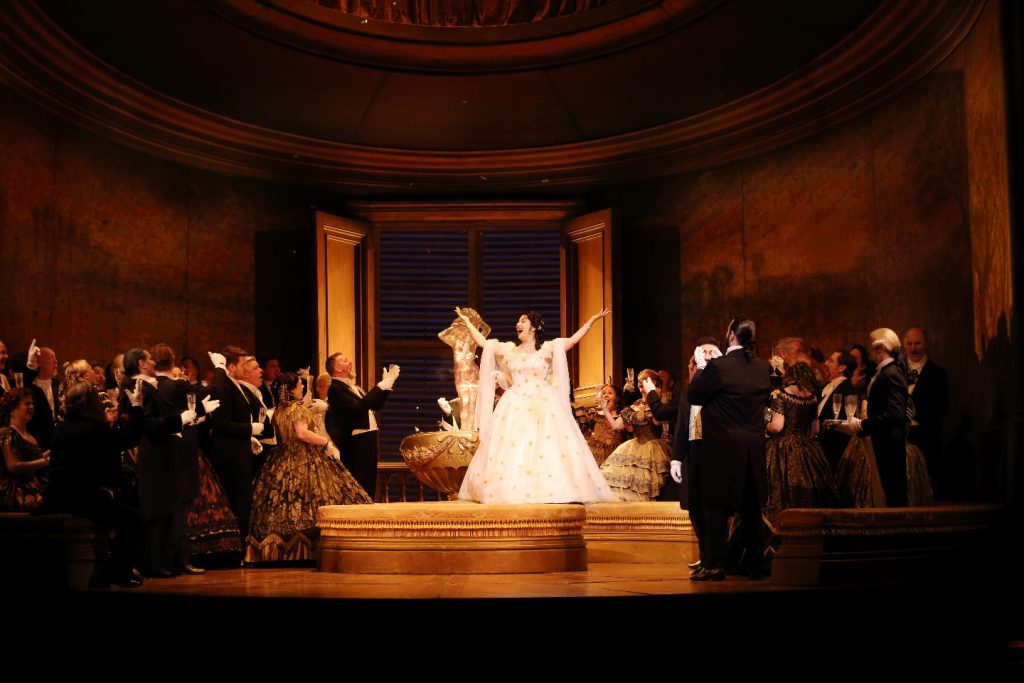 British baritone Sir Simon Keenlyside adds pure class to the production in the complex lynchpin role of Giorgio, Alfredo's father, as he is won over by Violetta's honesty, dignity and supreme sacrifice; and wracked by guilt at hindering the course of what is obviously true love, for the sake of family honour. A masterclass in controlled, emotionally-filled character-acting from a mellifluous singer – the line between acting and singing, mind and voice, flawlessly blurred.
Argentinian baritone Germán E. Alcántara makes a darkly bristling and indignant Baron Douphol, Alfredo's rival for Violetta; and Uruguayan tenor Andrés Presno is a likeable Gastone, Alfredo's mate. British mezzo-soprano Stephanie Wake-Edwards sings a fine Flora, Violetta's socialite friend; and fellow Brit mezzo Sarah Pring delivers a lovingly truculent Annina, Violetta's loyal-to-the-last maid. British bass Timothy Dawkins gives a movingly helpless Doctor Grenvil, as Violetta's TB takes its merciless course.
Daniel Oren conducts this engaging cast, a gutsy Royal Opera Chorus and a typically ravishing Orchestra of the Royal Opera House in this celebration of what is both a gloriously dramatic, exquisitely-designed, exemplar of opera staging and also – happily for audience and company alike – a much-loved perennial cash cow, with big udders. May the glittering gift keep giving!
Part of La traviata's appeal is its success in conveying high-society champagne sparkle; the sex industry serving it, simultaneously shunned and embraced; and the possibility of redemption through love. Violetta's is a bitter-sweet tragedy. Although her earthly happiness is pained and curtailed, she departs ecstatically, in the sure knowledge, won through the story, that she has intensely loved; and been loved.
Royal Opera 2019/20 Season
The Royal Opera's 2019/20 season features a host of much-loved revivals as well as over a dozen brand new productions, including two world premieres! Other main stage highlights include Otello, La bohème, Fidelio, Jenufa, Cavalleria rusticana / Pagliacci, Tristan und Isolde, Elektra, Lucia di Lammermoor, Madama Butterfly, Don Carlo and Tosca!
La traviata runs at the Royal Opera House until 23 March 2020.
– ends –