Review: The Glass Menagerie, Arcola Theatre, London
by Adrian Gillan for www.bent.com
Supressed aspirations, desperate dreams! Bent's Adrian Gillan hails a poetic revival of gay great Tennessee Williams' The Glass Menagerie, at the magical little Arcola Theatre in East London!
Based on an earlier short story and film script, Tennessee Williams' most autobiographical play, The Glass Menagerie, was his first big hit – premiering in Chicago in 1944, then on Broadway the next year.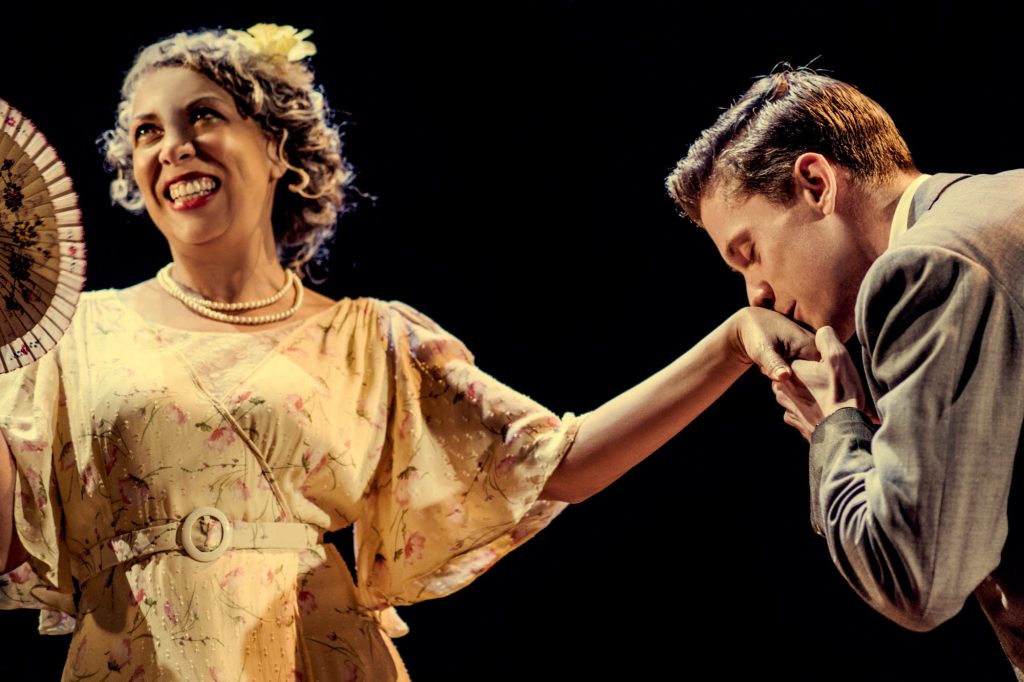 Neurotic and controlling faded Southern Belle, Amanda, wants a better life for her children – missing the relative affluence and eager beaux of her youth, her husband having deserted. Her son, Tom, works in a soulless shoe warehouse by day to support the family; writing poetry and, by night, escaping to the movies as well as – we are rather left to imagine – other pleasures. Her limping, introverted daughter, Laura, drops out of college and secretarial school to retreat into a world of gramophone records and her collection of fragile glass animals. Exasperated, Amanda hectors Tom to set up a prospective "gentleman caller" to come woo his sister at home. But when his workmate Jim is roped in, the dinner-date ends badly, to Amanda's fury; and Tom abandons his family for a freer life – just like his father did.
This production at the wonderful Arcola Theatre in Dalston, East London – a co-pro with Watford Palace Theatre where it has already played – is directed by the talented Femi Elufowoju jr. Entirely faithful to the spirit of the play, the staging highlights the work's self-declared poetry, symbolism and intrinsic theatricality, as sometime-narrator Tom cautions the audience that this "memory play" may stray from the literal truth in order to reveal a deeper truth. The acting and characterisations are crystal clear, and the requisite histrionics and dark humour well-evoked throughout.
It is by no means the first production to have cast the core family threesome using black actors. Whilst this is entirely credible – given the large aspirational and relatively socially mobile black community living in St Louis, Missouri, in the Great Depressive late-1930s where/when the play is set – I am not convinced so doing actual adds very much to our understanding of the play, although it certainly doesn't warp or detract from it either. Black or white, the casting comes across as a bit of a non-issue – race is not stated as a reason for Tom's ostracization at his warehouse, or for Catholic white Jim "jilting" Laura.
More importantly, and to the point, the acting is superb!
Michael Abubakar is excellent as the Williams-like character-narrator, Tom, disillusioned yet secretly planning his escape – moved by his sister yet pushed too far by his mother, both of which characters are based on the dramatist's own family. Tom is ultimately determined to flee and enjoy freedom – perhaps even (homo)sexual freedom, of a sorts, too… who knows? A sharp, committed performance.
As Tom's mother, Amanda, Lesley Ewen turns up the self-consciously-theatrical dial to the max, giving a bravura OTT tour de force – both hilarious and pitiful. A highly detailed and energised rendition.
Naima Swaleh gives a fine professional stage debut as Tom's sister, Laura – extremely touching throughout, not least in her big scene with Jim; and as fragile as the glass menagerie she so prizes.
Winsome Charlie Maher lights up the stage throughout the second half as "gentleman caller", Jim, exuding charm and sensitivity, not least in his scene with Laura; even evoking an air of mystery – was he really already engaged to be married, showing how little his "best friend" Tom actually knew him; or was it just a ruse to get out of an awkward situation?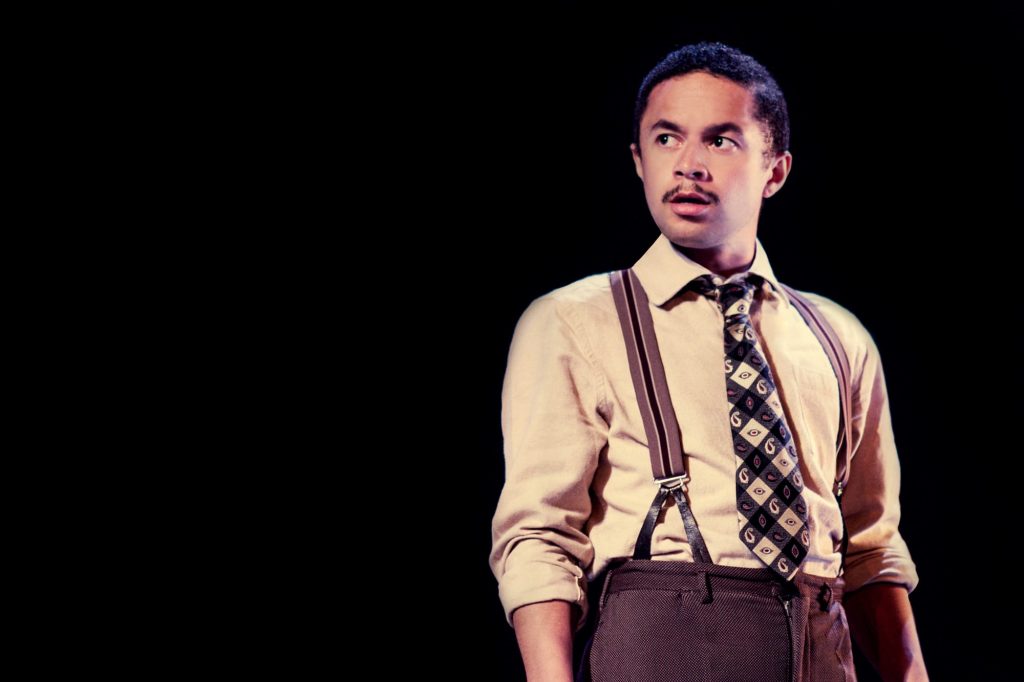 Designer Rebecca Brower's tenement setting, permitting elaborate stairway exits and entrances, is well complemented by Yvonne Gilbert's sound and by Arnim Friess' atmospheric lighting and occasional video designs; plus by Joel Trill's rock-solid dialect coaching and Kemi Durosinmi's movement work.
Tennessee Williams (1911 – 1983)
Generally considered to have been one of the three giants of 20th Century American drama, alongside fellow playwrights Eugene O'Neill and Arthur Miller, Tennessee Williams wrote perhaps his three best-known plays within a decade, from mid-1940s to mid-1950s – The Glass Menagerie (1944), A Streetcar Named Desire (1947) and Cat on a Hot Tin Roof (1955). Many of his works were made into films.
He had a violent, drunken travelling salesman for a father and a difficult relationship with his mother; but he adored and financially supported his institutionalised schizophrenic and lobotomised sister. He had a series of gay affairs, oft with significantly younger men, many drink- or drug-dependent – as Williams himself increasingly became, suffering from anxiety and depression. Some were attracted by his fame and burgeoning wealth. Occasional actor Frank Merlo was the enduring, 14-year, romantic relationship of his life, the pair living in both New York and Key West during his most artistically productive years.
Williams choked to death on a plastic bottle cap in his Manhattan hotel suit in 1983 and was buried in St. Louis, Missouri, despite the express request, stated in his will, that his body be disposed of at sea.
 The Glass Menagerie runs at the Arcola Theatre in London, until 13 July 2019.
– ends –