That iconic white 'n blue: so Grecian, so Aegean! Bent's Adrian Gillan enjoys the bars, beaches and boys of one of the gayest isles on Earth! And all a mere short flight away, with fab easyJet!
by Adrian Gillan for Bent Magazine and Bent Gay Shop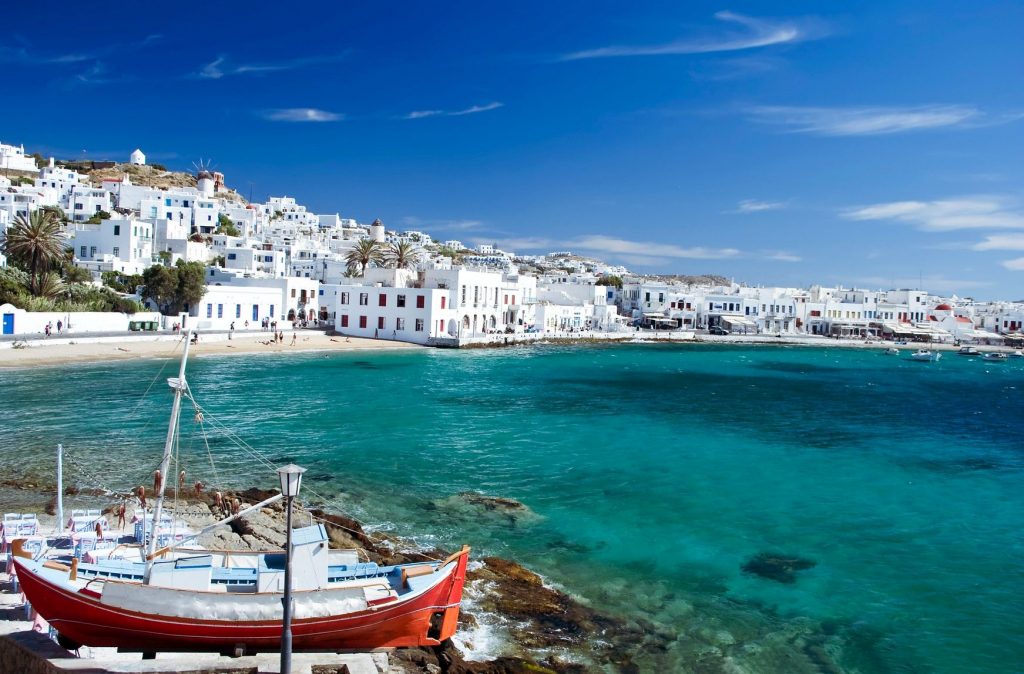 One of Greece's most famous islands, a jewel of the Cyclades, small-but-beautiful Mykonos – named after the Sun God Apollo's grandson – boasts barren hills, supposedly formed from the bodies of giants killed by Hercules, sparkling bays and luscious boys. Where sea meets land; where fisherfolk mingle with celebs and homo hordes of A-Gays; where history greets today. Mykonos: the myth lives on!
And, with low-cost carrier easyJet serving Mykonos from London Gatwick, London Luton and Manchester, you too can soon live the legend – with extra cash left in your pocket to use once here! On time, with highly personal yet professional service, easyJet always delivers what it says on the tin! Ace!

Stay & Eat
Stay at incredible award-wooing 5-star boutique beach hotel, the Mykonos Princess (Agios Stefanos, 84600 Mykonos, Kikladhes, Greece; T: (+30) 22890 23806, (+30) 22890 25377;), a couple of miles north of Mykonos Town – the latter tantalisingly seen from the hotel, across the bay – thus far enough from its relative bustle for peace, yet close enough to readily reach its scene whenever whim takes. The hotel is under 5 minutes' walk from the stunning waters of nearby cute little Agios Stefanos beach.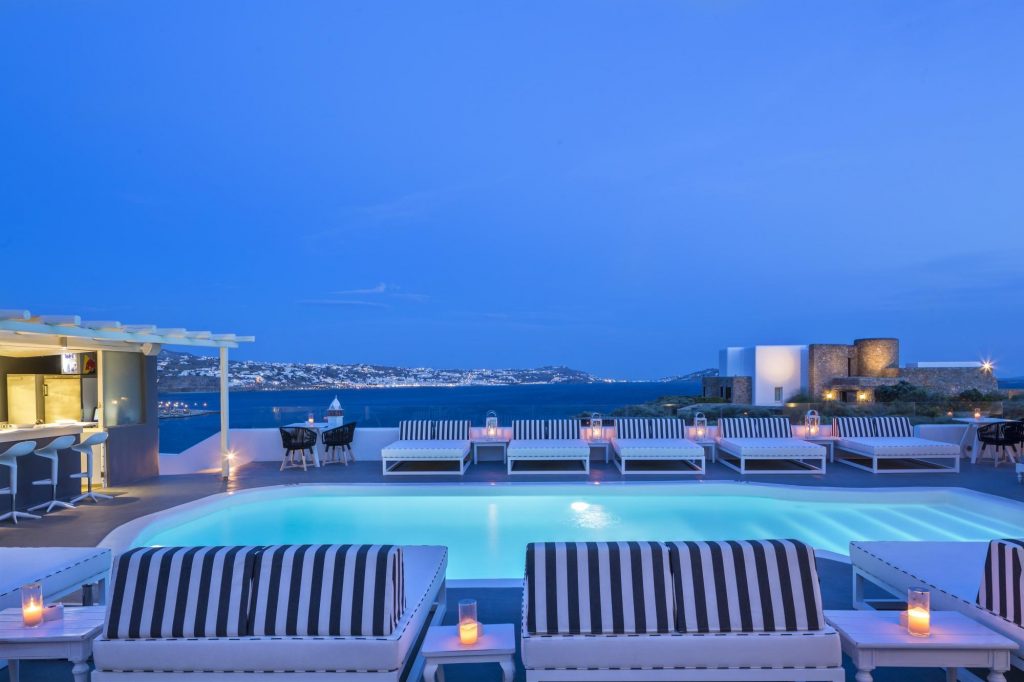 The Mykonos Princess' wide range of facilities and services include a 24-hour front desk; an outdoor swimming pool with sunbathing deck, overlooking the sea and looking out towards Mykonos Town; a pool bar ­and restaurant; free Wi-Fi and satellite TV; fully-equipped fitness centre; outdoor parking area; transfer services; valet parking; bell boy and porterage services; travel desk; car rental; daily maid service; afternoon turn down / housekeeping service; cleaning, ironing and dry-cleaning; coffee & tea amenities, including Nespresso coffee machine; iron and ironing board on request; pillow menu; wake up calls; and room service – to name a few!
The hotel has 34 modern rooms in 9 categories to suit different budgets, yet all are great-value; all are influenced by a pure, simple Cycladic architecture and Mykonian style; and nearly all boast sea views out over the clearest, deepest Aegean blue! All rooms and suites offer décor depicting subtle details of marine life, using a natural palette of calming, earthy tones. You'll love the bathrooms too!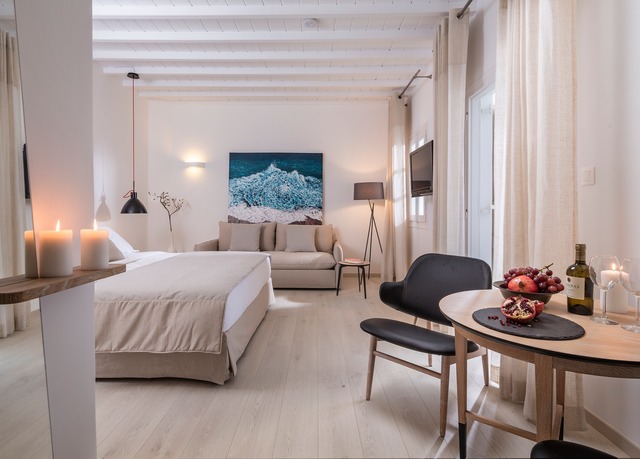 Not that you'll be spending too long in your room when you can be lounging by, or swimming in, the outdoor terrace pool, sipping a cocktail from its bar as you gaze southwards out across the sparkling bay towards Mykonos Town.
Peckish? Then you have merely to saunter inside the poolside Kapari Restaurant, keeping the same breath-taking, panoramic view, whilst gorging on a range of mouth-watering menus throughout the day. In fact, all menus may be enjoyed poolside, at the pool bar or in the comfort of Kapari Restaurant itself!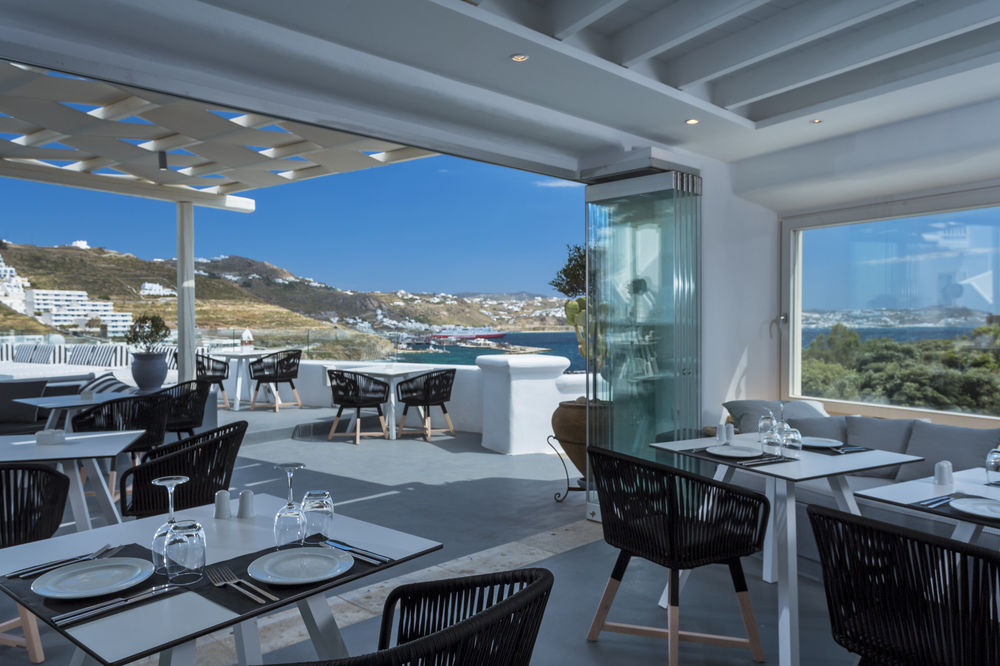 To start your day, the vast á la carte breakfast menu offers a plethora of enticing hot and cold dishes, including pots of surprises (eg peach and almond, carrot and ginger etc), egg variations (eg Eggs Benny, Aegean Scrambled etc) and naughty sweets (eg lemon cake, custard cream pie). Nibblers will love the snack menu, available post-noon, with tempting treats like souvlaki, calamari or chicken sandwiches. More in-depth diners can enjoy an all-day menu featuring the likes of goat cheese, quinoa salad, or orzo pasta, not to mention delicious deserts, from 1pm until kitchen closes.
A tailored cocktail list with the finest spirits, and non-alcoholic beverages, perfectly complements any snack or meal. Make the most of award-winning mixologist barman, Jim! All his liquid creations are amazing – not least his Bittersweet Symphony!
Indeed, beyond the basically fab location and facilities, what really makes an outstanding hotel stand out are its staff – from maestro manager John, to guest-experience magic-maker George; from dishy waiter Anastasis to ace driver Antony! The whole team truly know how to make a Princess fit for a Queen!
See & Do
Mykonos Town itself boasts one of the best examples of Cycladic architecture in the entire wider island group, with its organically winding narrow streets, whitewashed houses, blue doors and window frames, purple bougainvillea trees and hidden Orthodox chapels. Highlights include the church of Panayia Paraportiani and Town Hall situated by the harbour. Other top tips include Archaeological, Folk and Maritime Museums for history. Chic indi boutiques nestle cheek-by-jowl with rainbow kitsch kiosks.
See the odd fishing boat still bobbing on the harbour waterfront, and possibly even a pelican – following in the tradition of one Pétros the Pelican, found by a fisherman after a storm in 1954! Just south of the harbour is picturesque Alefkántra, a.k.a. "Little Venice", an 18th Century district, full of grand mansions (now mainly bars) with colourful balconies, overlooked by the iconic Five Windmills on the hillside above.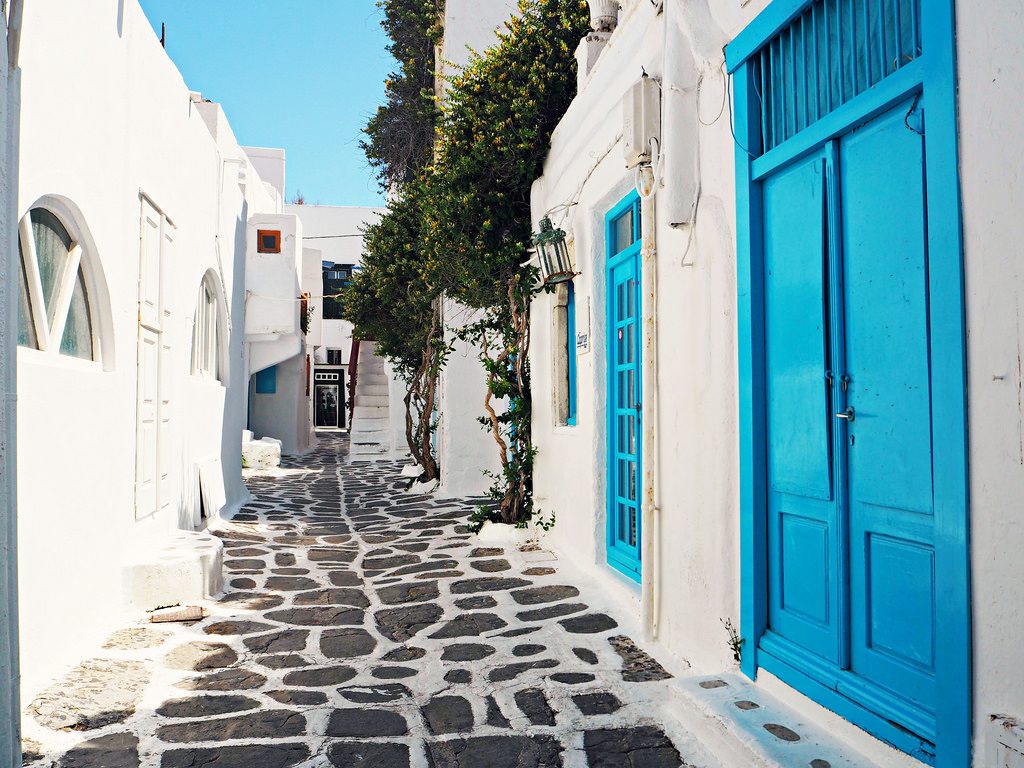 The 'second town' of Mykonos is Áno Merá, in the middle of the island, built around the 16th Century whitewashed monastery of Panayia Tourliani. Enjoy lunch in its central square.
The southern coast has the busiest beaches, like Paradise and Super Paradise. However, for something more peaceful, simply head for the nearby northern coast. Graced by convenient breezes, the island is also great for water sports, attracting surfers and windsurfers, scuba divers and sailors, from afar! You can even try sea parachuting or jet skiing! Explore the island on a small boat to discover secluded beaches, or take a boat tour around the nearby islets, also fab for fishing!
An absolute must is a half-day boat trip to visit the sizeable and well-nigh complete Ancient Greek city ruins on the neighbouring island of Delos, legendary birthplace of Apollo and Artemis. Gawp at its streets, temples, houses, harbours, market places, gymnasia, hotel, theatre and stadium! Staggering!
Scene
Mykonos is definitely the gayest part of all Greece and arguably – tho' Spanish Ibiza may disagree – still the queerest island in the whole Med! Naturally the influx is somewhat seasonal, so we're mainly talking May-Sept! And we're really talking Mykonos Town, plus some beaches on the south coast.
Out-of-town, closely clustered on the south of the island, try the in-parts nudist quartet of Paranga Beach (gay west end), Paradise Beach (gay west end), Super Paradise (a.k.a. Plintri) Beach (gay west end) with its heaving Jackie O Beach Bar or Elia Beach (gay west end). What is it with gay west ends (ie righthand ends as you face the sea)?!?
As the sun goes down, the music pipes up at these April-Oct venues, all in Mykonos Town…
Kastro's Bar & Restaurant (Agion Anargyron 1, Little Venice; 10am-1am) – gay-popular, around for 40 years, with balcony overlooking the sea; fruit cocktail specialties.
Katerina's Bar & Restaurant (Agion Anargyron 8, Little Venice; 9pm-3am) – gay-wooing cocktail bar and seafood-leaning restaurant with small terrace for sea views.
Montparnasse "The Piano Bar" (Agion Anargyron 24, Little Venice; 7pm-3am) – originally an art gallery in the late 60's and later a gay-popular bar, Montparnasse (a.k.a. just "The Piano Bar") offers live cabaret every night, again with a balcony for sea views.
Elysium Hotel (off Agiou Ioannou Street, Arts College district; 6pm-10pm) – sunset views from the terrace make up for its tad pricey drinks, at least some say.
LOLA Mykonos (8pm-3.30am) – lively bar and cafe, hosted by charming Gilles and Dimitr.
Porta Bar (Voinovits 5, down an alley near the harbour front; ; 10pm-5am) – two bars and a small dance floor.
Jackie O (Paraportiani Waterfront; 6pm 'til late) – 2-floor lounge bar with drag act fun.
Babylon (Paraportiani Waterfront; 7.30pm-6am) – with buzzing, bopping dance floor and outside patio!
At54 (Taxi/Manto Square;) – summer-only gay dance club "where disco meets Mykonos", with a glam crowd, hot DJs and sexy staff.
XLSIOR Festival, 22-29 Aug 2018 (various venues throughout the island;) is one of the world's hottest international gay summer dance party fests for one week only, usually in Aug, with international DJ's, dancers, shows and such attracting thousands of hot men from around the world. Book hotels early – discounts available if staying at the Mykonos Princess Hotel (see above)!
And gents have oft been known to 'take airs' of an eve around, and on the slopes just beneath, The Five Windmills; or behind the nearby Paraportiani Church – both in Mykonos Town. As ever, beware!
easyJet
easyJet flies from London Gatwick, London Luton and Manchester to Mykonos, up to seven days per week, with prices starting from £22.99 per person (one-way, including taxes and based on two people on the same booking). This brill, great-value airline is punctual, offering friendly yet professional service; and boasts a vast and ever-expanding network of other exciting routes, covering much of the UK, Europe and beyond.

The Gatwick Express train is the fastest transfer available between London Gatwick airport and central London (London Victoria), departing every 15 minutes, with journey time just half an hour.
– ends –