Holy José: Santiago de Compostela!
by Adrian Gillan for Bent.Com                                                         
The sacred relics in its Cathedral aren't the only things due worship! Adrian Gillan makes a long overdue pilgrimage to honour the handsome hunks in student-brimming World Heritage Site, Santiago de Compostela, in northwest Spain! And all a mere short flight away, with fab easyJet!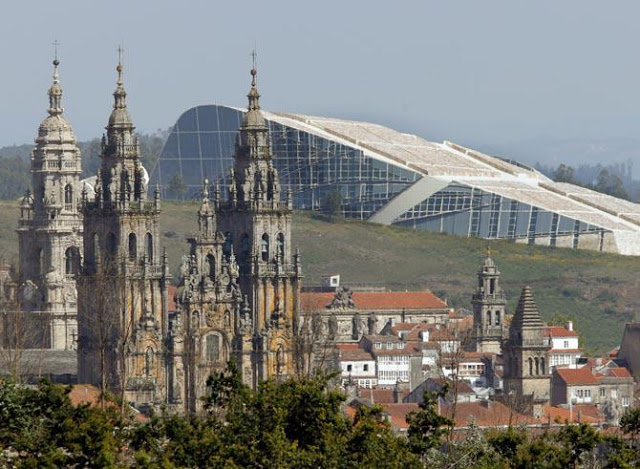 Capital of the autonomous region of Galicia in northwestern Spain, Santiago de Compostela may well be best known as climactic finale of the Catholic "Way of Saint James" pilgrimage route, with supposed relics of said apostle Saint James (Sanctus Iacobus in Latin, hence the city's name) being housed in its majestic Cathedral; and also for its surrounding Old Town, a UNESCO World Heritage Site since 1985.
But the city also boasts an ancient uni, since early 16th Century, now fuelling nightlife – including a small yet beautiful gay scene with sexy students and local guys, oft spouting both Spanish and local Galician!
Note: whilst little Santiago de Compostela is home to just 100,000 inhabitants, a third of them students, over 100,000 more people make the pilgrimage here each year, from all over Europe and around the world – even many times that number in "Holy Compostelan Years", whenever 25 July falls on a Sunday! Including: abstemious and physically frustrated younger male pilgrims, all adding to the swell! Alleluia!
And, with low-cost carrier easyJet serving Santiago de Compostela from London Gatwick, you can join the crowd, minus that sweaty land trek – with extra cash left in your pocket to use once here! On time, and with highly personal yet professional service, easyJet always delivers what it says on the tin! Ace!
Stay
Can't face some pilgrim backpacker hostel? Stay, instead, at historic and monumental on the outside, yet modern and chic on the inside, 4-star Hotel Compostela (c/Horreo 1, Santiago de Compostela; T: +34 981 585 700), slap-bang in the heart of the city, near scene and sights! The air-conditioned rooms boast trendy décor and parquet floors, all with free Wi-Fi, satellite TV, minibar and private bathroom. Enjoy room service; or relax in the ambient lounge area, or at the bar, or in the HC Café! Fab breakfast buffet too! Just amazing!
See & Do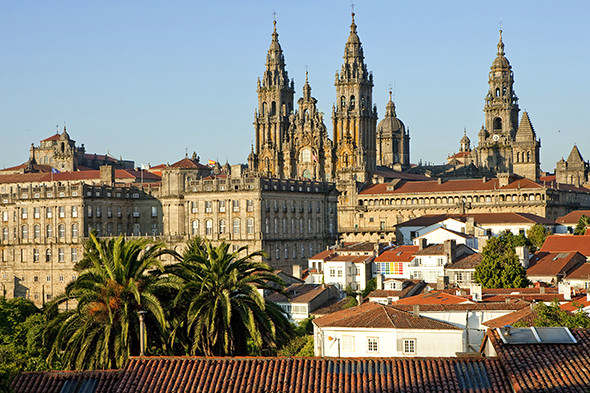 As well as the Cathedral itself, built over centuries with parts dating back a thousand years, and heart and soul of the town, take in the streets and squares of the surrounding Old Town with narrow winding lanes full of historic buildings – like 12th Century Colexiata de Santa María do Sar; 15th Century Hostal dos Reis Católicos (now a Parador hotel); 16th Century Baroque Abbey of San Martín Pinario; 17th Century Convent & Church of San Francisco; 18th Century City Hall; plus aforementioned ancient Uni of Santiago de Compostela.
Regular guided tours run throughout the high season around the historical quarter, starting from the Praza de Praterías, just south of the Cathedral; or, daily and all-year-round, to the Archbishop's Palace and Cathedral rooftop, starting from the office at the main facade of the Cathedral. Everywhere you look there's a tour!
You can also explore modern arty hubs like Centro Galego de Arte Contemporánea , notably during its current show Bañistas, of homoerotic vintage photos of semi-nude male bathers, on until Oct 2017; or space-age hill-top City of Culture of Galicia, with its free exhibitions relating to Galicia. Enjoy sundry peaceful parks that well-nigh ring the city, such as the San Domingos de Bonaval, Belvis, Alameda or Vista Allegre.
Browse the colourful Praza de Abastos food market – an assault on the senses with its writhing live crabs awaiting slaughter, plus assorted local characters – picking up local conical cheeses (queixo tetilla), wine (albariño, ribeiro) or almond cake.
Even if no saint yourself, don't miss the splendour and beauty of a Pilgrim Mass at the Cathedral, maybe also touching (or hugging!) the Saint's main statue, inhaling sweet incense from the whopper smoke-swinger and even confessing selected sins!
Scene
And sin you well may! Santiago's student-powered gay scene is small but perfectly-formed, hubbed around two nominally "mixed" but actually de facto gay bars, albeit straight-friendly, both a short stumble from each other; plus one tad-far-flung sauna! Things start late in Spain, so you'll need that disco nap!
Bloom (Algalia de Abaixo 22) – Trendy two-floor mixed/gay bar-club in the east of the Old Town, full of sexy staff, good music and fun botanically-themed décor.
O Curruncho (Rúa de Entremuros 12) – Mixed/gay bar-club in the east of the Old Town, just around the corner from Bloom. Down-to-earth and lively, loved by students, locals and tourists alike.
Azul (C/ Sánchez Freire 4) – Long-standing gay sauna, alas a fair distance south west of the Old Town.
And gents have oft been known to 'take airs' of an eve in and around the Belvis Park maze, on the southern fringe of the Old Town. As ever, beware!
Plus: you mightn't be in Sitges exactly but, with modern dating aps, the pretty boys are rarely far away! Including a surprising number of those naughty pilgrims! Glory be!
easyJet
easyJet flies from London Gatwick to Santiago de Compostela, up to four days per week, with prices starting from £25.24 per person (one-way, including taxes and based on two people on the same booking). This brill, great-value airline is punctual, offering friendly yet professional service; and boasts a vast and ever-expanding network of other exciting routes, covering much of the UK, Europe and beyond.