We are Family, especially in Worthing!
More and more gay families now include children – adopted, biological, maybe even from previous op-sex relationships. And where better to take your little sprogs than for a fun few days out by the sea in lovely Worthing, in West Sussex, just west of Brighton!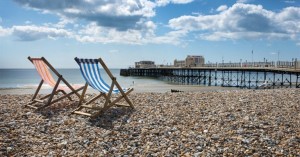 Brighton, lying 10 miles to the east, it is not: but none the worse for that!
Nestled in the seaward foot of the South Downs, Worthing may still only have a population of just over 100,000, but has been attracting humans to the area for at least 6,000 years – on account of the flints Stone Age folk loved to mine from its chalky slopes; then the mackerel harvest abundant in its seas; then, in the late 18th Century, due to the holidaying Georgian royalty with all their rich and queers in tow!
Writers have long loved its genteel laid-back ways, Shelley owning several properties hereabouts; Jane Austen staying in town for some months in 1805 in what now houses a fine Pizza Express; gay great Oscar Wilde holidaying here twice, in 1893 and 1894, penning his most famous work, The Importance of Being Earnest, during his second visit, duly naming its main character Jack Worthing; and Nobel prize-winner Harold Pinter calling it home in the early 1960s, even writing his play The Homecoming here!
Several films have been made in Worthing too, from Pinter's The Birthday Party (1968) to Wish You Were Here (1987)!
STAY
Stay at the excellent seafront Marine View Guest House (111, Marine Parade, Worthing BN11 3QG; T: +44 (0)1903 238630;), the only family-run guest house on the Worthing prom, to be looked after handsomely by your lovely, friendly hosts Martyn, Jane and folk!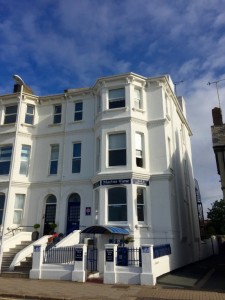 In a beautiful seafront position, all the spacious, lofty rooms have private en-suite bathrooms, with tea- and coffee-making facilities. The family room (4/5 people – from £70 a night) and Single room (from £45 a night) offer stunning views of the English Channel, whilst the other double rooms (from £70 a night) overlook Worthing and the South Downs. Extra beds for children under 14 cost just £20 a night.
Prices include a sumptuous Full English Breakfast (Sussex egg, plum tomatoes, Lincolnshire/Cumberland sausage, bacon, beans, hash browns, mushrooms, black pudding etc) with toast (brown or white) and jams; plus a selection of fresh fruit, yoghurts and cereals!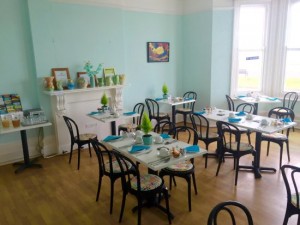 Open to residents and non-residents alike from 6pm daily, the Marine View Guest House has a friendly, comfy, quirky basement bar with a log-burning stove, billiards, darts and a wide selection of draught beers, lagers, spirits, wines, non-alcoholic drinks and snacks.
The owners are artists and their work, both 2D and sculpture, can be enjoyed throughout the property!
The Marine View Guest House makes a point of overtly stating that it is cyclist, walker, LGBT, family and event friendly! We love 'em!
Transport couldn't be easier. Parking permits cost just £1 per day; off-road bicycle and motorbike storage is available; there is a bus stop just outside; and Worthing train station is a mere mile away.
Free Wi-Fi throughout. Brilliantly located for all Worthing has to offer! All in all: ace!
TOP TEN THINGS TO DO WITH CHILDREN (OF ALL AGES!) IN WORTHING
Many of Worthing's top lures – sea, beach, pier, Downs – are free! Those that aren't offer great value!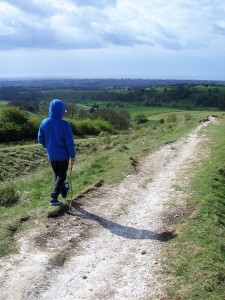 Worthing Pier – Walk above the waves; try a spot of sea fishing; enjoy an ice-cream in a deckchair, or food at the pleasant pier-end Art Deco Southern Pavilion; or use up your spare 2p coins in the buzzing indoor entertainment arcade. Built in 1862, the pier still affords stunning views back on the town and along the coast to Brighton out east!
Worthing Lido – Perfect for any younger kids, with indoor and outdoor amusements, including charmingly tame rides, arcade games, café, restaurant, gift shop and bandstand stage for live performances in the summer!
Splash Point Mini Golf – 18 holes of great-value traditional Crazy Golf family fun open, weather permitting, at weekends (March – Oct) and school holidays (except Christmas / New Year). Pitch your skills against the Lighthouse, Loop-The-Loop and Secret Tunnel!
Splashpoint Leisure Centre – Modern leisure complex set in a striking building on the seafront, boasting a 6-lane, 25-metre competition pool; a combined learner/diving pool; and an indoor leisure pool with flume, jets and summer outdoor paddling. Also: a 100-station gym; studios for classes; luxurious spa facilities with steam room, hot beds, sauna and treatment rooms; and the fab Splashpoint café!
Brooklands Go Karts (BGK) & Mini Moto Circuit (07867 762106) – A short stroll east of Worthing centre, along the front, this well-designed 290-metre track will put your auto skills to the test, whether experienced driver or complete beginner, adult or child (127cm height)! Open 7 days a week during school and bank hols; plus Sats and Suns throughout the year. Individual prices start from £9 (£12 with a medal), including a safety briefing and podium photo opp. Drop-in: arrive and drive! Also: kids' holiday clubs; and group bookings for Stag & Hen, birthdays or corporates. Little Mini Moto bike sessions also available for those who prefer two wheels over four!
AMF Bowling Worthing – Boasting 26 state-of-the-art bowling lanes, fantastic food and drink and a family-friendly environment for all ages! When the pins are down the fun doesn't stop, with great games, pool tables, amusements, big screen TVs and plenty more to keep all entertained! Work up an appetite and turn to the bar and restaurant to refresh and refuel so you're ready to go again! The menu offers a delicious range of food options, from healthy light bites like chicken and bacon salads to delicious favourites like burgers and pasta. Young'ns 'll be bowled over with family faves from nuggets to mini hot dogs, then ice cream and such. Enjoy a wide array of soft drinks for the kids, plus cool beers, great wines and mouth-watering cocktails for big'ns. Maybe kick back and relax in the stylish bar, where large comfy sofas and giant TVs make you feel especially at home! All amazing value, with loads of special offers and deals – just look online! Open 9am 'til late, 7 days a week! So come on: get those good times rolling!
Worthing Museum & Art Gallery – Set in an imposing Edwardian building, its varied collections including art, costume, toys, archaeology and local history; plus rolling temporary art exhibitions, not least in the sculpture garden out back. Free entry!
Connaught Theatre, Pavilion Theatre & Assembly Hall – Worthing has three council-run performance venues. The Art Deco Connaught Theatre hosts a plethora of plays, children's shows and musicals like Annie (25-29 April 2017), alongside other fine fare in the smaller Connaught Studio and in the Connaught Cinema; the pier-entrance Pavilion Theatre hosts music, dance and children's shows like Horrible Histories (Sat 13 May 2017); and the Assembly Hall mainly handles concerts but do try to catch its forthcoming WildeFest (2-3 Sept 2017), celebrating all things related to the great queer writer and wit, and former Worthing fan!
Dome Cinema – Slap bang on the sea front, built as a skating rink in 1910 before being turned into a cinema in 1922, it remains one of the oldest working cinemas in the country. Showing current and classic releases at amazing low prices!
South Downs National Park & Cissbury Ring – On the northern fringe of Worthing, a short bus ride from the centre, hill-walk amidst wild ponies in the South Downs National Park, up the 3000-year-old Iron Age hill-top fort at Cissbury Ring (184 metres) for fantastic views back over the South Downs or seawards, towards Brighton to the East and even the Isle of Wight out west! Free, free, free!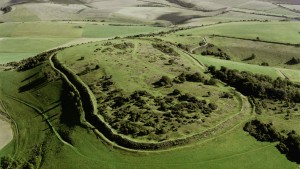 WORTHING SCENE & PRIDE
Of course, you're unlikely to sneak your sprog or sprogs past the bouncers at many bars or clubs, and – even where a licence permits – that could prove a bit of a bore in a child's bigger scheme!
However, The Corner House (80 High Street; www.cornerhouseworthing.co.uk) is a very stylish high-end pub offering a warm welcome to everyone – not least to families and us lovely gays – with its great quality food and beers, and large garden out back! Especially famous for its Sunday roasts!
Moreover, everyone, regardless of age, loves a good party! And you might even just be in time for the second Worthing Pride this summer (2017), following last year's success – date still TBC.
And of course, these days – even in the remotest of areas – you're rarely more than a short stroll from queer life in all its weird and wonderful forms, thanks to the usual apps and social media!
Worthing is around 1¼ hours direct from London Victoria by wonderful Southern Railway.
by Adrian Gillan for Bent.Com