The North of England's ultimate spa town! Adrian Gillan gets steamed and cream-tea'd up – by happy Harrogate's Georgian grandeur plus gorgeous guys! Just in time for Pride (14-20 May)!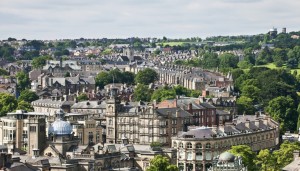 On the edge of the Yorkshire Dales, spa town Harrogate may have grown out of two smaller merged settlements, High Harrogate and Low Harrogate, but it still only has a resident population of around 75,000! And lucky they: recent polls have consistently voted this "the happiest place to live" in Britain!
Harrogate became known as 'The English Spa' in the 17th and 18th Centuries, after its iron- and sulphur-rich spring waters were promoted as a popular health treatment. Wells started springing up all around town! The influx of wealthy, if oft poorly, visitors powered an economy, with a multitude of inns, later hotels, likewise duly springing up to accommodate them!
Yet even the rich can't just sit in a spa all day – a now-long-gone Georgian Theatre opening in 1788, the first of a series of entertainment venues.
During the late 19th and early 20th Centuries, Harrogate remained a destination for the English and European élite.
However, its popularity waned after WW1; and, during WW2, Harrogate's large hotels housed government offices evacuated from London – arguably thus happily part-paving the way for the town to evolve and diversify into the top commercial, conference and exhibition hub it is today!
Harrogate International Centre is now the third largest fully-integrated conference and exhibition centre in the UK, and one of the largest in Europe, attracting over £150 million to the local economy every year and over 350,000 business visitors annually. The town's other major conference and event facilities include the Great Yorkshire Showground and the Pavilions.
In 1966, the Harrogate Festival of Arts & Science was established, which became the Harrogate International Festivals – the North of England's leading arts fest – incorporating several smaller fests including the Crime Writing Festival, Harrogate Literature Festival and Harrogate Music Festival.
In 1982, the town hosted the Eurovision Song Contest. Gay days indeed!
Harrogate recently boasted an openly gay mayor – the endearing and colourful Mike Newby – who has also done much to champion tourism, and indeed diversity, in the town, by just being… himself.
And, of course, to top it all, Harrogate is the home of Yorkshire Tea; Harrogate Spring Water; and the deliriously delicious Spirit of Harrogate gin!
Stay
Stay at magical Montpellier House (Cold Bath Road, Harrogate HG2 0NF; T: 01423 505 681;), a grand Victorian property slap-bang in the centre of Harrogate's historic Montpellier Quarter, offering seven luxurious, stylish, modern serviced apartments, from 2-5 bedrooms each, with most bedrooms en-suite. Owned and managed by the White Hart Hotel, with its much-lauded Fat Badger Grill (see below), you also have easy access to award-winning food and drink, not to mention room service plus anything else you may desire!
Eat & Drink
If lucky enough to be staying at the aforementioned White Hart Hotel or adjacent Montpellier House, be sure to gorge on-site at the chic, trendy-yet-friendly 2-AA-Rosetted Fat Badger Grill (Cold Bath Road;) for stunning modern British food, plus ace service and ambience! Wrap your lips around their amazing spotted dick!
Enjoy a great-value lunch or pre-theatre dinner at Bistrot Pierre (15 Cheltenham Parade;), for authentic provincial French cooking in a relaxed atmosphere, with attentive service.
Savour breakfast, brunch, lunch, afternoon tea or dinner at trendy modern vegetarian gem Filmore & Union (71 Station Parade;) for "pure, natural and wholesome", not to mention very tasty, food – upstairs, downstairs or on the front or rear terraces! Think lots of lemon, ginger, mint and yummy honey! Gluten and dairy free: easy-peasy! Dog-friendly too! Fab!
For a light bite, beer or coffee – plus a fine line in hunky, dishy waiters – check out new-kid-on-the-block Starling (47 Oxford Street;)!
For a unique treat, book yourself into The Champagne Concept (22a Oxford Street;) where charming, passionate, knowledgeable owner Laurence and his deputy John will guide you through a variety of carefully selected champagnes! Is it just all the bubbles and fizz that puts that sparkle in their eyes?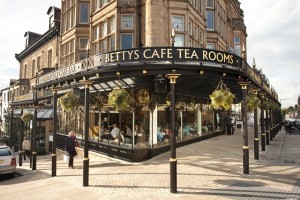 Sights
Naturally, you can soak up the unmistakable atmosphere of Harrogate for absolutely free, just by wafting around, not least in the delightful boutique-brimming Montpellier Quarter – re which, top tip: Oxfam for high-end Harrogate cast-offs! But do be sure to tick-off these Top Ten Tips too:
Royal Pump Room – Houses Europe's strongest sulphur well, but now also a museum showcasing the town's spa history!
Turkish Baths – Historic baths, mainly with mixed sessions… plus a new clothing-optional men-only session now on Weds eves, 5.30pm-9pm! Behave!
Mercer Art Gallery – Home to Harrogate district's art collection of some 2,000 works, mainly from the 19th and 20th Centuries!
Bettys Tea Rooms – Famed establishment owned by Bettys & Taylors of Harrogate which makes Yorkshire Tea. So, go on: make camp!
Crescent Gardens – Small open area in central Harrogate surrounded by many of the town's main tourist attractions including the Royal Pump Room, Royal Baths and Royal Hall, plus the Town Hall.
The Valley Gardens – Town's main park, where several springs were originally discovered. Note its lofty, ornate Sun Pavilion!
The Stray – Protected area of open parkland threading through the south and centre of town.
RHS Harlow Carr Gardens – On the western edge of Harrogate, award-winning themed gardens and the Royal Horticultural Society's North of England showcase. Blooming marvellous, all-year-round!
Harrogate Theatre – Opened in 1900 as Harrogate Grand Opera House. Forthcoming productions include Strictly Murder (13-15 June 2017) and A Judgement in Stone (11-15 July 2017).
Royal Hall – Opened in 1903 as the 'Kursaal' and co-designed by Frank Matcham, this performance venue is an important Grade II listed treasure. Forthcoming shows include Russell Brand (12 April 2017) and Live on Mars, David Bowie Tribute (27 May 2017).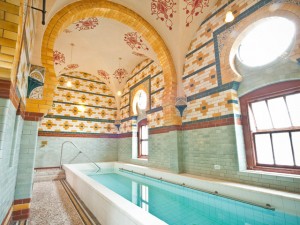 And don't forget, Harrogate also makes a perfect springboard for exploring the surrounding towns and dales, including Boroughbridge, Knaresborough, Masham, Pateley Bridge and Ripon!
Scene
Happiest town? Perhaps. Gayest? Quite possibly! Blame a heady combination of cream teas, steaming spas, open parkland and keen young locals weaned on air fresh down off the Dales!
Be sure to drop in to central, once-fully-queer, now-tad-more-mixed Hales Bar (1-3 Crescent Road;), Harrogate's oldest pub!
You might like to time your visit around Harrogate's imminent first ever pride – Pride in Diversity – running 14-20 May 2017, and featuring a range of events, plus a short climax parade and picnic party!
And gents have oft been known to take airs of an eve in Valley Gardens. Moreover, do remember: this mightn't be Soho but, with dating aps, the pretty boys are rarely too far away!
by Adrian Gillan for Bent.Com