We are Family, especially in Belfast!
To be sure, so it is! More and more gay families now include children – adopted, biological, maybe even from previous heterosexual relationships. So where better to take your little sprogs than for a fun few days out in resurgent Northern Irish capital, Belfast? Maybe even for Belfast Pride! And all a short aerial hop away, on ab fab Flybe!
Belfast is a fab gay place; and a fab place for kids. So, if that ticks both yours boxes, where better?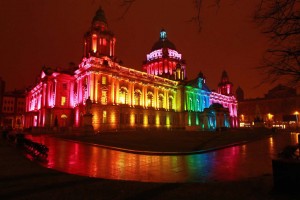 The city has really been hitting the peace dividend jackpot in the last decade or so as tourists and investors pour back in, to discover a revitalised place full of trendy bars and world-class attractions.
And, with fab low-cost carrier Flybe serving Belfast from numerous UK airports, you too can add to that growing number, in no time at all – and with extra cash left in your pocket! Punctual, and with highly personal, yet still professional, service, the purr of the propeller engine lives on in many a Flybe hopper route – strangely reawakening the adventurous glamour of a bygone age of travel. We love 'em!
STAY & EAT
Stay at central, stylish, modern Park Inn by Radisson, Belfast (4 Clarence Street West, Belfast BT2 7GP;), a short stroll from the City Hall, with its 145 bright, colourful, spacious rooms offering free Wi-Fi and flat-screen TVs. If there are two dads, maybe one can pop down for a wee work-out in the on-site gym, then unwind in the sauna and steamer. But you can all enjoy a tasty meal in your room, or at the fantastic on-site RBG Bar & Grill with its excellent seating options – tables, booths or bar eating – and don't miss its ace breakfasts! Superb service throughout too!
TOP TEN THINGS TO DO WITH CHILDREN (OF ALL AGES!) IN BELFAST
Belfast is awash with kid-friendly history and culture, including indoor options – just in case it rains! Many are in the newly revitalised Titanic Quarter, east of centre, just across the River Lagan.
Belfast City Sightseeing tour – The easy way to see all sites: from the top of a double-decker, hopping off-on-off ad lib! The 80-minute round-trip takes in the Titanic Quarter; Stormont parliament; Queen's University Quarter; and West Belfast, around Shankill Road and Falls Road, including myriad murals, the ironically-named 'Peace Wall' and International Wall. Also en route: the leaning Albert Clock, Customs House, Belfast City Hall, Crown Bar, Grand Opera House, Crumlin Road Gaol and St. Anne's Cathedral. The live on-board commentary is good-humoured, yet applies due sensitivity to the city/nation's past, where relevant. Day tours to Giant's Causeway on the coast also available.
Titanic Belfast – A truly world-class award-winning attraction, with the Titanic Experience housed in a glorious building, both inside and out, that conveys the story of the building of the famous ship, its brief life and final doom. Take a Disney-style 'buggy ride' through the construction yard; a virtual reality tour of the vessel in all its splendour; an audio-audience with witnesses who were there; and a walk across moving footage of the ship's final, and present, watery grave. Combo 'White Star Premium Passes' also grant access into the nearby SS Nomadic (tender ship to the Titanic at Cherbourg) plus the hour-long walking Discovery Tour of the area.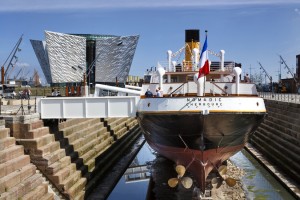 Wee Tram Tour – Slow wheeled-tram around the Titanic Quarter, with live commentary, plus granting special close-up access to Samson & Goliath mega-cranes. Buy tickets on the tram itself which circulates regularly, or from the Cast & Crew Café.
Titanic Pump House & Dock – Edwardian building with café and pump room visitor centre, plus self-guided and guided tours of the Dry Docks are available.
HMS Caroline – Sole survivor from WW1's main naval action, the Battle of Jutland. Shortly to be reopened, following renovation. Near the Titanic Experience.
Titanic talks and tours – Keep 'em peeled for special events organised by the Titanic Foundation, the body that oversees the development and promotion of the whole Titanic Quarter. Maybe try one of their Titanic Taster Photography Tours – mixing history with the chance to take some great snaps under expert guidance, plus a light lunch in the Pump House too!
SSE Arena Belfast – Vast venue (within the Titanic Quarter's Odyssey Complex) hosting comedy and concerts; family shows and musicals such as forthcoming panto Aladdin, 14-27 Dec 2017; plus sporting events, including those featuring Belfast's very own exciting ice hockey team, The Belfast Giants!
W5 Interactive Discovery Centre – A truly amazing hands-on play-whilst-learning-without-realising-it experience (within the Titanic Quarter's Odyssey Complex) crammed with knobs, levers and demo-experiments around science and nature. Launch a rocket, fly a plane, engage with a robot or dodge dinosaurs on the big screen! W5 answers every who-what-where-when-why question a young mind might have via 250 amazing interactive exhibits in four incredible exhibition areas – DISCOVERY (for under-8s, boasting 16 themed areas with over 50 interactive exhibits alone); GO (exploring health, hygiene, genetics, geology, electric circuits, flight and forces); SEE (nature and biodiversity, sustainable development, creative industries); and DO (structures, robots, virtual sports). You'll probably want to stay all day! Conquer Climbit, W5's huge multi-storey climbing structure – a "cross between a maze and a jungle gym"! Catch the wonderful, funny Silent Science Show in the lecture theatre until 26 March 2017 – included in the main entry ticket price. Keep 'em peeled for the imminent Spacebase interactive astro-adventure, due to launch in April 2017! Utterly brilliant! Defies description! Exceeds expectation!
Ulster Museum – National museum brilliantly showcasing the region's history, both human and natural, alongside art and artefacts. Also enjoy the adjoining Botanic Gardens with its splendid Palm House. Museum and Gardens are both free entry.
Lyric Theatre Belfast – Amazing modern state-of-the-art theatre and studio theatre just south of Queen's Uni, offering a packed programme of in-house and touring productions, many good for kids including Nivelli's War (2-19 March 2017), a literally magical tale set in WW2-ravaged Europe; The Cove (3-5 March 2017), dance theatre inspired by the wild Irish coastline; Woofle (11-12 March 2017), about one man's life and fun with his dog; Room on the Broom (22-25 March 2017) for even younger theatre-goers; and, of course, the fab Lyric panto, Beauty & the Beast (9 Dec 2017 – 7 Jan 2018).
You might also check out a concert at the Ulster Hall, a show at the old Grand Opera House Belfast or an event at the new Waterfront. Or, Fri-Sun, browse the old covered food, craft and antiques mart that is St George's Market.
BELFAST SCENE & PRIDE
Of course, you're unlikely to sneak your sprog or sprogs past the bouncers at the clubs, and – even where its licence permits – a pub can be a bit of a bore in a child's bigger scheme!
So you mightn't get to sample Belfast's gay scene – sizeable yet compact – in the Cathedral Quarter!
So you'd be missing out on popular drag joint Maverick Bar (1 Union St;); Union Street Bar (8-14 Union St;), fab for drinks, food, karaoke or cabaret; and gay night clubs Boombox Belfast (108 Donegall Street;) and Kremlin (96 Donegall Street), the latter with its Tsar lounge, Long Bar and Red Square dance area oozing Soviet chic. And you're unlikely to see Belfast's two gay steameries, The Pipeworks (2 Union St;) and Outside (1-5 Donegal Lane)!
Regardless, young or old, all ages love a party! And it's hard to beat Belfast Pride with its week-long events climaxing in a parade, fair, party and after-parties! This year, proceedings run Fri 28 July – Sun 6 Aug 2017 with Pride Day itself on Sat 5 Aug 2017! Keep 'em especially peeled for that LGBT family favourite: The Big Pride Picnic!
Fly high with Flybe
Flybe flies to Belfast City Airport from airports across the UK (Aberdeen, Birmingham, Cardiff, East Midlands, Edinburgh, Exeter, Glasgow, Inverness, Leeds Bradford, Liverpool, London City, Manchester and Southampton), with one-way fares from £24.99 including taxes and charges. This brill, great-value airline is punctual, offering friendly yet professional service; and has a fantastic and ever-expanding network of exciting routes, covering much of the UK and Europe.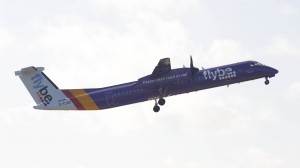 by Adrian Gillan for Bent