Manly and Moorish! Bent's Adrian Gillan flies Monarch to get hot 'n sweaty with those mucho macho Med men in the revitalised Andalusian gay mecca of Malaga in Southern Spain!
Malaga swells manifold during vibrant festivals like moody Semana Santa (Holy Week at Easter) or noisy, colourful August flamenco-and-fireworks Feria – where locals and tourists alike flock to street marquees ("casetas") to booze, croon and bop. Indeed: with layer upon layer of history and a compact gay scene, Malaga's not just the airport gateway to Spain's queer Costa del Sol sun and fun!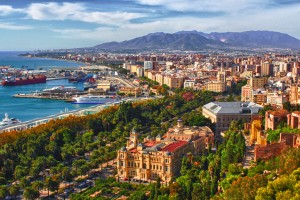 And it's never been easier to get to Malaga, with Monarch operating great-value flights out of Birmingham, London Gatwick, London Luton, Leeds Bradford and Manchester airports! Scarce 2½ hours in the air and… 'hola' sultry local bars and boys! Plus: history, culture and tapas!
TO SEE
Gazing down from the lofty old Moorish Gibralfaro fortress and Alcazaba palace, one quickly takes in the mighty Malagan metropole. Ancient Roman Theatre, Picasso's Birth Place and the stunning Picasso Museum: all at the foot of the hill! Lengthy, shady Paseo del Parque, linking the massive Cathedral, via ornate Town Hall (Ayuntamiento), to controversially bloody Bullring… there's something unabashedly homoerotic about balletic, swaggering young men in lurid tight-fitting outfits goading, dominating and finally penetrating proud yet dumb bulls! And all delightfully bordered by sparkling Marina and Harbour, plus sandy Malagueta Beach due east!
For more (non-Picasso!) art: the Carmen Thyssen Malaga Museum (mainly 19th Century Spanish or Andalusian painting), Pompidou Centre Malaga (20th Century) or Centre for Contemporary Arts. For high kicks, visit the Juan Breva Flamenco Museum. For views on high, jump on the Princess Ferris Wheel. Home sick? Saunter around the fascinating, beautifully-kept English Cemetery!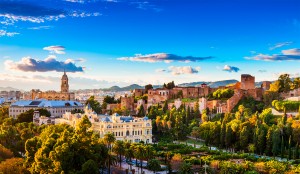 Make the most of your time in Malaga with a fab-value Malaga Pass which grants free queue-jump admission to all the city's main museums, monuments and attractions; a city map and guide; plus amazing discounts on some of the best hotels, shops and tours in town!
To see Malaga the easy way, just jump aboard a CitySightseeing Malaga bus and let one of these open-top double-decker beauties show you all the sites – accompanied with illuminating and, on the odd occasion, entertaining commentary, full of fascinating facts and figures that even some of the locals won't know! Either sit-put and do-the-loop in around 90 minutes; or hop-on-off ad lib!
And no trip to Malaga would be complete without a trip, a mere hour north by train, to the UNESCO World Heritage Site treasure that is Córdoba with its historic centre, much of which dates from the Roman (city walls; bridge; theatre; temple, mausoleum) and Muslim (Mosque-Cathedral) conquest eras. Also enjoy the old water mil, synagogue and ace archaeological museum.
TO DANCE, BOOZE 'N CRUISE
As ever in Spain, you'll need a disco nap to get into nocturnal sync – followed by dinner from 9pm, bars from 12am and clubs from 2am!
A clutch of gay-beckoning Malaga venues can be located on or near the Plaza de la Merced, just north of the cathedral, in venues which – though oft fair mixed by day – get gayer and gayer as night moves on. Top tips are El Carmen (Plaza de la Merced 21), generally brimming with sexy younger men; and Calle de Bruselas (Plaza de la Merced 14) just a few doors along!
Additionally, gents oft take airs, day or night, in the long Malaga Park next to the Paseo del Parque, mainly down the Bull Ring end.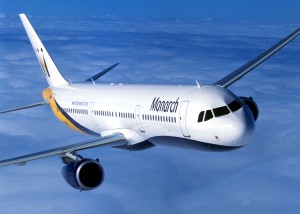 USEFUL CONTACTS
Monarch, the scheduled leisure airline, operates flights to Malaga from Birmingham, London Gatwick, London Luton, Leeds Bradford and Manchester airports with fares, including taxes, starting from £44 one way (£80 return). In addition to year-round low fares, Monarch also offers a range of products and services, both on the ground and in-flight. Everyone is allocated a seat at check-in but specific seats can be pre-booked for a small fee, to ensure that families and groups are seated together. For those looking for added comfort, extra legroom seats are also available, again for a small fee. A great range of tasty hot and cold meals can be purchased on-board. Online check-in is available between 28 days and 6 hours pre departure.
By Adrian Gillan