Where the boys are as saucy as the food! Adrian Gillan savours pastas and porticoes, towers and testosterone in student-swollen Bologna! And all a mere short flight away, on fab easyJet!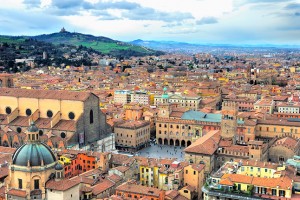 Largest city, and capital, of the Emilia-Romagna region of Northern Italy, 400,000-populated Bologna is the seventh largest city in Italy, with a wider metropolitan area of around a million. It lies on the edge of the Po Plain at the foot of the Apennines, where the Reno and Savena river valleys meet. Its present name derives from early settlers, the Celts (Bona) and then then Romans (Bononia).
Bologna was, for a time in the Middle Ages, the fifth largest city in Europe, and is home to the oldest university in the world, the University of Bologna (founded 1088) – whose former students include Dante, Petrarch, Thomas Becket, Erasmus and Copernicus; and whose current scholars number around 100,000, that's about a fifth of the total population of term-time Bologna!
The city is famous for its vast well-preserved and restored historical centre with its towers and long porticoes; for its wide-ranging native luminaries, from scientist/engineer Marconi to painter Morandi, from gay film director Pasolini to composer Respighi; for its food, notably its eponymous meat-based pasta sauce (a.k.a. ragù), and fine wines; for being the sporty home of Lamborghini and Maserati; for being one of the wealthiest cities in Italy, oft topping quality-of-life rankings in the country; and for its long-standing left-leaning politics and liberal attitudes that have – along with the aforementioned hordes of students – in no small way helped foster a sizable and thriving gay scene.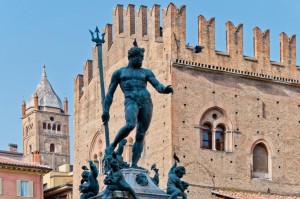 And, with ace low-cost carrier easyJet serving Bologna from London Gatwick, you can be in town in no time at all – and with a little extra cash left in your pocket to spend once here! Punctual, and with highly personal, yet professional, service, easyJet always delivers what it says on the tin! We love 'em!
Stay
Stay at stylish yet whacky central hotel-guesthouse Funtanir (via Riva di Reno 47), close to all scene and sights, and a mere short stroll from Piazza Maggiore. Housed in a former plumber's workshop, fun plumbing fixtures/features abound! All six modern non-smoking air-conditioned guestrooms have private bathrooms with a hairdryer and a shower, plus free WiFi. Relax in the large communal lounge-kitchen area; or out on the pleasant terrace. Friendly, helpful staff too!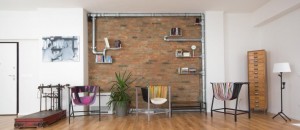 Eat
Sip a pre-drink with nibbles at welcoming, buzzing, trendy bar Ex Forno (Via Don Giovanni Minzoni 14/E), next to the MAMbo modern art museum.
Feast at Ristorante La Torinese 1888 a.k.a 'Al Voltone' (Piazza Re Enzo 1, Voltone del Podesta) on traditional Bolognese cuisine, where dishes are made only using raw materials produced, and processed, in the province. Ditto the wines. If it's not from the Emilia Romagna region, it's not on the menu! Specialties include tagliatelle, tortellini… and lots of sauce! Brill staff!
Sights
Despite extensive WW2 bomb damage in 1944, Bologna's 350-acre walled historic centre is amongst Europe's very largest, with masses of medieval, renaissance and baroque treasures. The now largely pedestrianized core still broadly follows the original Roman grid pattern.
Available in any Bologna Welcome office, or at many hotel receptions, the Bologna Welcome CARD is definitely the best way to discover the city, and spend less – the 48-hour version costing only 20€, covering 1 adult and 1 child (under-12). It gives free entry to the permanent collections of the top dozen or so museums, including MAMbo (Modern Art Museum), Museo Morandi, Museo Archeologico, Museo Civico Medievale, Collezioni Comunali d'Arte, Museo della Storia di Bologna, Museo della Musica, Museo del Risorgimento and Museo del Patrimonio Industriale; a city map with suggested walking routes; plus discounts at numerous shops and restaurants. It also offers either a 2-hour guided walking tour of the historical city centre; or a return BLQ Shuttle Bus ticket from/to G. Marconi Airport; or a 24-hour local bus ticket. A 72-hour CARD is also imminent!
Don't miss the fun and informative 2-hour guided city walking tour daily at 4.45pm (Sundays at 10.30am) starting at the Bologna Welcome infopoint in Piazza Maggiore, and a free option with the Bologna Welcome CARD.
Other highlights include:
Asinelli Tower – Affording fab views, this is the taller of the famously leaning "Due Torri", the other being the Garisenda Tower. Its 500 odd steps just seem to go up, up, and then up again! Makes Pisa's tower seem almost straight!
San Petronio & Terrace – Enjoy panoramic vistas from the roof of one of the world's largest churches. Don't miss the amazing colossal sundial inside!
Piazza Maggiore – Home to heaving humanity, plus the iconic Fountain of Neptune (currently under renovation).
Archiginnasio – Old uni buildings housing anatomy theatre, municipal library and 'Stabat Mater' room where Rossini's work of the same name had its first ever airing!
Quadrilatero – Medieval district at the feet of the 'two towers', brimming with small eateries, plus shops like delicatessen Tamburini (Via Caprarie 1).
Santo Stefano – Perhaps the oldest church in town, with magical sprawling basilica and sanctuary.
Portico di San Luca – This 4km-long 666-vault arcade is undoubtedly the world's longest, granting an hour's, at times hilly, stroll each way to/from the lovely lofty church of San Luca which guards the city from surrounding heights. Imminent UNESCO-listing likely! In total, Bologna boasts around 38km (24 miles) of porticoes in its historical centre, affording great shelter from sun or rain.
Teatro Comunale di Bologna – Bologna's beautiful old opera and dance house.
MAMbo (Modern Art Museum of Bologna) – Featuring an interesting permanent collection; plus well-nigh meditative Morandi Museum, showcasing the eponymous local artist. Currently hosting the V&A London's stunning and inspirational "David Bowie IS" exhibition, until 13 Nov 2016, jubilantly celebrating one of the world's greatest pop stars / performance artists!
Scene
Student-brimming and traditionally lefty-liberal Bologna has one of the most tolerant atmospheres in all Italy. Note: In Italy, a membership card is required for all gay saunas and cruise bars, usually the Arcigay card or the Anddos card, readily bought at the entrance of such venues – 8-15 €, requiring photo ID on purchase. In Bologna, the Arcigay card is also required for LGBT community hub Cassero.
LGBT Centre
Cassero LGBT Centre (Via Don Giovanni Minzoni 18) – Bologna's gay and lesbian centre, and its jewel in the crown, set in an old salt store and grounds, with a magical atmosphere, both inside and out! Also HQ of the national Italian campaigning organization Arcigay; home to the large CDC gender studies library; and site of a friendly nightly café. Hosts regular weekly club nights (see below), festivals and cultural projects. Bravo Cassero!
Bars
Bar't (Via Polese 47/A) – Men-only late-night cruise bar with a relaxed, social and no-attitude atmosphere. Cruising labyrinth in basement. Full of colourful characters!
L'Aperitivo Gay @ Stile Libero (Via delle Lame 108/A) – Popular long-standing Sunday cocktail eve, with small free buffet, DJ and the odd show.
Clubs & Parties
Cassero (Via Don Giovanni Minzoni 18) – Fab LGBT community hub Cassero hosts parties on most Saturdays, plus other days – amazing large basement vault!
Red Club (Via del Tipografo 2, Roveri industrial area, 4km outside Bologna, only accessible by car at night) – Gay Saturday night dance club with bars, outdoor area and smoking room. Cruising labyrinth from approx. 2am – at which same time, in summer, you can also access the outdoor pool area of the Black Sauna (see below) in the same building.
The Jungle Easy Staff – Popular Friday night LGBT party, offering commercial/chart music aimed at the young. Held at Chalet dei Giardini Margherita (by the lake in Bologna's park Giardini Regina Margherita, Viale Massimo Meliconi 1) throughout summer (end of May – mid-September); and at varying clubs (eg Cassero, Red Club) outside of summer (October–April).
Saunas
Steam Sauna (Via Ferrarese 22/I) – Open daily.
Black Sauna (Via del Tipografo 2 – see Red Club above.) – Shut Tuesdays.
Festivals
GENDER BENDER (27 Oct – 6 Nov 2016, now in 14th year;) – Local LGBT organisation Cassero mounts this amazing annual autumn international festival fortnight, dedicated to the new imagery related to gender identity, sexual orientation and body representation. Almost 100 events in around 20 locations. Film screenings, theatre, visual arts exhibitions, concerts and clubbing! Worth planning a trip around!
BOLOGNA PRIDE (every June;) – Colourful pedestrian parade and festival!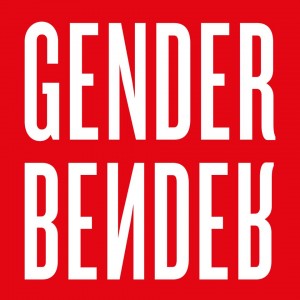 easyJet
easyJet flies from London Gatwick to Bologna with prices starting from £32.49 per person (one-way, including taxes and based on two people on the same booking). This brill, great-value airline is punctual, offering friendly yet professional service; and boasts a vast and ever-expanding network of other exciting routes, covering much of the UK, Europe and beyond.
by Adrian Gillan