Norman powerhouse and natural gateway to the historic D-Day landing beaches, Adrian Gillan enjoys the culture and scene in student-brimming Caen – a short aerial hop away, on fab Flybe!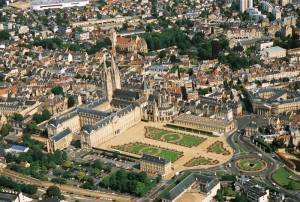 Caen, in north west France, holds the tomb of William the Conqueror, and was an epicentre of battles with the English throughout the Hundred Years' War in the 14th and 15th Centuries; plus the scene of heavy fighting and bombing during the D-Day Landings and ensuing Battle of Normandy in 1944, which alas left much of the city in ruins. Rebuilt, Caen still retains much of historic and cultural interest, and a nice small uni-fuelled scene.
And, with fab low-cost carrier Flybe serving Caen from London Southend airport, you can be right there, in no time at all – and with extra cash left in your pocket! Punctual, and with highly personal, yet still professional, service, the purr of the propeller engine lives on in many a Flybe hopper route – strangely reawakening the adventurous glamour of a bygone age of travel. We love 'em!
110,000-populated Caen is the largest city in former Lower Normandy, and the third largest city in all Normandy, after Rouen and Le Havre. The Orne River flows through it into the English Channel a few miles north. Term-time, town swells with 30,000 students!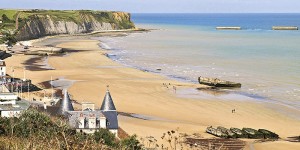 Stay
The François D'Ô Hotel (4 rue des Cordeliers; +33 (0)2 31 86 37 15) nestles in the downtown historical district, between the two abbeys and in the shadow of the castle. The original building – home to Cordeliers monks in the 18th Century, and a Benedictine Convent in the 19th Century – was partly destroyed in 1944. All 17 sound-proofed rooms are en-suite and have flat screen TV, a hairdryer and a telephone. A great continental breakfast is served. Free high-speed Wi-Fi throughout.
See
Many of Caen's main sights are easily reached on foot…
Castle (Château de Caen) – built around 1060 by William the Conqueror, just pre 1066, and one of the largest medieval fortresses in Western Europe. Saw regular action during the Hundred Years' War and was in use as a barracks as late as WW2. Today, it houses the top-notch Museum of Fine Arts of Caen (Musée des Beaux-Arts de Caen); and the informative Museum of Normandy (Musée de Normandie).
Two Abbeys – built on William the Conqueror's orders as penance for marrying his (very distant) cousin. The Abbaye-aux-Hommes (Men's Abbey, now Église St.-Étienne) is where William himself (or at least perhaps a piece of one of his thigh bones) is buried, attached to the imposing current Hôtel de Ville (Caen town hall); and the Abbaye-aux-Dames (Women's Abbey, now Église de la Trinité) is where William's wife Matilda rests.
Caen Memorial Museum – built in 1988, charting the events leading up to, on and after D-Day; plus a real former German command bunker, a new dramatic cinema film, peaceful commemorative gardens and additional temporary exhibitions. From the centre of Caen, easily reached on the regular No. 3 bus, in 15 minutes or so. From the Museum, you can also do wonderful guided tours of the nearby D-Day Beaches, taking in the stunning Pointe du Hoc cliffs, once-bloody-now-just-sandy Omaha beach, not to mention the sizeable remains of the British artificial harbour at Arromanches, plus a vast American cemetery.
Scene
Caen has a small, discreet scene, hubbed around a community centres, a few bars, plus a sauna.
Le Centre LGBT de Nor­man­die (74 Boulevard Dunois) – a short walk west of centre.
Le 23 (23 rue Ecuyere) – lively gay-friendly bar.
Semaphore Bar (44 rue du bras) – chic gay-friendly bar.
L'Apollon (16 rue Varignon) – men-only gay cruising bar, a short walk east of centre.
Sauna Club Arc en Ciel (8 Impasse Dumont) – mere metres from L'Apollon.
Fly high with Flybe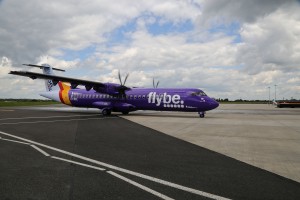 Flybe flies from London Southend to Caen up to four times a week with fares starting from just £29.99 each way. This brilliant, great-value airline is punctual, offering friendly yet professional service; and has a fantastic and ever-expanding network of exciting routes, covering much of the UK and Europe.
by Adrian Gillan for Bent.Com