Brighton anew: fresh fun things to do!
Think you know gay old Brighton?! From the just-opened British Airways i360 observation tower to a stunning new Open Air Theatre, we pop down to take a fresh look! Fun for kids… of all ages!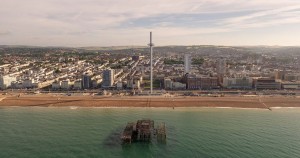 A mere short train ride from London, Brighton is a fab gay place; and a fab place for kids. So, if that ticks one – or even both – of yours boxes, where better? Indeed, now that more and more gay families include children, where better to take your little sprogs than for fun beside-the-seaside, beside-the-sea?
Beyond its famed scene, Bent has long been a fan of what Brighton has to offer kids aged nought-to-ninety (we are family especially in Brighton)… sea, beach, pier and funfair; Sea Life aquarium; Volks Electric Railway; Royal Pavilion; Brighton Museum & Art Gallery; Brighton Toy & Model Museum; Hove Lagoon; shops, whether in the quaint Lanes or trendy North Laine areas; even busy, heaving Pride if you pick that particular weekend!
But here are half a dozen fun new things to try, with or – frankly – even without real-live kids in tow…
BRITISH AIRWAYS i360
Take a flight to the skies in the brand new British Airways i360 and see Brighton, and wider Sussex, as never seen before! Glide up slowly to 450 feet (138m) to enjoy breath-taking 360-degree views of up to 26 miles from the world's tallest moving observation tower – also the world's first vertical cable car – designed by the creators of its sibling the London Eye, which it actually takes you 6m higher than!
Situated at the original entrance to the now hauntingly derelict West Pier, which in an almost literal sense it now resurrects, the British Airways i360 acts as a 'vertical pier' – fully in the spirit of the original, inviting visitors to 'walk on air' and gain a new perspective of the city from on high, just as they once 'walked on water' to view it from the sea.
The British Airways i360 tower itself is in fact 162m tall, by far the tallest structure in Sussex, by about 60m; and, at just 4.6 metres wide, it is also the slimmest tall tower in the world!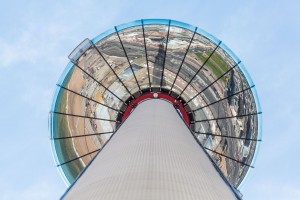 The heated/air-conditioned and fully accessible 18-metre-diameter glass viewing pod is 10 times the size of a London Eye capsule and can comfortably hold up to 200 people at one time, with ample space for all to enjoy a prime edge view, although passengers can walk around freely inside the moving viewing pod to take in vistas all around – of the sea, the Sussex coastline including Beachy Head and Seven Sisters, the South Downs National Park and – of course – Regency period Brighton & Hove itself!
The i360 is normally open 10am-10pm (11pm Fri & Sat). From 6pm onwards, the Vertical Cable Car changes to the Nyetimber Sky Bar, complete with bench-seating!
A free multi-lingual pre-board app features a 'pre-ride' show about the making of British Airways i360, plus a kids' section with fun facts and a treasure hunt. An in-pod app helps you identify all the different landmarks. A live host is also there to welcome visitors, point out sights and answer any questions!
And that's just the tower and pod! You can also top and/or tail your 'flight' by dining, celebrating, exploring or playing in the British Airways i360's "beach building" and terrace on the lower promenade, accessible to the general public, not just i360 passengers, and already boasting a shop selling gifts and souvenir photos. In coming weeks, the beach building will also open its 400-seater Belle Vue restaurant; smaller West Pier Tea Room, in its beautifully reconstructed 1866 West Pier tollbooth; a more casual café; hospitality rooms; and even a kids' play zone aimed at under-8s.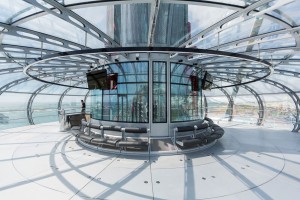 Expect your visit to last around one hour – or longer if, once aforementioned facilities are open, you are dining or using the kids play zone. This includes a pre-ride experience, the ride on the vertical cable car itself (20 minutes during the day or 30 minutes in the evening), the shop and such.
Very family-friendly, including baby changing facilities and buggy pod-access. There will soon be an indoor play zone for under-8s and kids menus in the restaurants. Children under 13 must be accompanied by a responsible adult. Children aged 13 to 17 can ride the Vertical Cable Car pre 6pm without an adult, providing the maximum group size does not exceed five children. From 6pm (when the Vertical Cable Car changes to the Sky Bar), children aged under 18 years must be accompanied by a responsible adult. Under-4s are ticketed free. There are discounts for advance online purchase.
BRIGHTON OPEN AIR THEATRE (B.O.A.T.)
Now in its second season, the unsubsidised (think profit-share and volunteers), community-driven 425-capacity Brighton Open Air Theatre (B.O.A.T.) is an amphitheatre, on a lofty park hill high above the coast, formed of eight artificially-turfed terraces leading down to a sunken thrust stage. An acoustic wall helps retain sound, both improving the experience for the audience and preventing noise pollution. B.O.A.T. operates May-Sept each year, providing a space for local groups and schools, alongside national touring productions – mainly theatre but also music, comedy, screenings and other events.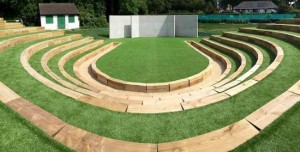 The splendid 2016 season has included a fantastic Much Ado about Nothing (Treason Productions), with forthcoming shows including Frankenstein (25-28 Aug); Hamlet (31 Aug); Sense & Sensibility (1 Sept); Treasure Island (7-18 Sept); and The Revenger's Tragedy (21-23 Sept).
Settle down up to an hour early and take a picnic. Avail yourself of the bar. Buy tickets in advance online or – unless sold out – in cash at the gate. If extreme weather necessitates a cancellation – full refunds.
Theatre as it should be – at its simplest, most beautiful and direct.
THEATRE ROYAL BRIGHTON BACKSTAGE TOURS
Opened 1807, rebuilt in 1854, the Theatre Royal Brighton presents a range of West End and touring musicals and plays, plus performances of opera and ballet. And you yourself can actually step behind the curtain and explore front and backstage of one of the loveliest and oldest working theatres in the UK.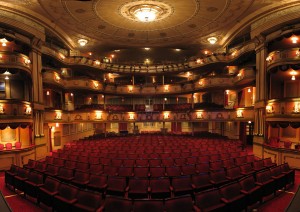 Adult historical tours run every Saturday, June – Sept, starting 11.30am (approx. 1 hour).
They are preceded by new Family Friendly App tours, likewise every Saturday, June – Sept, starting at the tad-earlier time of 10.15am (approx. 1 hour). Using a fab app, on iPads lent to you, and following very knowledgeable, charming and handsome theatre guides, you will fully explore the areas in front of, behind, under, over and even on the stage; meet characters from the past connected with the theatre; play interactive games; learn fun facts; muck about with sound cues; and even experience what it's like to perform on stage in front of a full house! Specially designed for families with kids and young people 7+! A truly special tour! Where modern technology helps conjure the timeless magic of theatre!
BRIGHTON BIKE RIDES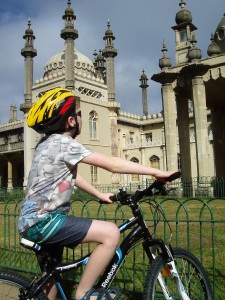 Since launching two years ago, Carlo's 2½-hour Grand Brighton Bike Tour (10.30am & 2.30pm, all-week-round) is, without doubt, the most enjoyable, and healthy, way to explore the city, soaking up its history and culture by pedalling on comfortable bikes along smooth routes between Brighton's most iconic landmarks, taking in quite a few lesser-known areas and gay gems along the way. Rest halfway through the tour with a 20 minute break at the Royal Pavilion Garden Café before climaxing along the glorious seafront. Discounts for under-16s, over-65s and students, or if using your own bike. Alternatively, try the tad shorter and cheaper 1½-hour Twilight Bike Tour (6pm, Friday / Saturday / Sunday). Private, solo, family, corporate, hen and stag arrangements are also possible! Bravo Carlo!
CITY SIGHTSEEING BRIGHTON BUS TOURS

Alternatively, to see Brighton the really easy-peasy way, just jump aboard one of these open-top double-decker beauties to take in all the sites, from the striking Royal Pavilion and Victorian aquariums to the famous Brighton Pier and pebble beach – all accompanied with illuminating and, at times, entertaining commentary full of fascinating facts and figures that even some of the locals won't know! Either sit-put and do-the-loop in around 50 minutes; or hop-on-off ad lib!
LAZERZONE BRIGHTON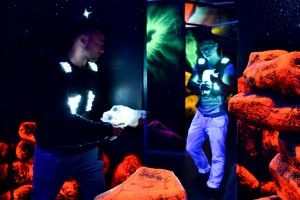 Beyond the airlock lies a mysterious galactic labyrinth filled with swirling smoke, strange sounds, flashing lights… and enemies! Fab for kids and grown-ups, LaserZone is ideal for family fun, birthday parties, students, youth groups, corporate entertainment, stag & hen nights and much more. Explore the multi-level fully-marshalled arena, equipped with state-of-the-art laser packs and phasors. Score points by zapping your opponents and blasting their bases. Rain or shine, on your own or with friends, from age 6 to 106… it's a blast! Great souvenir score card analysis to take away free at the end too!
Brighton is under an hour from London Victoria by Southern Railway
by Adrian Gillan for Bent