We are Family, especially in Cromer!
More and more gay families now include children – adopted, biological, maybe even from previous op-sex relationships. And where better to take your little sprogs than for a fun few days out by the sea in lovely Cromer, in North Norfolk, at the wonderful, gay-run Virginia Court Hotel!
Brighton or Blackpool it is not: but none the worse for that!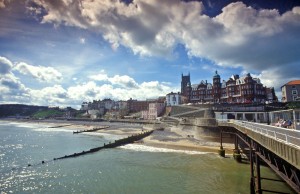 Dating back centuries, 7,000-populated Cromer really came to the fore in the early 19th Century, as a resort for wealthy families, up from Norwich – a period climaxing with the construction of its late-Victorian pier and tad-later pier-end Pavilion Theatre.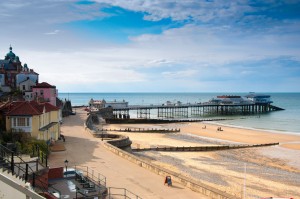 Other notable buildings in this North Norfolk gem include the red-brick Hotel de Paris, overlooking the pier – built as a house in 1820, and converted into a hotel in 1830; the parish church of St Peter & St Paul, whose lofty tower affords lush views; and Cromer Hall on Hall Lane, rumoured to have inspired one former guest, Sir Arthur Conan Doyle, to write his classic novel The Hound of the Baskervilles.
STAY
Stay at the award-winning 3-star Virginia Court Hotel (Cliff Ave, Cromer, NR27 0AN; T: 01263 512398), a delightful gay-owned lodging featuring 25 en-suite bedrooms (double, twin, single – three on the ground floor); plus bar-lounge, in-house restaurant and spacious gardens – all a mere short walk from the station, cliffs, pier and sea, and offering free guest parking and free Wi-Fi. Children are welcome – of any age! Also caters for weddings – and wakes!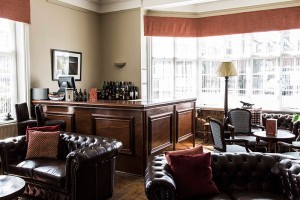 Charming Martin and Shaun, who used to run a B&B in Brighton, relocated to this historic property in a quiet tree-lined avenue, built at the end of the 19th Century as a gentleman's club for the local neighbourhood, and doubtless frequented every now and then by the future King Edward VII, then Prince of Wales, oft visiting Cromer for his beloved golf and for the invigorating sea air.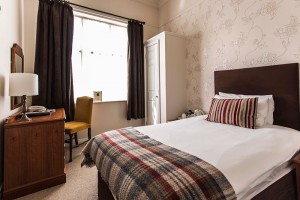 Each of the unique bedrooms features flat-screen TV/DVD players, luxury linens and duvets, designer toiletries and tea/coffee facilities. The contemporary restaurant serves much-lauded breakfasts; indulgent afternoon teas with homemade cakes; and delicious evening meals featuring quality locally-sourced Norfolk produce and Cromer crab (whenever in season). Enjoy your aperitif or digestif in the bar-lounge, once most likely frequented by aforesaid naughty saucy royalty!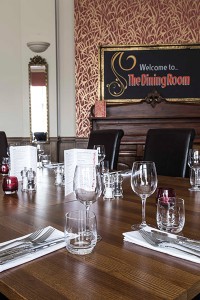 TOP THINGS TO DO WITH CHILDREN (OF ALL AGES!) IN CROMER
Many of Cromer's top attractions – sea, beach, pier and esplanade – are free! And those that aren't offer amazing value!
Natural beaches and cliffs – stretching for miles each side of the pier, enjoy some of the most natural, unspoilt beaches in East Anglia. A pleasant mix of sand, grit and pebble, flanked by cliffs, enjoy skimming stones out over the gently foaming North Sea or spotting the odd famous local crab washed ashore. Nice cliff-top walk eastward out to tiny Overstrand, past the working lighthouse!
Bike rides – an especially good way to explore the countryside inland, beyond Cromer itself. Family-run Huff and Puff Cycles, owned by friendly, helpful Ross and Laura, cater for individuals, couples and families – even larger group bookings! Their fleet of over 150 quality bikes includes tag-a-long cycles, child seats and buggies – even a tandem! They can also advise on a range of mainly off-road routes, from a family-friendly 3.5 miles to a 15 mile challenge on picturesque tracks, trails and quiet lanes. Maybe try their "Huff and Puff Trail", incorporating a nostalgic steam train journey! A delivery/collection service to the surrounding area is available. Helmets and locks included.
Amazona Zoo – nestling on the edge of Cromer, and owned by the Cabbell-Manners family, this is one of the county's most unique and fun days out, where families can discover South American wildlife. This conservation- and education-led zoo is home to over 200 tropical animals, highlights including a Feline Forest with ocelots, pumas and jaguars; a tropical house with spectacled caiman, anaconda snake and iguanas; Chilean flamingos, Amazon parrots and cheeky macaws; plus squirrel monkeys, red-legged seriema and Geoffroy's spider monkeys. For the under-12s there's also a large, well-equipped, indoor soft play area, 'Jungle Tumbles', with slides, ropes, bridges, tunnels and interactive toys; plus a big well-equipped outdoor play area, 'Rainforest Springs', now featuring two large jumping pillows for hours of Braziliant bouncing fun! The site is beautifully laid out, with a clear visit trail.
Cromer Museum – a very welcoming little museum that helps 'set the scene'. Look around the cosy Victorian fisherman's cottage and imagine what it was like to live in Cromer at the end of the 19th Century; delve into the 'Old Cromer' Gallery with its fascinating displays of historic photographs and illustrations of the town; and discover Cromer's history as a Victorian seaside resort with its fine hotels – and the scandal of mixed bathing! Don't miss the impressive rock/fossil collection either!
Pavilion Theatre, Cromer Pier – claims to be the world's only pier-end theatre producing its own in-house shows every summer and winter season. The Cromer Pier Show is definitely one of the few true live variety shows in Britain, showcasing live variety acts at their best – an eclectic blend of great pop music, West End ballads, speciality acts and humour from top comedians. Heading up the summer shows this year is comedian Phil Butler, joined by Australia's favourite comedy juggler, James Bustar, plus great supporting singers and a fab troupe of girl and boy dancers – the latter sure to put a smile upon your face! Family tickets are available for the 2½ hour shows. This lovely wooden pier also boasts a gift shop, the Pavilion Bar and Tides Restaurant. Check-out the free RNLI life boat station and museum right down the end too!
RNLI Henry Blogg Museum – illustrating the history of the town's lifeboats, and local hero Henry Blogg. Also free!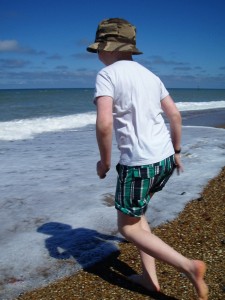 NORFOLK SCENES & PRIDES
Of course, you're unlikely to sneak your sprog or sprogs past the bouncers at many bars or clubs, and – even where a licence permits – that could prove a bit of a bore in a child's bigger scheme!
That said, everyone, regardless of age, loves a good party! And you might even just be in time to double up a trip to Cromer with a short stint in Norwich which hosts the annual family-friendly Norwich Pride on Sat 30 July 2016!
And of course – these days, even in the remotest of areas – you're rarely more than a short stroll from queer life in all its weird and wonderful forms, thanks to all the usual apps and social media!
You can easily reach Cromer from London, via Norwich, in well under 3 hours by rail, on wonderful Abellio Greater Anglia trains.