Who needs wine? Adrian Gillan discovers there's a lot more to the beautiful, historic, arty and sexy town of Bordeaux on the mighty Garonne! And all a mere short flight away, on fab easyJet!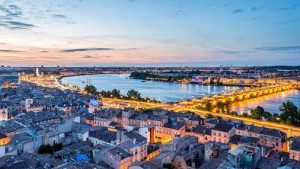 An inland port city, hubbed on the left bank of the River Garonne in southwest France, ¼-million-populated Bordeaux (a.k.a. 'La Perle d'Aquitaine' and 'Le Port de La Lune') may be best known internationally for its surrounding region's sprawling vineyards, but – in its own right – it also boasts a vast UNESCO-listed, largely 18th Century, old town (containing the most listed buildings in France, outside Paris), not to mention major galleries and theatres… plus a nice little gay scene!
And, with ace low-cost carrier easyJet serving Bordeaux from six UK airports, you can be in town in no time at all – and with a little extra cash left in your pocket to spend once here! Punctual, and with highly personal, yet professional, service, easyJet always delivers what it says on the tin! We love 'em!
Stay
Stay at central, gay-friendly Acanthe Hotel (12 Rue Saint-Rémi, Bordeaux; T: +33(0)5 56 81 66 58;) slap-bang in the city's historic heart and just a two minute stroll from the river. 2-star, but it feels like at least 3! Twenty simple yet elegant ensuite bedrooms span four floors, with free Wi-Fi. A brill breakfast buffet is also available for a small extra charge.
Sights
Before you do or see anything, be sure to get a great-value 1/2/3-day City Pass , a card that allows you to discover the city at your own pace, granting free use of public transport, and free entry into more than 20 of Bordeaux's top monuments and museums.
Another hot tip is to go on a guided 2-hour group walking tour of the historic city centre with a registered guide, covering some of its most remarkable, mainly 18th Century, architecture, including highlights of the UNESCO World Heritage area. In English and French; 10 euro; departing daily at 10am from in front of the Bordeaux Tourist Office (12 cours du 30 Juillet).
Or for an alternative perspective, from the sparkling Garonne, go on a 1½-hour Burdigala river cruise with full live and lively commentary, aboard either the Aquitania or the Burdigala, herself. Daily; 15 euro; boarding from the left bank (Quai Richelieu, Ponton d'Honneur).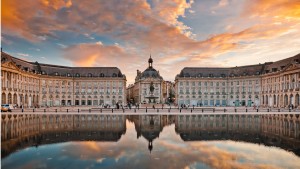 Whatever you do, don't miss out on these Top Ten Tips:
Flèche Saint-Michel – second highest bell tower in France offering spectacular views of the city!
Saint-André Cathedral & Pey Berland Tower – surely the most beautiful religious monument in Bordeaux: the 11th Century Catholic cathedral and adjoining tower!
Pont de Pierre – main Garonne crossing, of arching stone, dating from the 1820s!
Place de la Bourse – former Stock Exchange hall, now Bordeaux's Chamber of Commerce and Industry – vast and facing the river! Amazing 'water mirror' affords reflections, plus mist and splash!
Porte Cailhau – city gate: a 19th Century reconstruction on the original 15th Century site!
Musée d'Aquitaine – objects and documents related to the history of Bordeaux and Aquitaine, from prehistory to the modern period!
Musée des Beaux-Arts – one of the largest fine art collections in France outside Paris – mainly French and Dutch masters! Also: great temporary exhibitions at the nearby Gallerie des Beaux-Arts!
CAPC, Musée d'Art Contemporain de Bordeaux – cutting edge art!
Musée des Arts Décoratifs – splendid decor!
Grand Théâtre de Bordeaux – late 18th Century masterpiece, where the ballet La Fille Mal Gardée premiered in 1789, and now home to Opéra National de Bordeaux and Ballet National de Bordeaux. Top shows plus regular guided tours.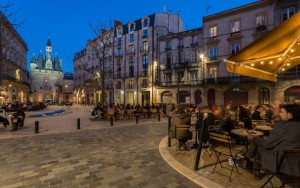 Scene
Feeling thirsty? Bateau Ivre (1 rue Fénelon;) is a fab neighbourhood gay bar, albeit a wee bit out of centre. Closer in, check out chic and atmospheric mixed-yet-gay-wooing wine and cocktail bars like La Comtesse (25 rue du Parlement Saint-Pierre;), or L'Autre Petit Bois (12 place du Parlement;), which also has a great menu.
Le Trou Duck (33 rue Piliers de Tutelle;) is a glam/chic/trash bar-cum-club, with shows for a young gay crowd, open nightly to 2am; or, for pure dance, Stéréo Klub has three floors, each with its own vibe.
Horny? Buster (34 rue de Cursol;) is a nightly men's leather/fetish/code bar; or Traxx (38 bis Rue Arnaud Miqueu;) is a hardcore men's sex/cruise club. To steam away your horn, try Sauna Hugo (9 rue de l'Observance;), Sauna St Jean (7 Rue de Tauzia;) or Sauna Thiers (329 avenue Thiers;). And gents have been known to 'take airs' of an eve in the Esplanade Charles de Gaulle park, and along the raised pathways found around the outside of nearby Mériadeck shopping mall.
Bordeaux Pride will be on 4 July 2016

easyJet flies to Bordeaux from 6 UK airports (Belfast, Bristol, Glasgow, Liverpool, Gatwick & Luton) with prices starting from £22.24 per person (one-way, including taxes and based on two people on the same booking). This brill, great-value airline is punctual, offering friendly yet professional service; and boasts a vast and ever-expanding network of other exciting routes, covering much of the UK, Europe and beyond.
by Adrian Gillan for Bent.Com