Heavenly Hochkönig: it's snowing men!
Heavenly Hochkönig: it's snowing men!

By Adrain Gillan for Bent Magazine
Alleluia! Adrian Gillan climaxes on a "peak of emotion" with dashing daredevil downhillers in the Hochkönig part of the wider 'Ski amadé' region – near Salzburg, amid the glorious Austrian Alps!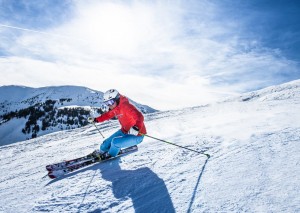 Long-loved by Austrians and Germans in-the-know, canny Brits of all persuasions (including a fair flurry and blizzard of 'snow-mosexuals', if dating apps are any guide) are increasingly being seduced by the pistes of the Ski amadé region of Austria – named after local-lad-made-good Wolfgang Amadeus Mozart, born in nearby hub-city Salzburg. Ski amadé is a network of around two dozen linked ski resorts grouped into five zones (Hochkönig, Schladming Dachstein, Salzburger Sportwelt, Gastein and Grossarltal) that, under a single ski-pass, make up one of the largest ski areas in Europe – boasting 760km of runs to suit all abilities, from families and beginners right up to Alpine Ski World Cup champs.
Ski amadé typifies Austria's commitment to investment in ski infrastructure and innovation, whilst retaining – unlike some other skiing nations – an authentic, friendly, great-value experience. And lush local lads ensure there's gay gold in them there hills – an area of outstanding natural beauty indeed!
Named after its highest peak (2941m), the eastern Hochkönig area has its slopes clustered around three highly attractive neighbouring resorts – Maria Alm, Dienten and Mühlbach – alone offering 120km of pistes (92% with their own snowmaking coverage to help safeguard and prolong the season) and 33 modern lifts, plus the chance to sample all Ski amadé's trademark features: fine food and drink (try Ski amadé's own tasty red and white wine brands), hi-tech, plus 'total skiing' for all five senses!
STAY & SPA
Stay at the friendly, family-run 4-star Hotel Eder (Am Dorfplatz 5, 5761 Maria Alm; +43 6584 7738;), slap-bang in the middle of key Hochkönig resort, Maria Alm, itself a mere hour's drive from Salzburg. This country-chic hotel-bar-restaurant-spa hub, which has miraculously grown out of what was an old barn mere decades ago, is a long-standing favourite amongst guest and local alike.
Its contemporary, Alpine-style rooms and suites all boast free Wi-Fi, flat-screen HD TVs and balconies gazing out over the village, its church and surrounding peaks. Additionally, nearby outbuildings house self-contained apartments, featuring living rooms, full kitchens, and dining rooms with fireplaces.
There's also a relaxed, well-nigh sprawling restaurant serving everything from regional to international fare, with enticing half-board and à la carte menus, not to mention sumptuous buffet breakfasts; and a rustic bar for that amaretto or pine schnapps night-cap with fellow guests, or handsome Hochkönigers, pre-bed. Other amenities include a fitness area, garden terrace, high-end spacious spa complete with several saunas – mostly in a cosy, gloriously clothes-optional enclave – and a fun heated split outdoor-indoor pool where you're probably best off keeping your trunks on, however tempting!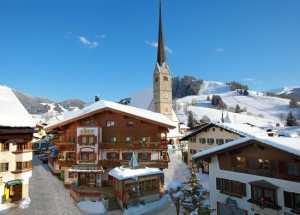 SKI & LUNCH
Ready for the white stuff? Hire top ski gear from cute, expert staff a short stroll away!
Be sure to test out Ski amadé's high tech creds too, with free Wi-Fi at all main lift stations and partner food huts; plus handy mobile apps. Hire the cutting-edge Ski amadé 'Smart Ski Goggles', with their integrated 'Ski amadé Guide' app, to help you effortlessly navigate 'tween lifts and pistes, or prepare for weather changes, or avoid ski-lift queues; and measure your altitude, ski-speed, calorie-burn or distance travelled! At the very least, they might give that extra 'snow-geek' allure, to truly tip things over the edge!
The Hochkönig's Königstour is a ski circuit covering 32km and 6700m vertical shift, with numerous breath-taking 'five-sense' panorama pistes and dream descents, showing off the majestic character of the area! Take a break, and a spectacular pic or two, on any of several slope-side wooden Hochkönig thrones, where you really will be the 'high king o' the hills'! But then, you'll feel like you are at your 'peak of emotions' – the local tourism strapline – almost anywhere, gazing down on a wintery-white world from lofty summit or ridge; or sitting snuggly up against some piste-fit be-goggled 'snow-bro' on a ski lift!
Straddle a strudel! And I'll be schnitzelled! If you like your lads in lederhosen, be sure to break your day with a long mid-morning coffee, plus schnapps-fuelled lunch, at one of several ski huts scattered strategically around the slopes where be-leathered male staff will generally so oblige – like cosy Tiergartenalm or Wiesenstadl; or trendy, panoramic Steinbockalm.
APRÈS-SKI & DINE
Studies show hormones have an extra surge immediately following your final descent of the day, as you unclip your bindings, and remove your helmet and ski clobber to pile into a piste-foot après-ski bar as slopes shut and light falls, showing off your by-now-lightly-steaming body, downing pint upon pint of Austria's refreshing 'radler' shandy, as your ski boots clomp in an über macho manner to the latest bubble-gum Euro-pop 'schlager' sounds, punctuated by the sporadic beat of 'hammer-schlagen', the game of trying to bang a nail into a log with the thin end of a hammer head whilst completely pissed!
After a welcome sauna or steam back at the hotel, time to up the gastro-game a tad, to dine on even finer fare than your fab lunchtime hutte-fodder! Check out cosy, classy, tasty Almbar in Hinterthal; or Alpine-ambient Kronreithhof in Maria Alm itself. Make the night especially memorable by taking a snow walk – or hiring a horse-drawn carriage, or maybe even a snow-tractor taxi – to take you and your already gently pissed piste-posse to some lofty dinner; perhaps followed by one last oh-so-emotional, post-meal, schnapps-fuelled sledge-ride right back down to the resort!
Norwegian operates a weekly flight from London Gatwick to Salzburg – gateway to Höchkonig and the wider Ski amadé region – with free on-board Wi-Fi and inflight entertainment via your device, and fares starting from £29.90 one-way.