Istanbul Boyz: Sultans of Sin! Gay Travel
by Adrian Gillan
Boy meets boy where West meets East! Adrian Gillan spends time in Pegasus Airlines' hub city, Istanbul, where Europe and Asia collide – pre jetting on to just one of their 90 other destinations!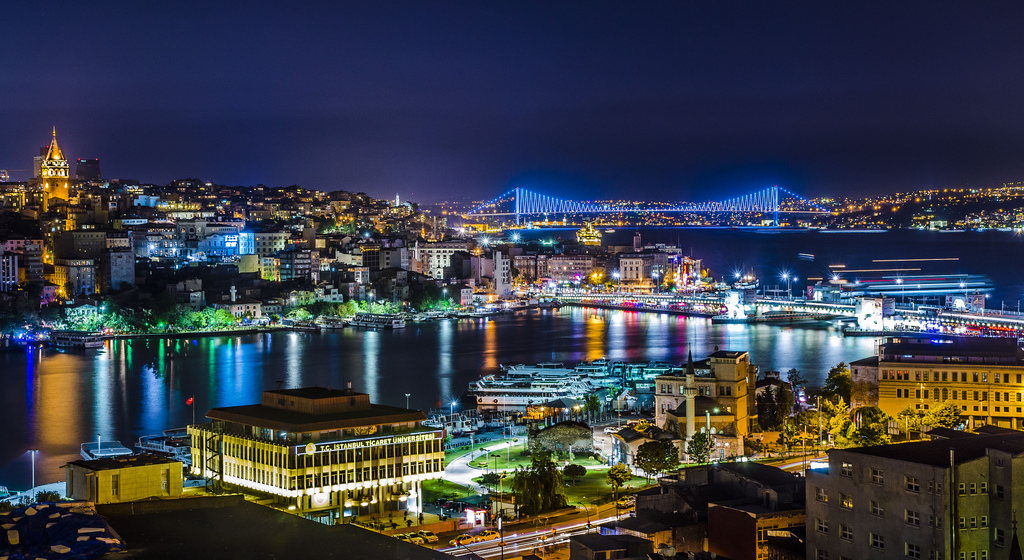 At a junction of continents, between two seas, Istanbul – former Byzantium, then Constantinople – has always been the ultimate 'fusion city', where people, cultures and faiths have met, where history has been made. Romans and Ottomans have come and gone, leaving their mark, producing that other great fusion – of past and present – as minaret, hamam and bazaar meet nightclub, high-rise and fine-dine!
The Bosphorus straight – spanned by its mighty namesake bridge and countless constantly shuttling ferries – divides the continents, whilst also joining the Black Sea in the north to the Sea of Marmara in the south. The city's European side is itself cleaved by the Golden Horn, crossed by the Galata Bridge – linking the historic heart in the south to the business and nightlife area near Taksim Square just north.
Having doubled its population to over 15 million in the past two decades, Istanbul is now one of the world's largest cities – with two thirds living on the European side – and one of Earth's most exciting… places, not least for gays! Despite Islam still holding a visible cultural sway, Turkey's constitution is secular, homosexuality is legal and there are quite a few LGBT bars and clubs – not least near Taksim!
Fortunately, Turkey's leading low-cost carrier, Pegasus Airlines, has its major international hub at Istanbul, so you can spend time in the city, as a stunning stop-over, either pre- or post- time in any one or more of the 90 or so other exciting destinations served – in Turkey, the Middle East and beyond.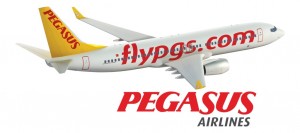 Money: 4.5 Turkish Lira = £1 approx. Time difference: GMT +2. Flight time from UK: 3½ hours. Pegasus hub Sabiha Gökçen International Airport lies just 20 miles South East of central Istanbul, connected by regular Havatas buses (14TL = £3 approx. each way). Inexpensive tourist visas can be easily bought in advance online; or at the airport on arrival.
STAY
The W Istanbul (Suleyman Seba Cad No 22, Akaretler, Istanbul; +90 212 381 2121;) is truly a W amongst Ws, because it infuses the gay-wooing style-led cut-the-corporate live-like-a-rock-star W brand at its core with its very own distinctively exotic local Ottoman magic throughout. First off: it is brilliantly and perfectly located, not least for a gay trip! It is just behind the Dolmabahce Palace, as the funky centrepiece of a clutch of historic houses – former homes for the palace workforce – with its bar-lounge, and some of its rooms, boasting amazing views down over The Bosphorus. Moreover, the hotel is in easy walking distance south to bustling Taksim Square and north to the hipster Nişantaşı fashion quarter – the two main gay districts in Istanbul!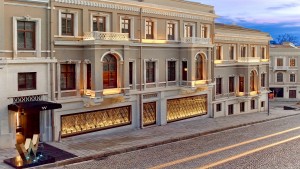 A sparkling multi-mirrored corridor leads you in from the road down to the reception and bar-lounge area, with its chic modern take on Ottoman where you can gorge on sumptuous buffet breakfasts fit for a sultan in the morning, chill with coffee and Wi-Fi in the afternoon, or mix it like an A-Gay with the sexy shake-and-stir-it barmen amidst hot beats after dark!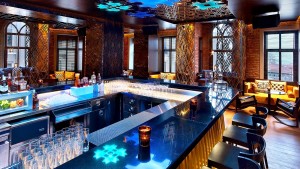 Rooms range from Wonderful and Spectacular, through Fabulous, to Mega and Marvellous. Suites range from Studio and Fantastic, through Marvellous, up to WOW and Extreme WOW! All utterly amazing! Even the 'merely' Wonderful Room features lofty ceilings and full-length windows, large flat-screen LCD TV, iPod docking station, snacks and drinks from a W MixBar, not to mention a king-size W Signature Bed, complete with 350-thread-count linens, pillowtop mattress and down-filled pillows – not forgetting hamam-style marble bathroom with rainforest shower! Some rooms and suites are made for a sultry Turkish summer with their very own garden, terrace and/or shady cabana. Pets welcome – so pack a pooch!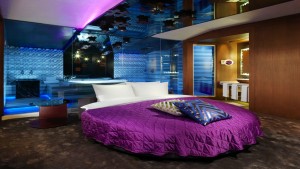 Bulk or slim in the gym. Get pampered in the spa. Connect in the business centre. Fancy a belly-dancing lesson or private dinner cruise on The Bosphorus? Then just use the W's Whatever/Whenever® Service via a button on your room's phone! Simples!
Ready to tear yourself away from this amazing hotel to discover the very latest and best of this cracking city? Then have a chat with lovely, charming, friendly, in-the-know Koray Kendir, the hotel's very own 'W Insider' – charged with matching Istanbul's glories to your own, however peculiar, tastes. A kind of informal, bespoke street-savvy super-concierge… but without the tie! You might even get to gad out-and-about with one of the hotel's own mobiles, letting you surf and make local calls – all for free!
SEE 'N DO
A glistening jewel box of Turkish delights! Some musts…:
1. Grand Bazaar – massive covered market, one of the world's first shopping malls, still going strong! Also check-out the smaller Spice Market just north!
2. Blue (Sultan Ahmed) Mosque – rare early 17th Century six-minaretted mosque, tomb to namesake sultan!
3. Süleymaniye Mosque – one of the city's finest, complete with old 16th Century hospital, college, library and hamam!
4. Hagia Sophia – 6th Century AD church-turned-mosque-turned-museum!
5. Topkapi Palace – spectacular home to centuries of sultans and their harem-hidden wives!
6. Dolmabahce Palace – Euro-influenced 19th Century Ottoman palace, replacing Topkapi as home to the last sultans!
7. Basilica Cistern – vast yet easily-missed, fish-teaming, atmospherically-lit, multi-pillared, 6th Century AD, subterranean water chamber, complete with a (carved) Medusa's head – or two!
8. Museum of Turkish & Islamic Arts – heavenly calligraphy and geometry!
9. Galata Tower – 14th Century Genoese tower affording great views out over the city. Alternatively – a top W Insider tip, this – skip its queues for even better views at the nearby Konak Café (www.galatakonakcafe.com)!
10. Bosphorus ferry or cruise – like Venice or Stockholm, Istanbul just has to be seen from the water. Frequent regular public ferries linking Europe and Asia cost under a pound a ride!
BOOZE 'N BOP
The central Taksim/Beyoglu district on the European side of Istanbul has seen a sizable gay scene appear and expand in the past 15 or so years, with an especially noticeable trans community – a long established Turkish gay subculture – not to mention a fair smattering of generally pretty harmless rent boys. There are quite a few daytime cafés but most bars/clubs really only get going after midnight, with Fridays and Saturdays naturally busiest, when many have a door charge although that will also buy you one 'local' drink inside. Club-proper drinks can be relatively pricy, and there are very few dark rooms. A small number of more exclusive gay venues have started to appear in the Nişantaşı fashion district just 20 minutes' stroll north of Taksim. Note: Any even reputedly gay-friendly traditional hamams require due sensitivity and discretion.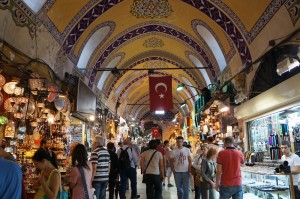 Café-bars
• Chaplin Café (Istiklal Cad. Ipek Sokak 16, Kat 3, Daire 5, Taksim/Beyoglu/Istanbul) – third floor, cheap prices, younger crowd, 12:00- 00:00.
• Mor Café (Istiklal Cad. Imam Adnan Sk. No: 7 / 3, Taksim/Beyoglu/Istanbul) – older venue but with younger clientele, 20:00- 02:00.
• Chianti Café-Bar (Istiklal Caddesi, Balo Sokak No: 31. (2nd floor), Taksim/Beyoglu/Istanbul) – popular yet chilled-out, 20:00-02:00.
• Pinokyo Café-Bar (Istiklal Cad. Buyukparmakkapi Sk No: 26/1, Taksim/Beyoglu/Istanbul) – small first-floor venue with occasional drag and live music, 15:00- 00:00.
• Haspa Café-Bar (Istiklal Cad. Ipek Sokak 16/2, Taksim/Beyoglu/Istanbul) – lively pre-party, relatively non-camp, pole-dance entertainment, same building as quieter Chaplin, 12:00-02:00.
• Café Nero (Nizampalas Apt. No: 30, Vali Konağı Cd., 34398 Nişantaşı/İstanbul) – subtly cruisy by day… another W Insider tip, this!
Clubs
• Tekyon Club (Siraselviler Caddesi, No 63/1, Taksim/Beyoglu/Istanbul) – best-known and most popular club in town, heaving at weekends, mixed but generally older/touristy crowd, 23:00-05:00.
• Kappak Club (Buyukparmakkapi Sokak No 26 (entrance floor), Taksim/Beyoglu/Istanbul) – new gay club from owners/managers of Pinokyo Café-Bar, in same building, 23:00 – 05:00.
• Cheeky Club (Tarlabasi Bulvari, No 32, Taksim/Beyoglu/Istanbul) – near Taksim square, next to trans club, Club No Name, 23:00-05:00.
• Club 17 (Istiklal Caddesi, Zambak Sokak No: 17, Taksim/Beyoglu/Istanbul) – fun but tad trans/rent dominated, 23:00-05:00.
• Super Fabric Club (Cumhuriyet Caddesi No:42 Nişantaşı/Istanbul) – chic, 20 minutes' walk north of Taksim, entrance on small cul de sac off Cumhuriyet Caddesi, 23:00 – 05:00
• Neo Bar-Club (Halaskargazi Caddesi No: 113 Osmanbey, next station after Taksim, Nişantaşı/Istanbul) – Western style club, busy after midnight at weekends, 23:00 – 05:00.
Saunas and hamams
• Aquarius Sauna (Istiklal Caddesi, Sadri Alisik Sokak, No: 29/1, Taksim/Beyoglu/Istanbul; www.aquariussauna.com) – open 24/7, with young masseurs.
• Cihangir Sauna (Altipatlar Sokak, No: 14., Cukurcuma/Beyoglu/Istanbul) – Open day times 'til around 9 pm.
Cruising
As with other big cities always take extra care and beware.
• Istiklal Caddesi & Taksim Square – 2km-long pedestrian street/avenue starting from Taksim square and ending in Tunel. The scene's connective 'spine' so gays are always passing through.
• Taksim Park – just above Taksim Square, especially on its East side on summer weekend eves.
PEGASUS: STEPPING STONE TO… DUBAI
The glory of having Istanbul as its flight hub is that you can so naturally double up a stay in the Turkish capital with time, either before or after, in any one of Pegasus Airlines' other 90 odd exotic destinations, from Beirut to Belgrade, from Delhi to… Dubai!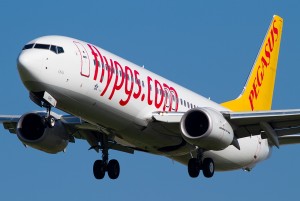 It's ironic that this most populous of the seven emirates that make up the United Arab Emirates – where you should avoid any overly exuberant public displays of mere affection, gay or straight; and where (strictly speaking) it's a twin-bed hotel room or nothing, unless both straight and married (although, in fact, most international hotel chains won't even blink when booking two guys in a double) – should have created the Burj Khalifa. At over 820 metres high, that's getting on for three times the height of the Shard or Eiffel Tower, it's also, thereby, the world's largest free-standing erection… man-made naturally!
It's very much the main event, affording stunning views (albeit the public are only allowed about two-thirds of the way up) out over an architectural and shopping wonderland (albeit relative cultural desert). Much of Dubai feels like a super-high-rise Las Vegas shot up out of the (literal) desert… minus casinos… plus pervasive (metaphorical) whiff of crude oil and a low-wage Asian migrant workforce.
A unique experience nonetheless, with an amazing infrastructure. And this former British protectorate (independence 1971) needn't be too pricy, unless you completely lose control at one of its mega-malls, like the Dubai Mall or Mall of the Emirates, or at one of the pseudo 'souks' that are rather laid on for the tourists. Other sights include the Dubai Museum in the Al Fahidi Fort, and nearby Dubai Creek, itself best viewed from the water on a leisurely Dhow cruise.
Further out west, check out Jumeirah Beach with its iconic sail-like Burj Al Arab hotel tower and artificial archipelago The World, in the shape of just that, at least if (somehow) viewed from the air; the Palm Jumeirah, the world's largest artificial island, in the shape of a palm tree, again if (somehow) viewed from the air; and the new Dubai Marina, complete with the 'World's Tallest Block', where most scrapers are at least 500m high!
Vast wealth from around the world, and out of the oily ground, is fuelling such rapid change, you'd probably have to visit every 4-5 years just to keep up! Money: 5.5UAD = £1 approx. Time difference: GMT +4. Flight time: 3½ hours to Istanbul, change planes, then 4 hours on to Dubai. UK citizens need no prior visa for short stays. Go Oct-Apr to avoid extreme heat.

PEGASUS AIRLINES
Pegasus flies to Istanbul twice daily from London Stansted and daily from London Gatwick, with one-way prices from just £42.99 including taxes and charges.
Pegasus flies to Dubai via Istanbul daily from both London Gatwick and Stansted, with one-way prices from £245.27 including taxes and charges.
You can pay a little extra to pre-book advance seat allocation, extra legroom seats or even hot meals – the award-winning on-board Pegasus Café offering a wide range of dishes from sushi to grilled beef, to gluten-free and vegan options.
Pegasus also provides guests with a wide choice of extra travel services to meet all their needs – including many partnerships such as booking.com for hotel bookings, CarTrawler for car hire, or DealBroker for tours and activities.
Since launching its first charter flights back in 1990, and starting operating under a low-cost network model in 2005, Pegasus Airlines has swiftly developed into Turkey's leading low-cost carrier, offering economically priced flights on short- and medium-haul routes. It aims to offer guests affordable, on-time flights, in the very latest aircraft. It flies a scheduled service to 31 destinations in Turkey and 60 in the rest of the world, so bringing its total network to 91 destinations in 37 countries!