So my boyfriend informed me that this week I'll be cooking for us and four of our friends, that he'd already invited them and told them we were having steak. Now this may seem a little inconsiderate, but I know that it comes from a place of love. He loves me, he loves my cooking, and he loves showing off.
So here are the recipes I'll be using, ones I know helped bag my man. After all, the way to a mans heart is through his stomach.
All of these recipes are for six people, so adjust quantities accordingly.
Pan Fried Pave Rump Steak with Triple cooked Chips, Giant Onion Rings and Shaved Parmesan and Rocket Salad.
Pave is a term that refers to a cut of meat take from a single muscle. This means there is no sinew, fat (other than the marbling), or anything inedible on the steak.
Marbling refers the fat dispersed within the muscle. For the best steak you want an even dispersal of visible fat throughout. This will render down when cooked, making the meat tender and giving the best flavour. If you're one of those weirdos people who cares more about your health than flavour, then ask your butcher for the leanest pieces, or if you're looking in a supermarket, pick pieces that have the least marbling, while maintaining an even dispersal.
You should buy your steaks at least two days in advanced, take them out of any packaging and place them on a wire rack over a tray in the fridge. This dry-ages the meat further, concentrating the flavour. It may seem like losing moisture is a bad thing, as everyone loves a juicy steak, but that lovely juice is mainly from the fat that renders when the steak is cooked, and doing this will make that juice taste even better.
 As the Steak takes the least time to cook, we'll come back to it later.
Triple Cooked Chips
Triple Cooked Chips were invented by Heston Blumenthal, and have since been appearing in restaurants all over the world. I've tried a few recipes, but none has produced a better outcome than Heston's, so that's the recipe I use, with one of two tweaks.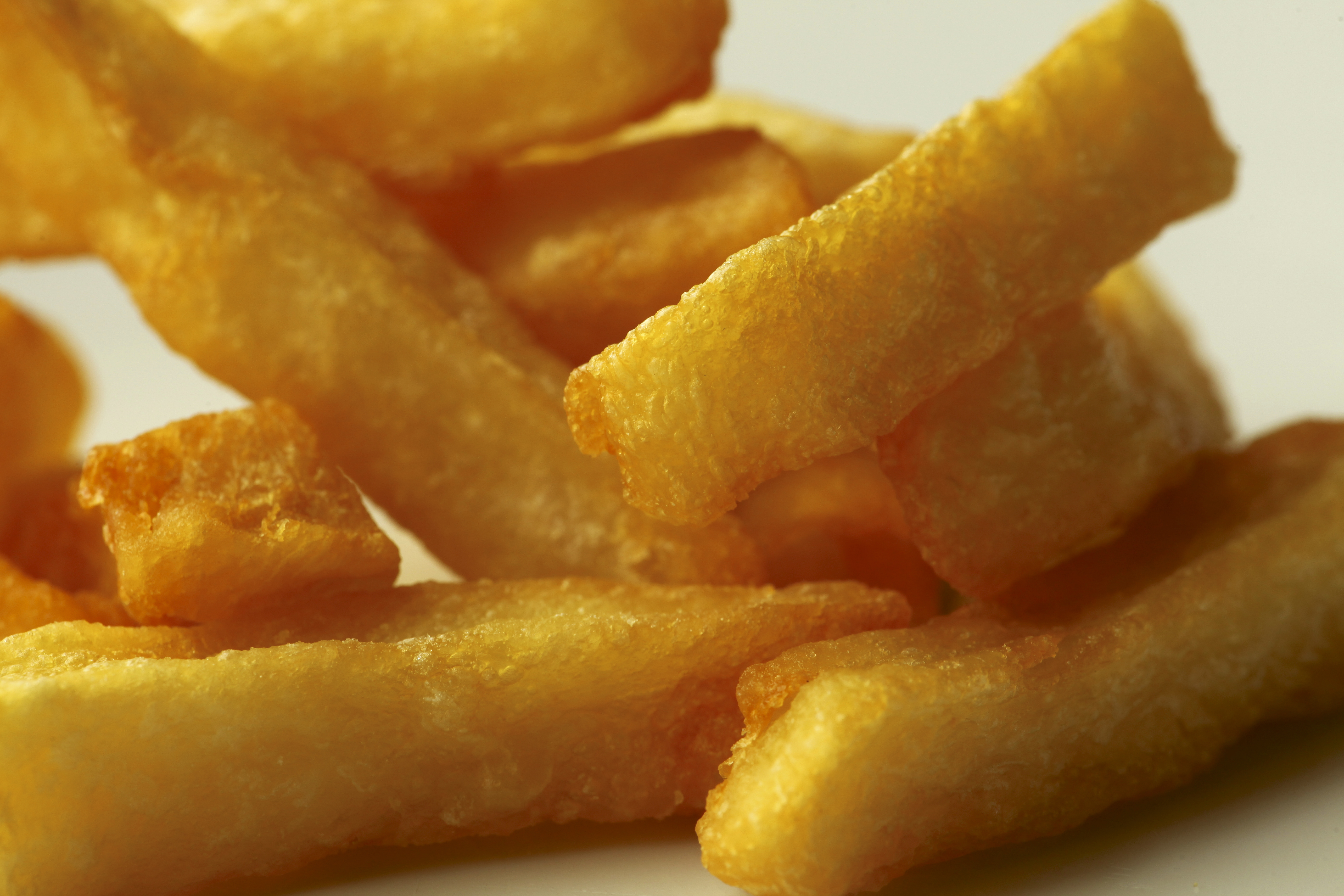 Ingredients:
1.25kg Maris Piper Potatoes
Any Flavourless oil with a Smoke Point ≥200°C
(Vegetable and Sunflower Oil are fine, Groundnut Oil is better)
Salt
Malt Vinegar (optional)
Method:
Peel the potatoes and cut them into chips with a cross-section 2x2cm (If you prefer a cleaner look, cut them all the same length, 2x2x6cm)
Place them in a large saucepan and put it under a tap, running cold water over them for 5 minutes to wash off any excess starch. Drain the water, rinse once more and drain again, and then fill with 2.5 litres of cold tap water.
Place the saucepan over a medium heat and simmer for 20-30minutes, just until the chips look like they're about to fall apart, but before they do. This is important as the cracks and fissures this makes will be pivotal to the formation of a crisp crust.
Remove from the heat and carefully remove the chips from the water and place them on a wire cooling rack to steam dry. once they're no longer steaming, place the wire rack in the freezer for over an hour to dry them out even more. This may seem excessive, but as Heston says;
'As far as chips go, moisture is the enemy'
 Pour about 10cm of oil into a deep pan and heat it to 130°C. If you have a deep-fat fryer, just set it to 130°C. Fry the Chips in small batches for around 5 minutes until a very light crust forms, the remove with a skimmer or slotted spoon and drain on paper kitchen towel. This needs to be done in small batches to stop the temperature of the oil dropping too much.
Once again, lay the chips on the wire cooling rack and place them back in the freezer for over an hour. At this point, if you want to do this in advanced, move them to the fridge for up to three days. If not, you can get on with the next part of the meal.
As I'll be doing the chips to this stage in advanced, I'll start on the dessert next, as it takes 4 hours to set.
Irish Cream and Vanilla Panna Cotta with Salted Caramel Sauce
Irish Cream is a seasonal favourite of mine, and I flavour everything with it – Hot Chocolate, Fudge, Cereal – but this dessert is my favourite. It manages to be creamy without being heavy.
You can use any Irish Cream that you enjoy, Aldi and Lidl both do versions that most people actually prefer to the big Name Brand, for less than half the price.
Ingredients
900ml Double Cream
100g Golden Caster Sugar(any colour caster sugar will work, so feel free to try others for different tastes)
1 Vanilla Pod (Can be substituted for 2tsp Vanilla Extract)
8 Platinum Grade Gelatine Leaves (can use any gelatine, just make sure its enough to set 1.2l)
300ml Irish Cream
Pour the cream and sugar into a saucepan over a medium heat and stir until the sugar dissolves.
Cut the vanilla pod down the middle with a sharp knife and scrape out the seeds. Stir them into the cream mixture. For a stronger vanilla flavour, add the pods and remove from the heat. Allow to infuse for 30 minutes, then remove them.
Place the gelatine leaves in a bowl of cold water for 5-10 minutes. Drain the water, squeezing any excess out of the leaves.
Reheat the cream mixture, then add the gelatine leaves and stir until they've all dissolved.
Remove from the heat and add the Irish cream. Stir and allow to cool.
I'll be serving mine in wine glasses, but if you're planning on using a mould or ramekins and then turning them out onto plates, then lightly grease them with a flavourless oil.
Once cool, Pour 200ml into each wine glass and place them in the fridge to set (about 4 hours)
Salted Caramel Sauce
Ingredients
75g Unsalted Butter
50g Soft Brown Sugar
50g Golden Caster Sugar
50g Golden Syrup
125ml Double Cream
Good Quality Sea Salt
Method
Heat the sugars, Syrup and butter in a pan until melted, then reduce the heat and simmer for 3 minutes, tilting and swirling the pan every so often to stir.
Add the cream and half a teaspoon of the Sea Salt and swirl again. Dip a wooden spoon in, remove it, and when cool enough, taste to see if you want to add more salt. Allow to cook for another minute then remove from the heat and allow to cool.
Now we all know what happens to glass if it changes temperature too drastically, so make sure you've removed the glasses from the fridge to warm up a bit, and allowed the sauce too cool enough before adding it, otherwise you'll be eating glass.
Giant Beer-Battered Onion Rings
For my birthday last year, my Boyfriend and my Best Friend took me to MEATLiquor. For those of you who've never been it's on of those über trendy burger and cocktail bars that seem to be popping up everywhere. However, I'm pretty sure MEATLiquor is the original, and despite being one of the cheapest, it's by far the best. Anyway, when our food came out, I was slightly confused. Instead of the onion rings I'd ordered, what came out looked like a platter of large Yorkshire puddings. It wasn't until I bit one that I realised these giant crispy delights WERE the onion rings. Seriously, the best ones I've ever had. So I scoured the internet and tried and tweaked various recipes until I can up with one that was as close to a replication as I could ever have hoped for.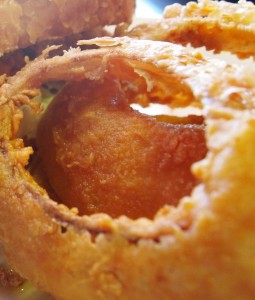 Ingredients
Any Flavourless oil with a Smoke Point ≥200°C
(Vegetable and Sunflower Oil are fine, Groundnut Oil is better)
3 Large White Onions
1l Beer/Lager
20ml Malt Vinegar
190g (1.5 cups) Self-Raising Flour
1 Heaped Teaspoon Cayenne Pepper
 Salt
Pepper
Method
Peel the onions and and cut them into 3cm/1 inch rings without separating them. Lay them in a single layer in a dish and pour over enough of the beer so they're completely covered. Add the vinegar and some salt and pepper and allow to soak for 30-120minutes. Any longer and your onion rings will end up soggy. this tenderises the onions while adding flavour.
Sieve the Flour and Cayenne Pepper into a large bowl and season. Add 350ml of beer slowly while whisking, just until there are no lumps. The batter should be runny, but thick.
Heat no more than 10cm of oil in a pan or deep-fat fryer to 180°C. Remove the onions from the beer and vinegar mixture and seperate into rings. Using your fingers, or tongs, coat each ring completely with the batter and quickly but carefully add them to the hot oil. Cook for 1-2 minutes on each side, until golden brown, and remove onto paper towel. Keep warm in the oven until ready to serve.
Shaved Parmesan and Rocket Salad
Ingredients
Rocket
Parmesan
Juice of 1 Lemon
120ml Extra Virgin Olive Oil
Salt and Pepper
Method
Squeeze the lemon juice into a bowl and whisk while slowly pouring in the oil. Season with salt and pepper and whisk again. Once the steaks are cooked and rested add some of their juices and whisk once more.
Put the rocket in a bowl and, using a vegetable peeler, shave the Parmesan into it. Add the dressing just before serving.
Pan Fried Pave Rump Steak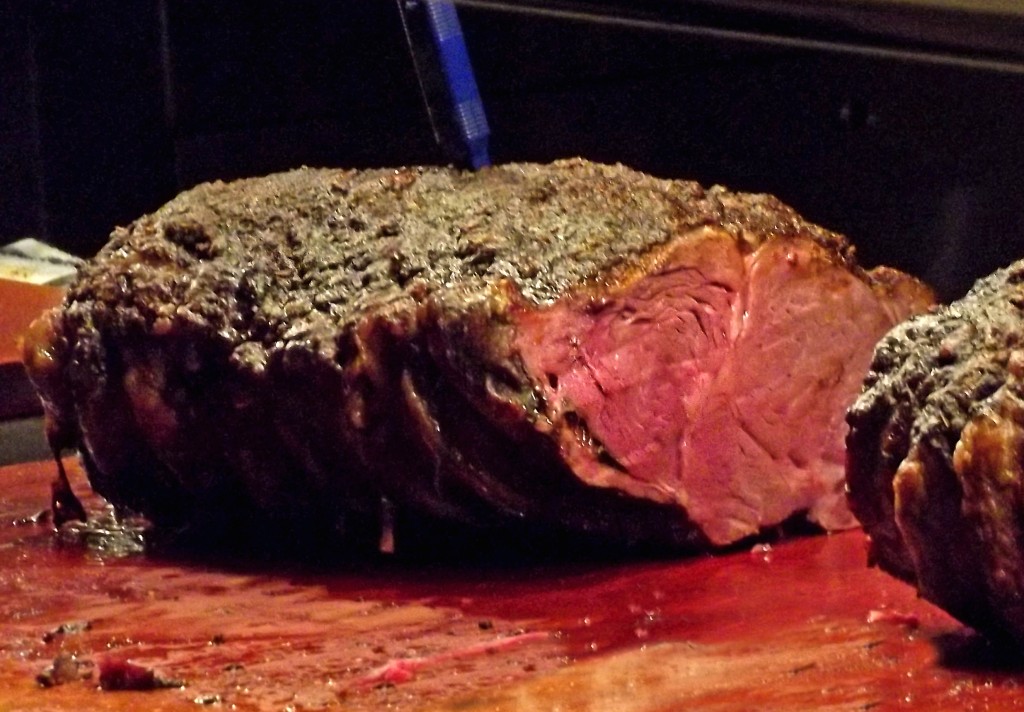 Ingredients
6 Pave Rump Steaks 250-300g
Olive Oil
Sea Salt and Black Pepper
Method
Remove the steaks from the fridge 2 hours before you cook them to allow them to come up to room temperature. Heat a pan until its smoking hot.
Using your fingers, rub olive oil over each steak, then season with the salt and pepper. Turn them over and repeat on this side.
Add them to the frying pan and turn them over every 15 seconds. This gives the outside a flavoursome crust while keeping the juices inside.
Do this for 3 minutes for a rare steak, 4 minutes for medium-rare, 5-6 for medium or 6-7 for well done. For the best results, use a meat thermometer and cook to the following temperatures:
Internal Temperatures at which steak should be removed from the heat to rest.
Rare – 50-55°C
Medium-Rare – 55-60°C
Medium – 60-65°C
Medium-Well – 65-70°C
Well – 70-75°C
Rest covered in foil on a wire rack over a tray for up to 10 minutes.
Heat the Chip oil back to 190°C and add the chips. Cook for 7 minutes until a hard, golden crust forms, them remove with a skimmer or slotted spoon and place them on paper towel. They should thump when dropped onto a plate.
As not everyone like mushroom or blue cheese, I make two different sauces for the steaks.
Mushroom and Blue Cheese Sauce
Ingredients
1tbsp Cognac
200g Chestnut Mushrooms
6tbsp Crème Fraîche
100g Crumbled Stilton or Roquefort
Method
Slice the mushrooms and fry in the steak pan until golden brown, then add the cognac to deglaze.
Add the juice to the Crème Fraîche and stir, then add one tablespoon of the creme fresh to the pan and stir before adding the rest. Heat for 1 minute, then add the cheese, stir until melted and heat for another minute.
Red Wine Glazed Shallot Sauce
Ingredients
2 Large Shallots, finely sliced.
350ml Red Wine
6tbsp Cold Unsalted Butter, plus extra for frying.
Sea Salt and Black Pepper
Method
Add a small amount of butter and the shallots to the steak pan and fry until soft and golden. Pour in the red wine and reduce by half until syrupy (about 7 minutes).
Remove from the heat and whisk in the butter one tablespoon at a time until you're left with a thick glossy sauce. Season with salt and pepper and whisk again.
Finally Add the Dressing to the Salad and put a handful on each plate, with the steak, the chips and the onion rings. Pour your choice of sauce over the steak, garnish with some chopped parsley, and serve with plenty of alcohol.
Bon Appétit.