Festival to award £146K to LGBT & HIV causes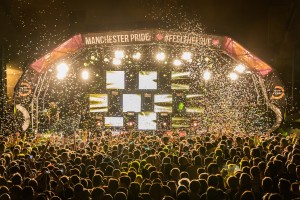 Photo: Manchester Pride
Manchester Pride, The charity that delivers Manchester's annual lesbian, gay, bisexual and transgender (LGBT) festival, announced that it has raised £137k for donation to charitable causes this year.
Plus organisers have £9k in unclaimed grants from 2014 which will be returned to the pot and made available again for LGBT groups and organisations to apply for, taking the overall total to £146k.
This year the charity introduced a number of projects and initiatives to increase engagement with the city's LGBT community and create further opportunities for fundraising.
This year saw the launch of Superbia. The year round programme of culture from Manchester Pride presented events including Tram Trax USA, a live gig on a tram from Chorlton to Manchester Airport where one lucky passenger won two tickets for a weekend in Miami courtesy of Thomas Cooks Airlines, and Transcript, a panel event with top TV stars and writers including Bruno Langley, Julie Hesmondhalgh and Damon Rochefort from Coronation Street and Bethany Black from Cucumber and Dr Who.
The Manchester Pride Spring Benefit brought together the city's business community and supporters of the charity at The Monastery to enjoy performances from Jack Pack and Dionne Bromfield.
Plus thanks to funding from the Heritage Lottery Fund Manchester Pride launched OUT!, a project that will include a digital platform created to explore the history of LGBT life in Manchester.
Mark Fletcher, Chief Executive for Manchester Pride, commented; "We are very proud to be making this announcement today. Last year we took the first steps in a new direction for the charity to increase our fund-raising capacity and cement our position at the heart of the LGBT communities. The continuation of our cost management strategy and overall increase in income meant that we have raised our highest charitable donation in the history of Manchester Pride.
"The team have worked incredibly hard to make 2016 such a successful year and to be able to donate £146k to LGBT and HIV causes makes it all worthwhile. I'd like to thank Texas, Dannii, Ian McKellen and all of our other performers and partners without whom we could not have made this happen. We had a record attendance at the Manchester Pride Parade and tickets sold out throughout the Big Weekend.
"Our focus is now on the implementation of the strategies for the years ahead. Planning for the 2016 festival will begin in January once we have held our next series of Listening Groups."
Manchester Pride is a registered charity that campaigns for equality and challenges discrimination; creates opportunity for engagement and participation and celebrates lesbian, gay bisexual and transgender (LGBT) life.