Gay company launches new furniture range with profits going to charity.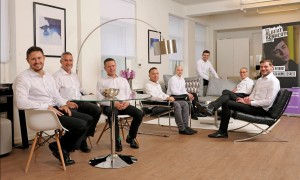 Outlet, the Soho-based property services company, has launched its own range of furniture, home accessories and white goods in partnership with furniture business, David Phillips. Every penny of Outlet's commission from sales will be donated to Albert Kennedy Trust, a not-for-profit organisation that helps young LGBT people who are homeless or in crisis. That means 10% of anything customers buy will go to charity.
The stylish and affordable range is available to view and order at furniturebyoutlet.com and offers everything necessary for furnishing a home, including sofas, tables, chairs, and electrical goods such as washing machines and TVs. There are also home accessories including lamps, rugs, prints and mirrors.
As well as selling the furniture, Outlet's partner in the venture, David Phillips, which is a design-led re-seller of high quality furniture, offers added design and delivery services. They will even collect keys from a convenient place in order to deliver goods with minimal fuss. But the amazing benefits of this partnership don't end there. If requested, David Phillips will put together any furniture you purchase once it's in the property. They can also remove any old furniture or white goods you need taking away and recycle them wherever possible.
Speaking about the new venture, Outlet's managing director Josh Rafter said: "Although Outlet is a property business, it is people who are at the heart of everything we do. A range of affordable and attractive furniture seemed like a logical step for us – as we're always looking for ways to make the lives of our customers better and easier. It's especially great for our landlords, who may have multiple properties or even entire buildings to furnish in one go.
"We also felt Furniture by Outlet was an opportunity to donate much-needed funds to a good cause. We've been supporting Albert Kennedy Trust for some time, because they share our values. Now, with the help of those buying our furniture, we can continue to raise funds to help young people who don't have the luxury of a safe or comfortable home."