Bearguy Winter Sun Collection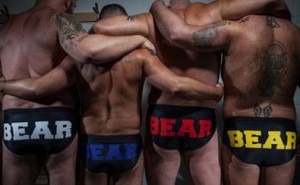 Following the success of the May 2015 launch, Bearguy is going from strength to strength. Founder Chris Clark hasn't had time to stop!
When asked about the first few months of his new business Chris said "I'm loving it! No two days are ever the same. I've been working with magazines and websites across the world to get the Bearguy word out there at the same time as designing and overseeing the manufacture of the new collection."
To launch the new collection, Chris has brought together some of the guys from his first photoshoot and is introducing some new faces for a steamy locker room inspired look. "I think that the images hit a nerve with guys who enjoyed seeing sexy bearguys having fun and looking great. One of the models from the first photoshoot was snapped up by a magazine to be a cover model. Another wore the gear at several pride festivals in the UK and Europe, with a great response from other guys. I've had loads of guys getting in touch. One of which is Maurice (Mr Netherlands Bear 2015).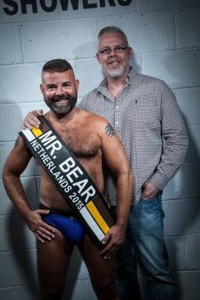 For the new collection, Chris has been working on his design skills. "One of the reasons I wanted to set up Bearguy was to use my creative side in a way I never could when I had an office job. It's been fun working with a friend to come up with designs for the fabrics featured in the new collection."
The first of the fabrics is "Bear Pride". From a distance, it looks like a standard military camouflage pattern but with colours taken from the bear pride flag. Brown, orange yellow, cream, white, grey and black overlap to make a great looking design. Closer inspection reveals that the pattern is made up of a repeated bear shape. Chris says "These are perfect for bear events across the world in places like Provincetown and Sitges. They'll look great at the local pool too though!"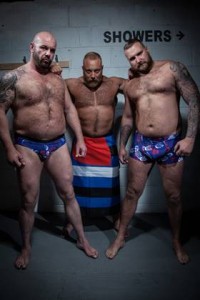 The second of the new fabrics is "Leather Pride". This features a blue background covered in red, white and black boot prints using the colours of the leather pride flag and is described as "a fabric for all the guys out there who like the idea of a bit of sleaze on the beach."
In addition to the new collection, Bearguy has updated and improved some its existing lines. The hugely popular signature swimwear that launched the brand has been revamped, with custom printed fabric now making the design bolder and harder wearing, making it suitable for heavy usage. Chris explains "The original Bear swimbrief was a massive hit. Some guys even wanted to wear it regularly as underwear but it wasn't designed for that. I've completely changed the way the image is created, meaning that it can now be worn on a daily basis and keep looking great".
Chris has stuck to his guns when it comes to keeping things as local as possible, with fabric printed and all manufacturing for the swimwear and underwear carried out within a 10 mile radius of his home in West Yorkshire.
So… what's next for Bearguy? Chris is already working on ideas for the next collection and is exploring retail opportunities in the UK and further afield. "I want to broaden the range of t-shirts in the next collection, building on the success of the original collection using incredibly talented artists. I've also been talking to quite a few retail outlets on the high street and online. I haven't made any agreements with anyone yet, but keep a look out for Bearguy at a store near you in the next year or two!"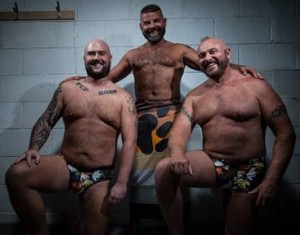 Bearguy launches its wintersun collection on the 30th September 2015.
T-shirts are available in sizes Small to 5XL from 36" to 64" chest. Underwear and swimwear are available in 4 specially created sizes – Otter, Cub, Bear and Grizzly from 32" to 44" waist.
Bearguy is available on the following networks:
Facebook: facebook.com/bearguy
Twitter: @bearguyuk
Instagram: @bearguyuk
Pinterest: https://www.pinterest.com/Bearguyuk/