Welcome to the Cliterati!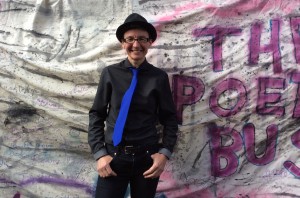 Described as "the literary lovechild of Jeanette Winterson and Allen Ginsberg" spoken word artist Jay Walker has taken the performance poetry scene by storm in the last two years. Writing for Broadway Baby, Sarah Macintosh sums up the hallmark feature of Jay's work in the phrase "dizzying eroticism".
Renowned for her hot and bold poetry, Jay's words are animated by her lust for language and her passion for life, bound up with the inimitable eloquence and vulnerability of the body erotic. A Scotsgay review hails her last Edinburgh Fringe performance as "graphic and cuts no corners. She is a poet of real substance." She has performed widely to critical acclaim in general and LGBT venues from Shrewsbury's Severn Theatre to Seattle Pride stopping off at L Fest, Incite, Brighton Emporium, Slick, the Ludlow Fringe and the legendary Velvet Tongue, among others, along the way. The iconic Bar Wotever have described her shows as both "horny and lustfilled" and "heart breaking" as she shares a surprising twist in the story of the body erotic.
Expect the unexpected: she's back at the Edinburgh Fringe this year with a smut fest of poetry woven together with a quirky sprinkle of her own off-beat brand of stand-up in her new show Welcome to the Cliterati , 23rd -26th August in The Street, Picardy Road from 7.15pm. This is poetry that gets under your skin, stand up that celebrates absolute absurdity, and we learn a few queer home truths along the way.
Why sex? It's hot, it's fun, and catch Jay off stage and she'll even talk theory. 'What we don't talk about gets a life of its own fuelled by secrecy and imbued with shame,' says Jay. 'Something has gone very wrong when the erotic is presented as distasteful, shameful, excessive. Pleasure, desire, connection and embodiment, which are all part of the hologram of erotic knowledge, are vital compasses in how we navigate our lives meaningfully. Without the erotic we are thrown into a dangerous place where body and mind are dislocated. I wanted to speak graphically of the erotic and its absence. This way the audience get to hear two narratives that are rarely presented in one trajectory and can experience for themselves what is at risk both with constructing silences and breaking silences."