Vicious star to lead Manchester Pride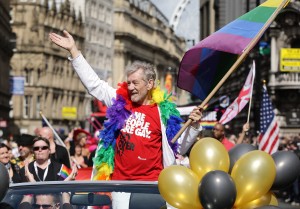 Sir Ian McKellen, star of The Lord of the Rings , X-Men and TV's Vicious, has been announced as the Grand Marshal at this year's Manchester Pride's Parade.
Sir Ian, who hails from Burnley and is one of the world's leading LGBT rights campaigners will follow in the footsteps of last year's hugely popular parade leader, Orange is the New Black's Lea Delaria.
Mark Fletcher, Chief Executive of Manchester Pride said: "We're privileged that Sir Ian will be leading the parade through Manchester City Centre in this milestone year, where we are marking 25 years of charity fundraising events celebrating LGBT life in Manchester.
"Sir Ian is a genuine inspiration for the global LGBT community, not only for his status as one of the world's most acclaimed actors but also for his unwavering dedication to campaigning for LGBT rights."
The theme for the 2015 Manchester Pride Parade is Devotion, and the charity is calling for parade participants and attendees to celebrate and shout about who and what they are devoted to.
Mark added: "Manchester is a city devoted to embracing and celebrating diversity, especially the LGBT communities that have helped to shape Manchester's cultural heritage and landscape over the centuries. We want people to celebrate the fact that Manchester is proud of its LGBT history and shares in its future.
"Whoever or whatever you're devoted to – the Manchester Pride Parade is the perfect platform to show your 'Devotion!'
As Grand Marshal of the parade, Sir Ian will lead the parade through the streets of Manchester on Saturday 29th August.
This year's parade is expected to consist of around 2,500 people from across Greater Manchester, with around 100 entries from small community groups, to large commercial organisations all expressing their support to the LGBT community. The Parade will weave its way through the city centre, following a 1 mile route, as tens of thousands of visitors are expected to line the streets of Manchester.
A host of big names including Texas, Union J and DJ Fresh will perform in Manchester during the Big Weekend. They will be joined by Lucy Spraggan, Heather Peace, the Shane Ritchie Band and many more to be announced this month.
There's much more to the Manchester Pride Festival than the Big Weekend and events will take place throughout the month of August. This year has seen the launch of Superbia, an all year round calendar of events that showcases, supports and celebrates LGBT and relevant arts, comedy, debate, film, literature, music, sport, theatre, family and community-led projects within Greater Manchester with the aim to encourage engagement, wellbeing and culturally enhance communities.
To find out more about the Manchester Pride you can follow the charity on Twitter @manchesterpride