No need for airbrushed hunks in hoodies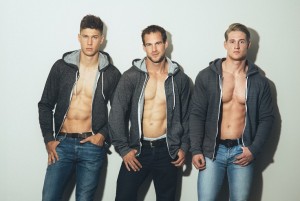 Clothing brand Lunn Farrow ® have launched their debut holiday inspired 'Ibiza Collection' of T-Shirts and Hoodies. To keep true to their company ethos, Lunn Farrow as a brand have stated they have banned models and have showcased real people with no airbrushing in their campaign.
Lunn Farrow's debut collection was shot by celebrity photographer Harley Moon-Kemp and features Capital XTRA DJ Jade Avia, fitness guru Lily Sadbury and Dancer Sophie Amelia Hind to name but a few.
The debut range features T-Shirts and Hoodies for men and women, including a one off limited edition top for children. Sold online at www.LunnFarrow.com the collection is stocked in various boutique shops around the UK but the biggest selection of items can be found on the brand's website.
With intrinsic and detailed clean lines, Lunn Farrow's designs are fun, expressive and unique. Carefully created with your holiday in mind, the 'Ibiza Collection' is a perfect addition to your summer wardrobe. Key pieces include Aztec inspired map of Ibiza prints, sassy slogans and Buddhist inspired designs all printed with care on high quality T-Shirts and Vests.
Perfect for summer, the designs are heavily inspired by Ibiza and feature slogan tops including the female 'Property Of Ibiza Until Further Notice' and the male vest featuring the slogan 'Ibiza Is Always A Good Idea'. Also in the range, an Aztec inspired Ibiza map Vest is perfect for those summer nights on the white isle. To complete the range, there is a limited edition children's top with a hand drawn Hand of Fatima design.
Lauren Lunn Farrow, the Managing Director of Lunn Farrow has been involved in every aspect of the brand, from the designs itself to the brand ethos.
She comments;  "I really wanted to create an affordable T-Shirt and Hoodie brand that provided the consumer with a realistic image.   We are working hard to establish Lunn Farrow as the go to T-Shirt brand providing our consumers with affordable and eclectic designs.
I personally picked all of the people in our campaign shoot and feel they portray a healthy and inspirational body image. I look forward to presenting more campaigns via Lunn Farrow that instill confidence in people wearing our brand. The faces in our campaign shoot ranged from 10 years old to 28 years old – I see no reason to conform to industry pressures and airbrush our brand ambassadors and feel we have created a totally bespoke brand and campaign shoot."
Shop Online: www.LunnFarrow.com
Twitter/Instagram/Google Pus: @LunnFarrow
Comments via Facebook
comments