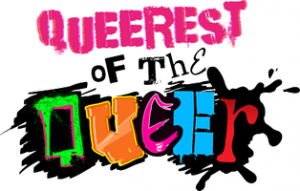 Don't lose that fabulous festival fever when summer starts to slip away. Drain that cider, drop that zine, and mark 19th September in your diaries NOW, because subversive new festival, Queerest of the Queer (QotQ) is not to be missed.
QotQ is a 12 hour party celebrating the dolly mixture of talent that is London's vibrant queer scene. With attitude to burn, punk and proud QotQ is a DIY mash-up of a festival showcasing live bands, drag acts, cabaret and international superstars, over 12 WHOLE HOURS. Headlining this half-day extravaganza is none other than the incredible Miss Latrice Royale, megastar of RuPaul's Drag Race, who will be performing a U.K. exclusive of her one-woman show on the main stage of our fabulous venue – the superb Coronet Theatre.
Throughout the day and well into the witching hours, you can strut your stuff across our five stages and three wondrous activity rooms, soaking up the finest queer performances from the likes of the legendary Family Fierce, Adam All and Apple Derrieres, The Fabulus of Unicorns and many, many more.
You can soak up the DIY vibe well into the early hours in the bar and replenish those energy levels at our pop up food stalls. So what are you waiting for? Swap your wellies for your fiercest get up and start training for 12 hours of the loudest, weirdest, hottest talent from both sides of the pond. Together we can keep the party queer!
Tickets £35 advance, available now.
The Coronet, Elephant and Castle, London
VIP tickets, including a 'meet and treat' with RuPaul's Drag Race megastar Latrice Royal, exclusive access to our VIP room, queue-jumper tickets, a souvenir programme and more, available now.