'Fudgepacker Brownie' Campaign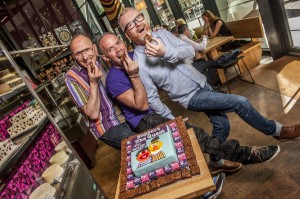 Award winning, gay owned baker, Konditor & Cook, launch a special edition 'Fudgepacker Brownie', with a percentage of its proceeds going towards The Quest for Gay Men, the UK's unique personal development and psycho-experiential Social Enterprise for Gay and Bisexual men. To celebrate the launch they have made a cake dedicated to known gay supporters, Bert and Ernie!
Konidtor & Cook's founder and head baker, Gehard Jenne and CEO Paul Cons, are supporters of The Quest which they believe is a vital support network for Gay and .
"The Fudgepacker brownie is packed with a double dose of caramel flavours: chunks of vanilla fudge are interspersed throughout the brownie mix, then a fudgy salted caramel packs further flavour on top. It is quite literally packed with fudge, hence the origin of the name. This is one of our best sellers and with over 75,000 fudgepacker brownies being sold every year we hope to raise enough money for The Quest for Gay Men to allow more men to experience this amazing programme." Says Paul Cons, CEO of Konditor & Cook and fellow Quest participant
The Quest Programme for Gay Men, founded by Ade Adeniji and Darren Brady is a combination of the latest transformative healing modalities including 1:1 sessions self-inquiry, psychological exploration, story-telling in small and larger groups, visualisation, journaling, coaching, self-reflection and contributions from practitioners including Brene Brown, Alan Downs and David Richo.
"We are very pleased that Konditor & Cook wish to support us and The Quest for Gay Men Social Enterprise. This will allow many more men to experience this unique and transformative programme". Darren Brady, The Quest co-founder
What is The Quest?
The Quest for Gay Men is a not for profit Social Enterprise, which takes gay men on a self-healing journey to embrace a powerfully different way of living, free from the constraints of the past and introduces them to the boundless possibilities of the future through confidence building techniques and self-healing practices.
Reported benefits of men who have come on the programme include:
Establishing intimate loving relationships
Living each moment full of vitality
Making conscious choices in day-to-day life
Living a creative life full of self-discovery
Being more congruent in the different aspects of life
Experiencing a rich, considered and balanced life
Expressing who they are in the world
Journeying with a community of other gay men