Rent Boy the Musical with book and lyrics by David Leddick and music by composer Andrew Sargent makes its European premiere at Above the Stag Theatre, from Wednesday 24th June and running until Sunday 26th July.
Set on the night of the 'Hookie Awards', the Oscars of the escorting world, Rent Boy the Musical pulls back the curtain to reveal the personal stories and celebrate the 'special' skills and secret talents behind the sexy personas of 'men-for-sale'. Erotica rubs shoulders with romance in a joyous celebration of words, song and dance as they entertain you as only they know how with songs such as Who Invented The Jockstrap?, Gay For Pay, Tops and Bottom, and The Boyfriend Thing.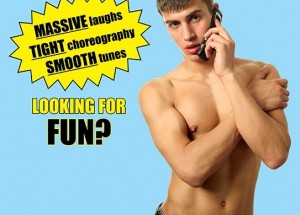 Book and lyric writer David Leddick is known world-wide for his novels and art books (no less than 22!) including Lambda Award-winning books Naked Men, and The Male Nude. He was born in 1930 and started writing at age 65 having previously been in the US navy, a ballet dancer at the Metropolitan Opera in New York, and Worldwide Creative Director for Revlon and International Creative Director for L'Oreal.
So, with MASSIVE laughs, SMOOTH tunes and the TIGHTEST choreography, Rent Boy: The Musical invites you to meet the contenders, hear the secrets behind their sexy personas, and let them entertain you as only they know how!
Above the Stag Theatre: Arch 17, Miles Street, London SW8 1RZ