Heritage Lottery Win for Manchester Pride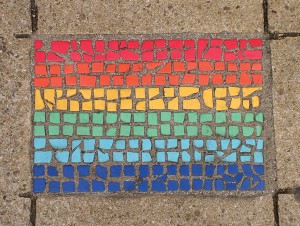 Manchester Pride has been awarded funding by the Heritage Lottery Fund to create a bespoke digital platform, entitled 'OUT!', exploring the history of lesbian, gay, bisexual and transgender (LGBT) life in Manchester.
The project aims to bring together the variety of projects championed by organisations including EuroPride, Gaydio, LGBT Foundation, Archives+ and the LGBT Youth North West since 2003 to create a complete online archive of LGBT histories and heritage.
In 2003, as part of EuroPride, Manchester Pride developed a new heritage trail which involved the permanent installation of rainbow tiles into key locations around Manchester city centre. These trails are still in place and mark locations of historic occurrences. The tour required the experience and knowledge of a tour guide and was specifically designed for its audience to be guided around the city, rather than to explore the locations themselves.
The new Manchester LGBT digital histories website, 'OUT!', will bring the heritage trail and LGBT digital histories to life and provide a central place where people can look at available resources, create links and then develop their own journeys through these different stories. The audience will be able to create their own personalised trail based on geographic location, subject matter or time period that draws data from different LGBT heritage projects and archives. The digital tool has been appropriately named 'OUT!' reflecting both being 'Out' and exploring the flagstones outdoors.
'OUT!' will also provide the opportunity for crowdsourcing and digital games that enable the public to engage with, explore, research and contribute to this ever growing resource.
Mark Fletcher, Chief Executive of Manchester Pride comments: "Two of the main aims of Manchester Pride are to celebrate LGBT life in our city and to create opportunities for engagement. With 'Out!' we aim to commemorate and unite the rich and vibrant past by providing a factual and insightful legacy resource in one single location."
"Our vision is to enable communities, historians and researchers, tourists and locals to learn about these histories and encourage them to contribute to the content and engage more fully with and to understand this important part of Manchester's past."
"I was genuinely surprised to learn that many younger people have no idea or understanding of the challenges that have faced LGBT communities over the years or the fights that have been won that allow us to live freely in this brilliant City. These histories form an integral part of the City's life and success and we feel that, as 2015 marks the 25th anniversary of charity fundraising events celebrating LGBT life in Manchester*, this is a great time to draw focus on these stories and to record them for the future."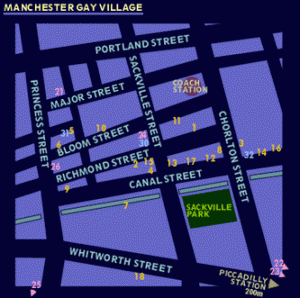 Manchester Pride is currently recruiting a number of volunteer research pioneers for this project who will collate information from both the LGBT community and other sources. The funding will provide training for the research pioneers who will visit community groups, researchers and local history societies to introduce the digital tool, 'OUT!', and gather content including videos, photography and stories.
Daniel Jessop is the Project Manager on the 'OUT!' Digital Histories project. Daniel's role is to co-ordinate the volunteer programme and ensure that the project celebrates Manchester's LGBT histories. Daniel joins the team from working as Heritage Officer on the est.1761, Bridgewater Canal in Salford project and has been working in the arts and heritage sector for the past seven years. Daniel is keen that heritage connects communities, shares stories and excites people to look back and find out more.
Daniel said, "It's great to join the team and make sure that stories in the LGBT community are shared. The Heritage Lottery funded project will empower volunteers through training, collecting oral histories and encouraging people to question the past and find out more. 'OUT!' celebrates LGBT heritage and if anyone is interested in being part of this please do get in touch."
This is a great opportunity for those interested in contributing to a digital archive that will be the first of its kind, bringing lots of sources together. If anyone is interested in finding out more, please contact Daniel
Jessop on daniel@manchesterpride.com
Alongside the creation of the digital platform, 'OUT!', the funding will also provide:
The training of 40 volunteers to visit community groups, researchers, local history societies etc to introduce 'OUT!'.
Training of local historians to investigate archives to examine them for LGBT content.
A stand at the Expo Stand at the Big Weekend 2015 to explain the project and demonstrate the digital tool.
A panel discussion during Manchester Histories Festival 2016 to help the wider community to understand the heritage of the LGBT Community in Greater Manchester.
32 individuals will be trainees in oral histories and interviewing skills throughout the life of the project. 18 will initially be trained at the start of the project (12 community volunteers, 6 Gaydio interns) to conduct interviews for the theatre piece, digital booths and during the Big Weekend from the Expo Stand. A further 14 will be trained as a part of LGBT History Month in January 2016 in order to collect stories to add to the resource.
A digital exhibition at Archives + during the Manchester Pride Festival 2015 creating a new strand to their "Radical Histories" unit.
A live performance based piece in conjunction with Hope Theatre in the Gay Village that utilises oral histories and heritage on the digital tool.
A digital game run through Twitter and based around the digital tool to encourage engagement and usage.
The 'OUT!' digital platform is set to be launched in August 2016 and will be developed by E3 Creative.