Fanny & Stella: The Shocking True Story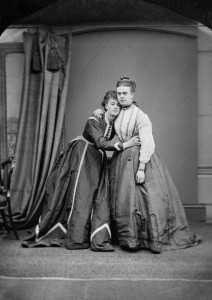 A true London tale of Victorian cross dressers – two young men who dared to be different, whatever the cost.
This new play with original music has been created by a West End team – writer Glenn Chandler (Taggart), established composer Charles Miller (When Midnight Strikes) and Steven Dexter (Loserville, Olivier award winning Honk!) with the support of choreographer Carole Todd and designer David Shields. Glenn Chandler's other work includes the award-winning The Custard Boys, Cleveland Street – The Musical, and last year the acclaimed Sandel, a hit at Above The Stag Theatre and the Edinburgh Fringe.
Victorians Ernest Boulton and Frederick Park were known and adored as Fanny and Stella. They dazzled in female roles on our nation's stages – and in clubs and bedrooms from London to the Highlands. Tonight – they present the shocking story of their own rise to fame and fall from grace.
Ernest Boulton (Stella) was born in December 1848. Blessed with an extraordinary soprano voice he was set on a stage career but was pushed by his father to get a job in a bank. Resigning before he could be sacked he set about making the most of his androgynous looks and his lovers included Lord Arthur Pelham-Clinton, son of the Duke of Newcastle. The godson of Prime Minister William Gladstone and an MP, Lord Arthur was a trophy friend for a middle-class boy and Boulton proudly brought him to meet his mother, Mary Ann.
A year older, Frederick William Park (Fanny) was the youngest of 12 children of Judge Alexander Park. His closest brother Harry fled across the border to Scotland after being arrested for homosexual offences and would later be imprisoned with hard labour. While Harry was handsome Freddie was the ugly duckling of the family. He was articled to a solicitors in Chelmsford but his heart lay in the theatre.

The two men subsequently formed a theatrical double act, touring as Stella Clinton (or Mrs Graham) and Fanny Winifred Park, and receiving favourable press reviews for their performances.
Above the Stag Theatre: Arch 17, Miles Street, London SW8 1RZ
13th May – 14th June