Travel – Meet me in Miami!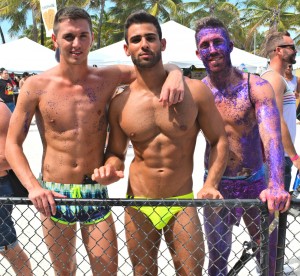 Adrian Gillan steers you around the Art Deco, be-palmed, sea-view chic that is Miami – during its famous annual Beach Pride!
When the railroads reached Florida in the 19th Century, they brought rich, leisured "snowbirds" seeking sun. Now: add A-list celebs and beach-loads of global queers to the mix – not least along South Beach's famous sandy spit! And never more so than during the three-day Miami Beach Gay Pride weekend!
Most national air carriers fly direct to Miami International – a short drive from South Beach or Downtown. American Airlines flies several times daily direct from Heathrow.
Miami Beach Gay Pride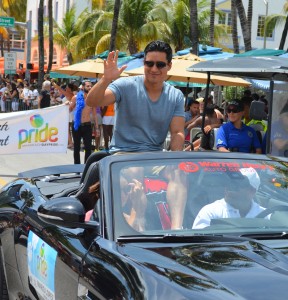 With its White Party (Nov), Winter Party (Mar) and Gay & Lesbian Film Festival (Apr-May), plus a World OutGames Miami planned for 2017, Miami is already one of the queer event epicentres on the planet! And that's not even counting the Big Daddy of the annual gay-play-list: Miami Beach Gay Pride!
This extraordinary yearly event features a massive parade (this year 65 parade groups, 35 floats, 2700 participants); over 100 LGBT-friendly businesses; top-notch celebs; live performers; food and refreshments; special club nights; even a family-friendly play area! Now in its 7th year, Miami Beach Pride has grown into one of Miami Beach's largest events of the year, attracting over 130,000 visitors!
Although the main parade is held on the Sunday, most revellers make a long weekend of it, with a variety of sound stages bringing the sands between the Atlantic and Ocean Drive truly alive!
This year, festivities kicked off on the Friday evening (6pm-10pm) at the Vapor Shark Stage (11th Street) with free DJs and entertainment to really get the party started!
Saturday began early for some, with the first 5k Pride run, attracting 200 brave participants! Over 100 stalls were also to be found stretched across Lummus Park, bordering the beach – everything from refreshments, to charity organizations and merchandise, to a "Family Fun Zone" for the kids! The Vapor Shark Stage sprang to life again 1pm-9pm, with more DJs and live entertainment. As this wound down, many guys then grabbed a bite before shimmying over to the heaving 'URGE' club night (10pm-7am) at nearby scene stalwart and official Pride partner Score (1437 Washington Avenue, MB, FL;), powered by DJs Abel & Paulo.
Sunday meant finding a clever perch at a bar/hotel terrace on Ocean Drive from which to watch the colourful parade (11.30am-1pm) – starting on 5th Street and Ocean, travelling north to 15th Street – including sexy Grand Marshal, actor and TV host, Mario Lopez. Hotel Victor (1144 Ocean Drive;) made the perfect hub – first brunching at its excellent Sugar Factory eatery on the lower terrace to parade-watch, before dancing at its fun and zany Tea Dance on the upper terrace.
Then: more fun all along Lummus Park, not least at the aforementioned Vapor Shark Stage (1pm to 9.30pm) with special performances by Missy Meyakie Lepage, Nathalie La Rose, Wildchild World, Ivy Levan, and DJ Tracy Young, culminating with the headline performance from Deborah Cox! Many revellers roved around, dipping in and out of other stages too, such as the AHF Stage (13th Street) for Latin programing; the Palace Stage (12th Street); and TD Bank Stage (11th Street / Ocean Drive). After a climax of fireworks at 9pm, courtesy of the Clevelander Hotel, many guys then headed back to Score!
South Beach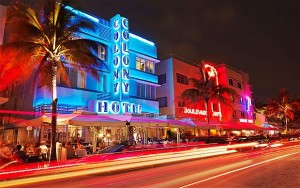 Naturally, most international visitors will spend at least a week in town, even if they do hook their visit around a gay event – which means ample time to check out some extra eateries, culture and sights!
Miami's South Beach – or SoBe (pronounced "so-bee") – has the colour of Rio, the intensity of Manhattan and the tropical ambience of the Caribbean, all on a long island just a 10-minute drive east of Miami's main Downtown high-rise skyscape.
SoBe boasts one of the world's most significant, and thankfully now nationally protected, swathes of 1920s and 30s Art Deco hotels and residences – each one as individual and scrumptious as a well-iced fairy cake, all with glorious pastel hues which take on a brand-new dimension of luminosity when neon-lit after dark. The Miami Design Preservation League runs regular daily walking tours of the district from the Art Deco Welcome Center (10th & Ocean Drive) – and there's even a specifically gay-themed Art Deco tour every second Saturday of the month at 11am.
Whilst in the area, visit The Wolfsonian (1001 Washington Ave;), showcasing US and European decorative arts, 1885-1945; and the vast World Erotic Art Museum (1205 Washington Ave;)! Along pedestrianised Lincoln Road Mall, you'll find numerous cafes, galleries and shops. Further south – overlooking the fine white-sanded beach itself – is the famous Ocean Drive; best cruised down slowly in a large open-top car at night or sauntered along dreamily on foot by day.
Fab SoBe eateries include Bistrot Bagatelle (220 – 21st St & Collins Ave;) in the new Villa Bagatelle Hotel, which recreates and even redefines the French Mediterranean dining experience – a touch of Paris with a dash of St Tropez – via an exquisite seasonal menu and a wonderfully-designed space. Alternatively, for a big, buzzy spot serving classy Italian fare, check out the spacious indoors or terrace of Siena Tavern (404 Washington Ave;) for pizzas or crudo from charismatic chef, Fabio Viviani. Grab Latin flavours down colourful Espanola Way; or authentic American comfort grub at the 11th Street Diner (11th Street & Washington Ave;).
Beyond SoBe
Over the bridge, in Miami Downtown , enjoy a show or film at the utterly kitsch architectural orgy that is the old Olympia Theater at the Gusman Center for Performing Arts (174 East Flagler St;). Or take in a ballet or opera at the Adrienne Arsht Center for the Performing Arts of Miami-Dade County, perhaps at its intimate 300-seater Carnival Studio Theater, along with a tasty pre- or post-show meal at The Café at Books & Books, with its outdoor seating, table service and specialty coffee bar.
Be sure to visit the new multi-million-dollar PAMM / Perez Art Museum Miami (1103 Biscayne Boulevard, Miami;) in downtown Miami's 29-acre Museum Park overlooking Biscayne Bay, for international art of the 20th and 21st Centuries, plus public gardens and sculpture installations. The park will also soon house the Miami Science Museum, opening 2016.
Brands, brands, brands! Just north of Downtown, stroll the Miami Design District – a unique, 18 square block "community of design", brimming with fashion, art and décor stores. Its Palm Court Plaza houses one of the greatest concentrations of luxury timepiece boutiques in the country. Keep 'em peeled for all the crazy art and design installations. Gorge at lively eateries like The District Miami (190 NE 46th St;) with its locally-sourced Pan-Am cuisine, including signature ceviches, washed back with top wines or craft beers.
Scene
Get gay bearings at the Miami-Dade Gay & Lesbian Chamber of Commerce LGBT Visitor Center (Historic City Hall, 1130 Washington Ave, South Beach; Mon-Fri, 9am-6pm)!
By day, life's a beach! Chew eye candy on the lower-key 3rd Street sands; or chill with the beach bum student dudes at 8th Street. Check out the herds of preening pecs on the official gay beach opposite 12th Street on SoBe; or at part-gay Haulover Nude Beach on Collins Avenue, way up at 108th Street.
Then make a B-line for day-or-night queer-buzzing The Palace (1200 Ocean Drive;), right opposite the gay beach on the front – not least for its great-value "Sunday Brunchic", where brunch collides with drag! Über-chic Mova Lounge (1625 Michigan Ave;) is worth more than one visit. And Cabaret South Beach (233 12th Street;) has live music and entertainment – all seven nights of the week!
Bar upfront and large dance space to the rear, ever optimistically-titled Score (1437 Washington Ave;) heaves at weekends – and not just during its big Pride specials! Sizeable stalwart multi-space "7-bars-in-1" Twist (1057 Washington Ave;) is SoBe's longest-running gay venue, offering something for everyone – including pole- and lap-dancers, for pay, around the back!