Brighton Pride is about to get glorious. Yes Brighton Pride is delighted to announce that the Grammy Award-winning singer songwriter Foxes will be joining the star-studded Pride Festival Main Stage line-up this August.
An artist who's journey from her local open mic night to the worldwide stage has been meteoritic and mesmerising, Foxes will be bringing her unique and Glorious sounds to Preston Park for a perfectly formed experimental and dark pop performance that will see you Holding Onto Heaven.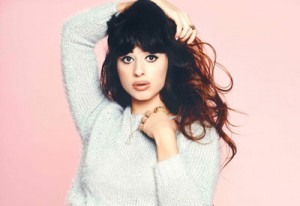 From the warmth and wonder of her breakthrough track 'Youth' via the brilliance of the 'Warrior' EP and her show stopping collaboration with Zedd on the US Billboard Hit 'Clarity', Foxes, a.k.a. Lousia Rose Allen, has impressed credible pop fans across the globe. Add her crucially acclaimed 2013 debut album 'Glorious', the smash hit 'Holding Onto Heaven' and even a Queen inspired 'Don't Stop Me Now' Dr Who appearance and you begin to understand why Foxes has become an artist favoured by the knowing pop fan and name checked by the stars. When Katy Perry calls you the one to watch, its time to pay attention.
Foxes – A queen of modern pop is about to grace the Brighton Pride celebrations and we just know it is going to be Glorious. Others already confirmed to appear are Tulisa, Ms Dynamite and critically acclaimed house, disco and pop music collective Hercules & Love Affair.
Pride Brighton & Hove 2015
Pride Festival Preston Park 12noon – 10pm.
The advance £18.50/ £21.00. (£25.00 on the day)
Joint tickets available for Festival and Village party.