Europe's first permanent rainbow crossing?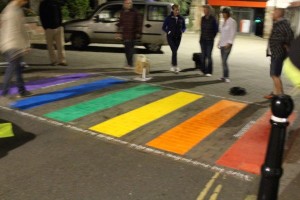 Devon-based grassroots community organisation Proud2Be Project, has announced plans to install Europe's first permanent rainbow zebra crossing, in the rural town of Totnes in Devon.
Last year, Proud2Be laid down a temporary crossing outside St Mary's Church in the High Street, in the lead up to the second-ever Pride event in Totnes.
The primary aim of the crossing will be to celebrate diversity and raise awareness about the issues still faced by the lesbian, gay, bisexual and/or trans (LGBT) community, all over the world.
Mat Price, who with his twin brother Jon, founded the organisation- told town councillors: 'Totnes is a courageous town which likes to do things first…the permanent crossing would send out the message that Totnes is a town that celebrates diversity and encourages people to be proud of who they are.' He added: 'I believe it would raise tourist figures. It would be a landmark that could encourage diverse groups to move here and stay here.'
Proud2Be has successfully obtained support from the town council and in the next few weeks, with backing from groups such as the Traffic & Transport will approach Devon County Council with a proposal, asking for its support.
No decision has been made regarding the location of the proposed crossing but town councillors have been assured that as part of the proposal a number of locations will be identified that are 'on key walking routes where an additional crossing point would improve safety and will of course accord with all the national safety standards.'
Town Coucillor Carol Wellwood said she believed the ideal place was at the Wills Memorial. She said: 'If we had a rainbow crossing on either side of the memorial it would help safety, encourage diversity and give people a real sense of fun.'
Proud2Be founder Jon said: 'the truth is that many LGBT people, still face prejudice and discrimination on the streets, in their homes and at work. We believe the crossing will send out a message of hope to LGBT people all over the world that the community of Totnes stands with them.'
Proud2Be began three years ago when the identical twin brothers, sat in front of their web cam and recorded a short video. In the video, they explained how they are both "proud to be gay".
Since then a number of high profile LGBT figures have contributed to the international campaign including Stephen Fry who said: "I am happy to be counted as a supporter of Proud2Be at every turn".
Proud2Be also holds a number of social events in South Devon, produces their own community radio show and provides LGBT Awareness Training.