The Rise and Rise of Body Art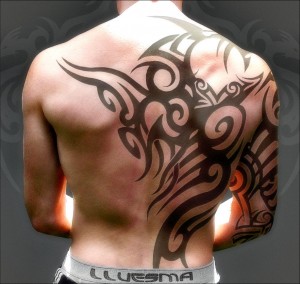 What do David Beckham, Kate Moss and Angelina Jolie all have in common? Fame and money? No. Well yes, they are all rich and famous, but there is another thing they all share. They all love their tattoos.
From rock stars and footballers to supermodels and actors, it seems body art is everywhere you look. In no way limited to the rich and famous, the tattoo is now well and truly embedded in mainstream culture. Everybody wants a one, has one or is planning their next one. With exciting new techniques such as 3D imaging and now even eyeball tattooing it seems ink is here to stay.
Aftercare. What Aftercare?
With this rise in popularity it would seem that one area of body art has been overlooked. Aftercare. Being tattooed is similar to having a surgical procedure. The area must be clean, needles sterilised and the artist wears gloves to prevent infection. But what about after the inking?
Tattoo artists seem to differ on their aftercare advice. The general consensus being to keep the area wrapped in cling film from one day up to a whole week. They also recommend that the artwork be treated with a healing cream, most recommend a nappy rash cream, for up to seven days.
Therein lies a problem. Nappy rash creams are gooey gels that prevent the skin from breathing if applied too thickly. This slows down the healing process. They can also stick clothing to art and removal can be extremely painful or even damaging, to both skin and tattoo.
What is more surprising is that when we contacted the leading manufacturer of nappy rash cream they stated "We cannot recommend the use of Bepanthen for the aftercare of a tattoo."
All in all it would seem that aftercare advice is inconsistent and that tattoo artists are not taking the most scientific approach to caring for what is basically an open wound.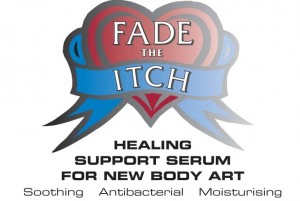 Scientifically Developed Advanced Aftercare Serum
So scientists at The Cambridge Clinic applied a scientific approach to tattoo aftercare. We developed Fade The Itch. The first tattoo aftercare serum on the market that uses pharmaceutical ingredients clinically proven to deliver antibacterial protection, relieve irritation and speed up the healing process.
Dermatologically tested active ingredients contained in Fade The Itch intensely moisturise, hydrate and cool the skin. The highly effective serum locks in the ink and covers the artwork with a fine antibacterial shield, protecting from infection.
Say Goodbye to Shrink Wrapping
To heal properly skin needs to breathe and with Fade the Itch, cling film is only required for the first three to four hours post tattoo. This means healing times are significantly reduced. Customers report an average of four days for healing. Also they can carry on their lives as usual with no mess or stained clothing. A huge plus.
Our non-greasy serum will not clog pores and contains a mild anesthetic to reduce any soreness. We added vitamins to improve the skins health and to speed recovery. Produced without oils or fragrance Fade the Itch is paraben and lanolin free and can be used on any skin type or tone.
An Aftercare Revolution – A serum for tattoos not babies bums.
At the Cambridge Clinic we believe that Fade the Itch is a breakthrough in tattoo aftercare. Our customers agree. They report that Fade the Itch has taken tattoo aftercare to the next level by cutting healing times cut in half and reducing irritation. After only twelve months on the market we are already stocked in over 150 studios and recommended by a number of leading artists. We are pleased they like us. And we are sure that you will too.