Homosexual Acts – Unfinished Histories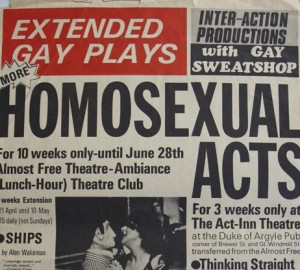 On Sunday 15th February 2015 the Arcola Theatre is generously hosting a Benefit event for Unfinished Histories. The event marks the 40th anniversary of the opening of the first gay theatre season in Britain, Homosexual Acts.
Seven shows were performed (all by men) opening on 17th Feb 1975; it was a huge audience success with queues round the block. Later that year the company developed a new show Mister X by Roger Baker and Drew Griffiths and in 1976 their first women's show, Jill Posener's Any Woman Can , both these toured meeting with acclaim and fierce controversy. They also met intense emotions from audiences, often in small town venues, where these plays showed the first representations of gays and lesbians they had seen to present their experience with realism and compassion, rather than through camp or butch stereotypes – or just invisibility.
In 1977 the women's company staged Care and Control, a documentary play about the struggle of lesbian mothers to retain custody of their kids, while the men devised Age of Consent, at a period where as a result of the only partial decriminalisation of homosexuality in 1967, sex with a man was only legal if he was over 21. Both plays contributed to campaigns to change laws and attitudes.

Unfinished Histories is celebrating the 40th anniversary of Homosexual Acts and the founding of Gay Sweatshop with a Benefit gala, where Simon Callow, Martin Sherman, Philip Osment, Alan Wakeman and Adjoa Andoh are among the speakers taking part. Staged readings of extracts from some of the key Sweatshop plays over the years will be performed (details subject to confirmation) to include: Ships by Alan Wakeman, Passing By by Martin Sherman, Mister X by Roger Baker and Drew Griffiths, Care and Control by Gay Sweatshop Women's Company, Poppies by Noel Greig, This Island's Mine by Philip Osment, and Twice Over by Jackie Kay, Raising the Wreck by Sue Frumin. There will be extracts from interviews and projections, celebrating the history and honouring those no longer with us including Roger Baker, Drew Griffiths, Gerald Chapman, Nancy Diuguid, Noel Greig and Kate Crutchley. The evening will conclude with a performance by the women's band Siren.
The event will be accompanied by a foyer exhibition of posters and flyers from Gay Sweatshop and many other LGBT companies of the period from BlooLips to Hard Corps, drawing on Unfinished Histories archive collections and open daily through February. Discover more about the history of Gay Sweatshop on the web pages constructed by Ray Malone and in Philip Osment's book Gay Sweatshop: Four Plays and a Company (1989).
Unfinished Histories is a charity dedicated to recording the history of the Alternative Theatre Movement. Homosexual Acts – Unfinished Histories needs support to pay its core costs and staff and continue with its vital – and urgent – work. Donations can be made by post to Unfinished Histories, St Margaret's House Settlement, 21 Old Ford Rd, London E2 9PL. Unfinished Histories is a charity and donations are eligible for Gift Aid.
Exhibition Times – 1st-28th February. Open Daily 10am-6pm, Admission Free.