Piers & Queers tour of historical LGBT Brighton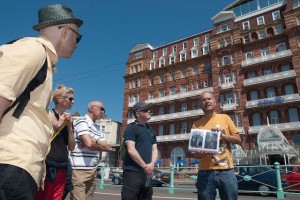 Piers and Queers, a walking tour during the national LGBT History Month, follows in the footsteps of some of the historical Brightonians who lived outside the norms of sexuality and gender.
Brighton's current popularity as a gay-friendly city is well-known, but Brighton has been attracting people who wanted to 'escape to the seaside' for over 200 years. And this included many people who we would now call LGBT.
Piers and Queers is titled after Noel Coward's appraisal of the city: 'Ah, dear Brighton: piers, queers and racketeers' and takes you on a stroll along the seafront – and through 200 years of the city's queer past. On the way guide Ric Morris visits locations associated with well-known names such as Oscar Wilde, Dusty Springfield and Lord Byron, each of whom had a special relationship with the city. He also visits the theatre where an Edwardian drag king performed, and the site of England's first Civil Partnerships.

The tour also looks at some lesser-known, but extraordinary people. One Regency surgeon was the first female-born person to qualify as a doctor and performed the first successful Caesarian in British medicine. But because women were barred from the profession, he passed his whole adult life as a man. Another couple became the first known same-sex couple to marry in Brighton – way back in 1923!
Piers and Queers
Sunday 15th & 22nd February 2015
12 noon
Meet in Regency Square by the statue
£8/6
Contact: https://mag.bent.com/no-sign-up-dating-sites/
Piers and Queers is also available as a private tour for 2-25 people all year.