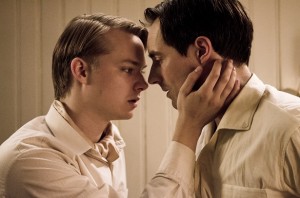 Winner of the Teddy and Audience Awards at the 2014 Berlin Film Festival, and the Swiss entry for the Best Foreign Language Film at the 87th Academy Awards, THE CIRCLE captures an extraordinary romance set against the backdrop of Switzerland's thriving post World War 11 underground gay movement. Part love story, part thriller, THE CIRCLE blends sumptuous recreations with real-life interviews with the actual participants in this story about the first gay rights organisation in Switzerland.
In the years following World War II, a small band of Swiss writers dared to publish their bimonthly magazine Der Kreis (The Circle), with pictures, stories, articles, and art for gay men. The network around the magazine was the only gay organisation to survive the Nazi regime and it blossomed during the post-war years into an internationally renowned underground club. Legendary masked balls in Zurich provided visitors from all over Europe with a secret and safe space to act out their 'otherness' in a self-determined way.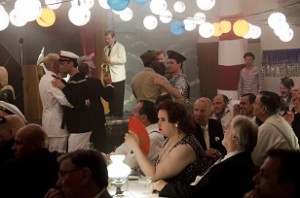 It is at one of these balls that timid schoolteacher Ernst Ostertag falls madly in love with drag celebrity Röbi Rapp. But finding a safe place to be together proves difficult when a series of rent boy murders mobilises police interest in The Circle and its members. Press hysteria is ignited and police crackdowns threaten to end Zürich's era of freedom, whilst two young and very different men fight for their love and – together with their friends – for the rights of gays.
A vibrant love story about two men who bravely defied the constraining laws of their era, The Circle shines a light into a fascinating but nearly forgotten corner of gay history and makes it glow.
The Circle is released in cinemas and on demand on 12th December.