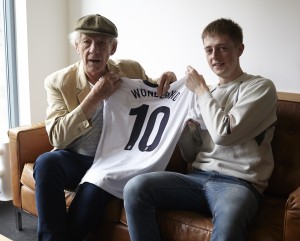 Recently, there has been a great deal of publicity about gays in sport and the general opinion was that the public's perception of this subject was becoming a little more positive. One of the few sports that haven't got a leading out gay figure is football, and in some ways, it is getting harder for a Premiership player to come out.
WONDERKID is a short film that tells the story of a young professional footballer coming to terms with his sexuality and searching for acceptance in a hyper-masculine environment. Written by Terence Corless & Rhys Chapman, the audience follows the inner turmoil of this rising star as he tries to reconcile his identity as a professional sportsperson and gay young person, struggling with obsessive compulsive disorder and alcohol abuse along the way. A touching and poignant tale, WONDERKID provides insight into the trauma caused by homophobic stigma and challenges preconceptions about what it is to be masculine.
Rhys: "The idea initially was to make a film about an isolated, lonely footballer and deal with problems such as addiction inspired from what I have seen from players like Paul Gascoigne. But I thought, 'wasn't there a gay footballer in the 80s?' and then I did some research and realised how horrible the situation is. I decided it would be a really good way to build on the narrative I already had and also show people that it's not fair. The fact that no one was even talking about it was shameful really."
Terence: "He is gay in a place that really doesn't condone it and he could have OCD. He is also a massive booze drinker."
At the heart of this project is the desire to change people's minds about what is and what is not acceptable behaviour towards fellow human beings. It is about the basic right for humans to be in the loving relationships that they choose to be in regardless of gender, race, creed or anything else. Most importantly it is a story we can all relate to.
Rhys: "Statistically, there are 5000 professional footballers in this country and I think 1% of the population is gay, although I would imagine it is a lot higher than that. So there will be gay professional footballers out there but the fact that they feel that they can't openly lead that life must have a devastating effect on a person's psychology."
Wonderkid is well under way, with support from the likes of Sir Ian McKellen the project has recently received backing from the Kevin Spacey Foundation and a team of producers are currently busy working towards a Kickstarter campaign. Meanwhile, Galop announced its partnership with the project stating:

As a charity that supports survivors of anti-LGBT hate crime, domestic violence and sexual abuse, Galop is committed to tackling homophobia, biphobia and transphobia in all arenas. Football is an institution in British society, and as such it is imperative to challenge the anti- LGBT attitudes prevalent in this sport and its fan base. Together, Galop and WONDERKID will work towards stamping out homophobia in football.