Travel – Swede extremes are made of these!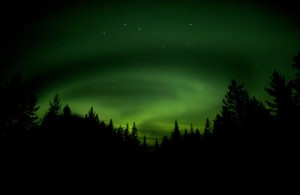 One-man pillage Adrian Gillan ram-raids buzzing Stockholm's blue-eyed blonds before heading north to the unique, remote Treehotel in Lapland, high up on the Arctic Circle!
If variety is the spice of life then what more spicy than to discover the extremes of sexy Sweden's "Urban-Nature" with a party weekend in sophisticated Stockholm, followed by a couple of nights right up north in beautiful, serene, remote Swedish Lapland, including staying in the world-famous Treehotel?
Stockholm
The Venice of the North: grand architecture built on islands, joined by bridges, strung out like a necklace of perfectly splattered pearls! And Swedish men are a glory to behold: initially reserved, animals in bed!
 STAY
 Housed in a lovely Art Deco former posh girls' school, base yourself at the recently opened Miss Clara Hotel, Stockholm's newest luxury accommodation gem, from the creators of the legendary Nobis Hotel, located on one of the most bustling and well-known urban addresses in Sweden – nay the entire Nordic region! Its 92 light, airy and spacious rooms are complemented by an excellent restaurant down at street level, and by some of the best service imaginable – nothing is too much trouble for the friendly staff!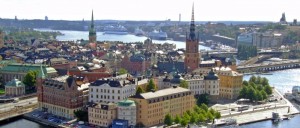 SEE & DO 
Since spread out across water, Stockholm can be a tad disorientating even for a regular visitor. Charming handsome guide Marco Giertz and his team can soon show you how the land lies via a range of informative tours, by car or on foot, doubtless starting or ending at picturesque central Gamla Stan (the Old Town) where the city all began. But there are so many must-sees!
 Take in the Nobel Museum; the architecturally stunning City Hall, where the yearly Nobel banquet is held; uber-Swedish Skansen with its old relocated farmhouses and zoo with wild Nordic animals; and awesome, ghostly Vasamuseet , housing a miraculously-preserved, 400-year-old warship which sadly sank in Stockholm harbour on its maiden voyage.
The Stockholm City Museum covers the city's cultural past and present – a wonderful way to place things in a richer context. Say thank you for the music at recently-opened Abba The Museum, with its highly-interactive exhibition in which you can dance like a queen, or croon on about finally facing your Waterloo! And all your song and dance is filmed and recorded and accessible online – at least to trusted family and friends – after your visit!
Fotografiska is one of the world's largest contemporary photography gallery complexes – showcasing regularly-changing Swedish and global work. On the top floor bistro bar you will find one of Stockholm's very best view points. Great shop and occasional club nights too!
For more art and culture, the Modern Art Museum (Skeppsholmen;) brims with everything from Picasso to the present day.
 Visit Kungliga Operan, either as a member of the audience at one of the opera or ballet performances; or on a guided tour backstage of its sumptuous spaces; or indeed simply for opera-themed cocktails at its fantastic terrace bar!
For shops, NK is Stockholm's answer to Harrods, a palace to top brands since 1902, with a nice eatery on the top floor. If too posh to browse yourself, you might even call upon their 'Personal Shopping' department, attending a champagne-fuelled consultation followed by swift delivery!
 Or browse the swanky boutiques, cafes and eateries in hipster SoFo (Södermalm/Folkungagatan) district – places like Parlans for toffee and fudge; or Grandpa for retro chic fashion and artefacts, including genuine vintage items.
EAT & DRINK
 Thirsty? Packed Old Town hang-out Chokladkoppen (Stortorget 18;) is famous for homemade sweets and cakes, plus eponymous white hot chocolate that'll make your willy wonka. Enjoy a brilliantly–made cocktail at chic mirror-ceilinged Gold Bar & Lounge at the Nobis Hotel (Norrmalmstorg 2-4;), itself one-time scene of the hostage siege that gave rise to the famous 'Stockholm Syndrome' phenomenon.
For something more substantial, and truly special, visit Hotel Skeppsholmen (Gröna gången 1, Box 1616, 111 86 Stockholm;), set in a once quite possibly cruisy ex-army barracks dating back to 1699 – now with modern, natural eco-friendly décor! Managed by uber-charming Joachim and his handsome team, even if you don't actually stay at this chic yet characterful and historic property, you absolutely must eat here – perhaps for lunch out on the terrace overlooking the sparkling water, slap bang in this hidden heart of Stockholm, yet oh-so-far from the madding crowds!
 To actually drink or eat on the water, check-out lovely gay-owned seemingly endlessly sprawling and expanding bar-restaurant Mälarpaviljongen (Norr Malarstrand 64, Kungsholmen;) on Lake Mälaren.
For fun buzz, try snug, colourful Grill (Drottninggatan 89;) offering a choice of broadly meaty menus in diverse ambient sections – from a tropical beach to the interior of a luxury train carriage – with exuberant, knowledgeable service too!
As a special treat, try Berns Asian Restaurant (Nåckströmsgatan 8;), a glam lively eatery in the famous 19th Century hotel, featuring modern Asian cuisine benenath its old golden ceiling and massive chandeliers – adjoining a cabaret hall where the likes of Dietrich and Chevalier have hitherto entertained, and current scene of many a regular, spectacular gay club night too.
 BOOZE & DANCE
Feet a-tapping? Torget (Mälartorget 13, Gamla Stan) is a theatrically atmospheric gay bar with music lounge in the Old Town; or trendy Wonk (Kungsgatan 15) likewise entices, not least with its disco and drag in the basement.
To truly boogie, head straight for busy three-roomed Candy (Barnhusgatan 12;) on a Friday night; or two-level Honey (Regeringsgatan 61;) on a Saturday night.
Moored old steamship Patricia (Söder Mälarstrand, Kajplats 19;), actually built in Middlesbrough, hosts one of Europe's most unique gay nightlife events: its three-level Sunday tea party. The crowd is young and up-for-it. And there's no better place to kiss a boy than on the upper deck, as watery ripples reflect twinkling Stockholm lights. Occasional "foam parties" all add to the swell, where semi-naked men writhe hard against each other, amidst bursting bubbles! Fab restaurant too!
For a dose of sleaze, try SLM (Wollmar Yxkullsgatan 18;), Stockholm's raunchy leather/Levi/uniform club south of centre – a maze of darkrooms that sport enough slings and things to keep you tied up for hours. Visitors welcome: if they don the right garb!
Lapland
After all the sights – human, historic and otherwise – in vibrant capital Stockholm, taking a mere 1¼-hour flight due north up to Luleå on the Arctic Circle – to the land of the Sami people – makes you feel a million miles away!
Ne'er fear: Sweden is one of the most pro-LGBT nations on Earth, celebrating 5 years of gay marriage this year – so even its remotest reaches, like here, have a friendly, live-and-let-live air.
Sure, you might have thought of Swedish Lapland as being like a scene from "Frozen". In winter, it is indeed a magical icy wonderland! However, in summer it is the Land of the Midnight Sun, its arctic landscape melting into a verdant sun-kissed paradise of forest and lake – perfect getaway from city life!
Aurora Borealis (Northern Lights) chasers are always in with a chance on a clear night this high north, even in summer when it's light, although these ephemeral teasers tend to appear when least looked for!
So whether you're a group of mates after adventure, or lovers seeking romance, or even a modern LGBT family looking for somewhere a bit different, prepare to fall in love with Swedish Lapland!
LULEÅ
Capital of Swedish Lapland, high above the uppermost reaches of The Baltic, Luleå boasts Sweden's northernmost university, one of its top ice hockey teams and one of its best arts centres.
It also now offers the newly-build Hotel Clarion Sense with its 9 floors, 154 rooms – many offering views over the water – and 4 stars! Its stylish international character and atmosphere hits you the moment you enter the lobby bar – oft hosting live music in the evenings – and pervades right up to the top floor with its delicious Kitchen & Table restaurant and ambient Sky Bar, all with amazing panoramic views. Check out the gym and spa too, with its heated pool, invigorating showers and all-seasons sauna.
When sauntering through town, dip into the Hemma Gastro Deli on the front, full of delicacies like smoked bear meat, and a great place to eat local food over a glass of wine.
Just outside Luleå, be sure to visit Gammelstads Kyrkby, a UNESCO World Heritage site that is the world's most extensive and best-preserved example of a "church town", with more than 400 cottages gathered around a medieval stone church. Enjoy the excellent visitor centre, plus nearby open air museum and craft shop.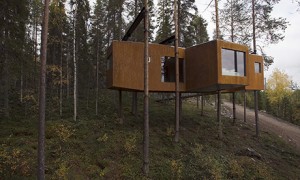 HARADS (TREEHOTEL)
Set amidst forest, in the charming village of Harads, a short drive north west of Luleå, Treehotel  is one of those once-in-a-lifetime experiences you might just have to go and do once or twice again! Luxury 'pods' hang from trees like strange fruit or newly-landed aliens – each with its own distinct design – including  a UFO, a bird's nest and a well-nigh invisible mirror-sided cube! The Dragonfly pod might even be the world's largest treehouse! Both sophisticated and childlike, a night out in one of these suspended beauties – perhaps after a soul-cleansing naked stint with friends in one of the site's saunas – is something you'll never forget! Host couple, lovely Kent and Britta, also run the nearby Brittas Pensionat offering comfortable accommodation and food in a charmingly authentic 1950s homestead.
With so much daylight, and warm summer weather, outdoor activities are the order of the day, with Treehotel able to organise a wide range, including its own on-site zipline course, plus anything from sea kayaking or hiking to camping, canoeing or rafting! You might even choose to go out fishing with owner Kent, pre cooking your catch for supper on an open fire beside a gently flowing river under a starry sky.
There is an excellent local Segway company too, for a head-turning way to effortlessly explore the wider Harads area.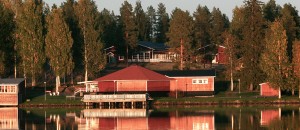 SÖRBYN
A further short drive from Harads takes you to the tiny waterside village of Sörbyn, very much hubbed around the Sörbyn Turism & Konferens centre, run my handsome, friendly Fredrik and his wonderful team. The centre offers peaceful accommodation, including chalets; a waterside sauna; and a fab restaurant, where groups can even help out in the kitchen with the chef!
For more outdoor fun, your local man is fetching, rugged-yet-sensitive Love Rynbäck at Creactive Adventure who can take you on a wide range of activities including canoeing and foraging for safe, nutritious and tasty berries and mushrooms.
Indeed, it's worth stressing that Swedish Lapland is a foodie's paradise – with locally-sourced culinary treats that should surprise even the most jaded city gourmet. Fresh arctic char, reindeer, elk, bleak roe caviar and cloudberries – and that's just for starters!
Useful links
SAS Scandinavian Airlines offers numerous daily flights to Stockholm (and from there on to Luleå for Swedish Lapland) from most major UK airports.
Access Stockholm's main airport via high-speed train, the Arlanda Express – a non-stop 20 minute journey to/from central Stockholm every 15 minutes.
For free entry to a wide range of top attractions and tours, plus free public transport and other discounts, buy the great-value Stockholm Card.
Stockholm Pride happens every year, late July or early August, focused around a city centre parade and concerts in a park.