Travel – Man oh man oh Manchester!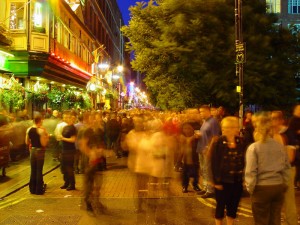 Adrian Gillan hits Canal Street in manic Manchester.
 Arguably the gayest street on Earth – amidst arguably Earth's most perfectly-proportioned queer quarter!
 Sights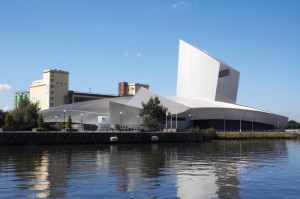 But first, on arrival – before all-things-gay – do take a quick look around! Browse Manchester Cathedral, Manchester Town Hall and the City Art Gallery; or jump a tram to renovated Salford Quays for The Lowry arts centre and Imperial War Museum North.
Catch a drama at the Royal Exchange Theatre . Definitely hear a concert at the state-of-the-art Bridgewater Hall, seasonal home not only to the Halle Orchestra and Manchester Camerata, but also to the world-class BBC Philharmonic, most of whose edge-of-the-seat performances, here and elsewhere across the north of England, are broadcast on BBC Radio 3, and whose 2014/15 season highlights include Beethoven 'beyond-the-symphonies'; Nielson's complete symphony cycle; a focus on Great British music; and a whole range of pieces showcasing the talents of some of the world's top soloists!
Glorious Victorian gem, The Palace Theatre, hosts major shows, musicals and dance, including top-notch, affordable and tirelessly-touring English National Ballet with its thrilling orchestra and largely home-grown talent – current nationally touring productions including a quite staggering Swan Lake (8 Oct 2014 – 18 Jan 2015), plus Coppélia (23 Jul 2014 – 8 Nov 2014) and Nutcracker (11 Dec 2014 – 4 Jan 2015, London Coloseum).
Shop at the mammoth Arndale Centre; or down some grub in China Town. Enjoy the Manchester United Museum & Tour and Manchester United . Then, wait for it boys: that world-famous scene!
Scene
Here are some top tips to check-out, although – rest assured – there is quite a bit else besides!
The New Union (111 Princess Street;), of Queer As Folk fame, is an earthy punters' pub which has strived more recently to revert to its former gay glory days so crowds of come-and-be-cool hens aren't bumping the froth off your beer! An equally established option is the REM Bar (33 Sackville Street;) just along the canal – now all in vogue.
Those happiest to just sip-and-stare-and-sip in a comfy local can safely hang out in The Goose (29 Bloom Street) or even Thompson's Arms (23 Sackville Street). Check out friendly New York, New York (94 Bloom Street;); or maybe Via (28-30 Canal Street;) which boasts a busy, sprawling Gothic-themed wooden interior.
And so we move on to the style set. Bar Pop (10 Canal Street;) on the main canal drag is where latest labels set off pretty faces. Ditto swish and vibrant Kiki (4 Canal Street;); and G-A-Y (63 Richmond Street), rising over three floors, shifting gallons of cheap booze! Just off "The Street", Baa-Bar (27 Sackville Street;) is a bright 'n fun "shooter bar" with mirrors, glitter balls and lots of pink neon glows!
All that's enough to set you dancing? Cruz 101 (Princess Street;) is Manchester's longest-running gay club – a real stalwart, warts 'n all, busy all-week-round, but especially at weekends.
 On Tuesdays and Saturdays Poptastic (105-107 Princess Street;) serves up fine indie trash nights for boys and girls in its crammed sweaty basement lair.
 For food, try fab-value Villaggio (44 Canal Street;), or tad more Bohemian 'n swish Velvet (2 Canal Street;).
 Clone Zone (36-38 Sackville Street;) started right here! Also check out the H2O Sauna (36-38 Sackville Street;); or steamy Basement Complex (18 Tarriff Street;).
Stay & Eat

Stay at ABode Manchester (107 Piccadilly, Manchester M1 2DB; T: 0161 247 7744;), less than 5 minutes' walk from both the main railway station and from Canal Street! The Grade II-listed former Victorian cotton merchant's wholesale warehouse now effortlessly blends the charmingly old and the stylishly new as one of the city's most chic boutique hotels, and one of its most buzzing – since its bars and restaurants link it quite literally to the street-life of Manchester and its party people. The 61 spacious, oft-loft-like rooms come in four cool categories – from Comfortable, through Desirable and Enviable, right up to rock-star Fabulous on Fifth!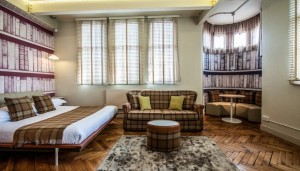 The busy and bustling Café Bar & Grill sprawls onto the pavement on the hotel's ground floor and is open pretty much throughout the day for a casual-yet-vibrant breakfast, lunch or dinner – anything from home-baked pastries through light bites and sandwiches to delicious salads and pastas, or fantastic char-grilled meats or fish, right up to full-blown three-course meals including steaks. Or you can just have a drink and nibbles in the adjoining Lounge Bar, amidst chilled tunes.

For something even more special, descend to the lower-level to one of Manchester's finest eateries, the award-winning Michael Caines Restaurant, creation of one of the UK's top chefs, Michael Caines MBE. Savour exciting and innovative modern British and European cuisine, utilising the best local and regional produce, with some of the best wine-pairing advice in the business from the roving sommelier. The tasting menu will definitely give you quite a few nice things to talk about! And you'll quite possibly fall in love with the sassy, teasingly dishy, friendly staff! Or you can just enjoy a glass or two of vintage bubbly, or fun cocktails, in the adjoining Champagne Bar.
Manchester Pride runs every year, late August
Manchester Piccadilly is just 2 hours away from London Euston, and even closer from other major UK cities, by wonderful Virgin Trains