Kylie Kisses Us All Once More…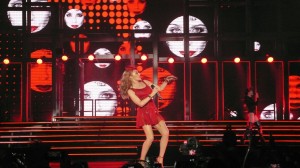 Unless you have been on Mars you will know that Kylie Minogue's Kiss Me Once Tour kicked off in Liverpool on Wednesday. As luck would have it Bent's number one Kylie fan Simon Savidge was there to report on the proceedings and see what the Showgirl had up her sleeve for us next.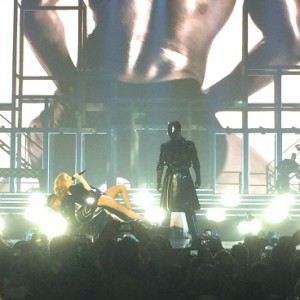 Like any true Kylie fan, or indeed gay man, I have been going to Kylie concerts since I have been able to afford the tickets myself. Taking my other half this time, and who has never seen Kylie live before, as a birthday present for him, which turned out nicely for me, he asked what he could expect. I thought back. The Light Years Tour was a camp space odyssey, Fever was an electro romp, Showgirl was very much what it said on the tin, X took lighting to a new level both in, around and under the stage , Aphrodite was a Greek and aquatic odyssey and the Anti Tour was all a bit rock and roll, intimate and edgy. So my response? 'Expect a full on show' and a full on show was what we got.
Arriving up from the stage on a huge set of neon illuminated red lips Ms Minogue starts as she means to go on with her opening number Les Sex. The stage is awash with lights; Kylie is surrounded by dancers who are all wearing clothes inspired by cabaret, only naughtier with tassels barely covering their necessities. The back screen is images of various 'Kylies', even a pirate Kylie, and barely clad dancers. She knows her audience this one. Barely stopping for breath, though she does have a chat with us all, we go through four more songs (In My Arms, Timebomb, Sexy Love, Wow) and into the next phase, Disco Kylie.
Dressed in a fabulous mini skirt/hotpant suit that could have been made out of a glitterball, and very well mig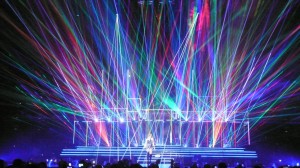 ht have been, the concert becomes a full on disco and the old and new meet…  starting with Step Back in Time, Spinning Around and Your Disco Needs You before Kylie performs On A Night Like This and suddenly the simple and minimal set (I was worried initially this wasn't going to be on the level of previous arena tours, silly me) reveals its secret, this is going to be a concert with lasers like you have yet to witness. The whole stage and arena become a laser rainbow odyssey and it is utterly glorious and utterly mesmerising. It is quite mind blowing. It matches the minimal beats of the remixed Slow that follows it.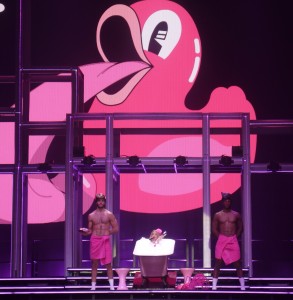 Next up, Ultra Camp Kylie. When I say camp I mean camp. Her dancers arrive with bonkers plastic wigs that also look like hats and might be seen in an Aqua video or in the children's show Lazy Town. Kylie herself comes out in a huge pink glittering blancmange, which she loses more and more of as she performs a medley of her 80's hits; Enjoy it, Hand on Your Heart, Never Too Late, Got To Be Certain, I Should Be So Lucky, old clips of the songs playing on the backdrops. There are hearts, there are dusters, there are disco Hoovers and there are men dressed in tiny pink towels who lead Kylie into a bath (seriously!) before re-enacting a famous scene from one of her earliest hits. It couldn't be camper, no really.
After Skirt plays on the back screen, a video featuring Kylie stripping in a car, which also marks the halfway point, the show suddenly seems to speed up and be in a rush almost. From a costume change every four or five songs we suddenly go into a costume change every two, almost like we need to fit everything possible in. Sexy Kylie returns on the stage in PVC mac and police cap to do a very sultry and amazing version of INXS' I Need You Tonight which seemed a nice homage to the man who she has often said awakened her in many ways. We then have Sexercise before another change into leather skirt and shirt for a dirtier mix of Can't Get You Out of My Head which leads into Kids. Then it's time to change again for two ballads from her latest album, Beautiful and Kiss Me Once.
Kylie the Showgirl then appears, in an outfit that is a mix of harlequin, Barberella, the witches of Oz and showgirl feathers, leather and silver the disco is very much back for Get Out Of My Way, Love At First Sight and All The Lovers. Then she goes. We all chant for more, more, more, more. The lights go down, the lights go up and looking simply stunning she returns for Into The Blue and then we all weep as its all over. It seems so sudden, we need more, it was all too marvellous and over too soon until you realised that it is suddenly two hours later and it has all gone far too quickly.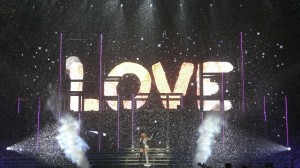 I have to say I think Kylie still completely rocks it. There is no miming here and the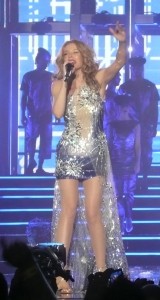 operatic vocals she performs at the end of Your Disco Needs You are just incredible, hairs stand up on the back of your neck and you get that tingle. She chats away with the audience while having her water, wants to know if we have any requests at one point and even gets a fan onstage for an impromptu duet.  We even get an exclusive preview of some new material before she has even come on stage, which you will have to go and see the show to see. The whole show seems effortless, the dancers incredible, Kylie in her element and it all seems to be about the fans have you been one for over 25 years or once in just the last few, despite the fact you are one of 12,000 you feel like you and Kylie have just had a brilliant night out together… on a rather grand scale.
All hail Kylie, already I can't wait for the next tour.